You should check it out before going sightseeing in Hamamatsu!
You can ride buses, trains, sightseeing cruisers, the local railroad, and the ropeway which is the only one that crosses the lake in Japan! You can use this pass for two days!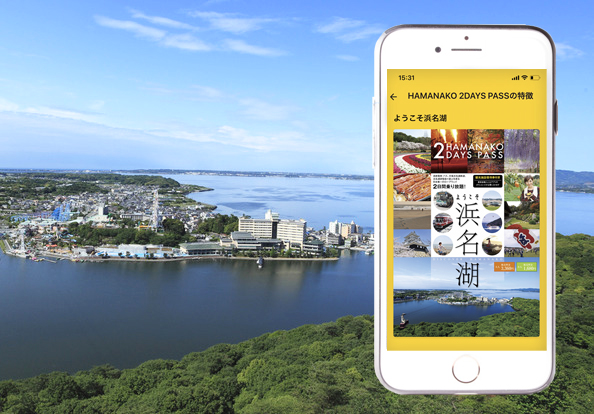 Freepass for all of the following!
Entetsu Bus / Entetsu Train
Hamanako Cruise
Tenryu Hamanako Railroad
Kanzanji ropeway
HAMANAKO RAIL PASS (2DAYS) is a useful and reasonable ticket for travelers, which is like
HAMANAKO RAIL PASS (3DAYS)
(started to be sold from July, 2015). You can have unlimited rides for two days on designated public transportations, Lake Hamana sightseeing cruiser, and the ropeway which crosses over the lake! If you bring the pass with you, you can get discounts at 19 facilities in Hamamatsu and Kakegawa city.
Go cycling, feeling the fresh air flowing off the lake while enjoying the magnificent view. Ride on the railroad that meanders between the fields reminiscent of traditional Japanese scenery. Those activities give you a peaceful time and make you feel relaxed during your trip. Of course you can enjoy your trip more actively in many ways. A magnificent sea, breathtaking views of the lake, good old Japanese landscapes and traditional cultures. Come and experience nostalgic Lake Hamana (Hamanako) and Hamamatsu, where various Japanese aspects are accessible, by using HAMANAKO RAIL PASS (2DAYS).
Price
Adults
¥3,360
Child (6-12 years old)
¥1,680
How to Purchase
※This pass is not a paper based pass but an online digital app.
Download the Odakyu Mass app, from the App Store or Google Play.
Register an account.
Select HAMANAKORAIL PASS (2DAYS) from the Ticket Store screen and choose credit card payment.
How to Purchase
1. On the first day of the use, please tap on "start to use" button on your smartphone to activate.
2. Please show the "Freepass" screen of the app to the staff when taking the bus, the train, the cruise and the ropeway or visiting participating discounted facilities.
If you
cannot download the app,
please use the paper-based freepass.
It is available for purchase at the ticket center (first waiting room) inside the bus terminal of Hamamatsu Station.
※It can be purchased by cash only.
※The price is the same as the app.
Click to enlarge

It's different from HAMANAKO RAIL PASS (3DAYS)!

Please purchase the one which matches to your trip plan.

Ticket/bonus are valid for one ticket holder only. (No transfer to others allowed)
No refund after you have started to use the ticket.
Child tickets apply for children six to twelve.
(Proof of age (ID) necessary at ticket counter)
Children aged five and under should follow the rules of transportation.
Please read the inside of the app for other usage methods, ticket rules, terms and conditions, etc.
Participating public facilities
Entetsu Railway (Aka-den)

This train connects between the South and North in Hamamatsu and has 18 stations from Hamamatsu Station to Nishikajima Station in Tenryu ward of Hamamatsu city. It operates every 12 minutes except early morning and late night and also known as "Aka-den (Red Train)" from the color of the train.
Official Websit
https://www.entetsu.co.jp/tetsudou/english/
Timetable HERE
Entetsu Bus (Fixed-route Bus)

This fixed-route bus operates mainly within Hamamatsu, Kosai, Iwata and Fukuroi cities. It's especially convenient to go to Lake Hamana (Hamanako), Kanzanji, Okuyama, and Nakatajima from Hamamatsu station. You board the bus at the back door and leave from the front door. Make sure to get a numbered ticket when boarding and put the ticket in the fare box and show the start date of the pass to the crew when leaving the bus.
Official Websit
http://bus.entetsu.co.jp/index.html
(Japanese)
Route map and Timetable HERE
Tenryu Hamanako Railroad

This line operates along the north side of Lake Hamana (Hamanako) and has 39 stations from Kakegawa Station (Kakegawa city, Shizuoka prefecture) to Shinjyohara Station (Kosai city, Shizuoka prefecture). The nostalgic scenes have not changed since this line was founded in 1935 and the scenery of the mountains, lake, fields, and Japanese landscape through the windows is loved by many people.
Official Websit
https://www.tenhama.co.jp/english/
http://www.inhamamatsu.com/recommend/tenryu-hamanako-railroad.php
Route map and Timetable HERE
Hamanako Cruise

This Hamanako Cruise around Lake Hamana (Hamanako) which faces Hamamatsu city and Kosai city. There are 60 minutes and 30 minutes cruises, and you can enjoy the beautiful scenery of Lake Hamana (Hamanako) that changes from season to season. The "Sunset Cruise" which operates from spring to summer, and the "Touching seagulls Cruise" which operates during winter, are especially recommended.
Official Websit
http://www.hamanako-yuransen.com/
(Japanese)
http://www.inhamamatsu.com/activity/hamanako-sightseeing-cruiser.php
Route map and Timetable HERE
Kanazanji Ropeway

Bonus with Hamanako Rail Pass applies to:
WE RECOMMEND!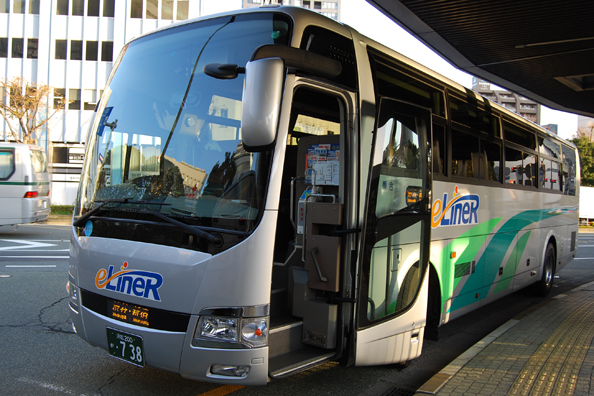 Entetsu Highway Bus e-LineRFor trips from Hamamatsu to Tokyo, Yokohama, Osaka or Kyoto, we recommend this affordable and comfortable highway bus.
More Details for...
2020.7.10 update
Content may be subject to change after publication. Please also note that we are not accountable for loses and damages that may occur as a result of said changes.