A garden at the edge of Lake Hamana, surrounded by vibrant flowers in all four seasons.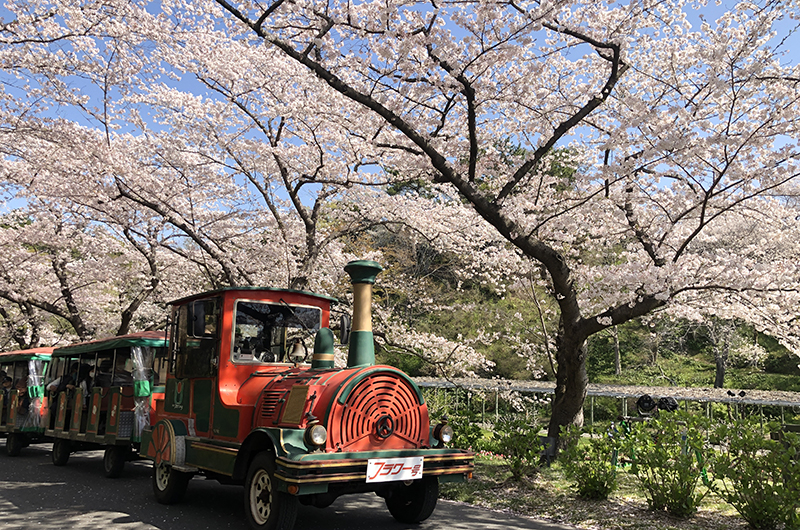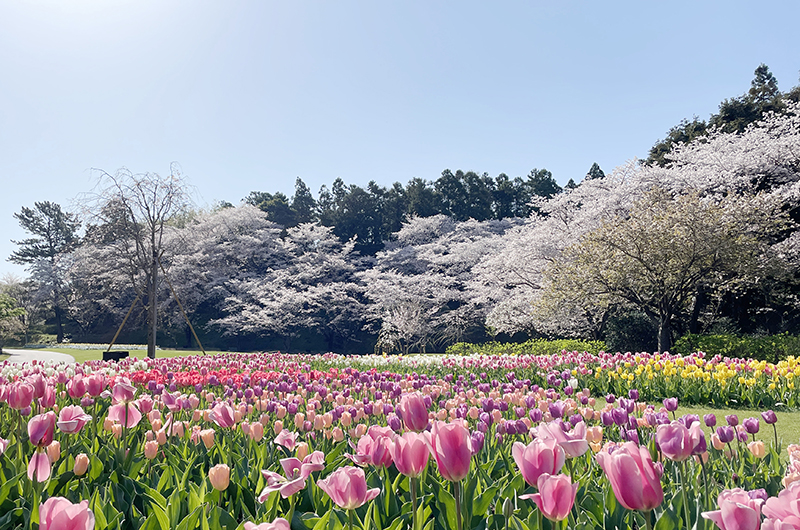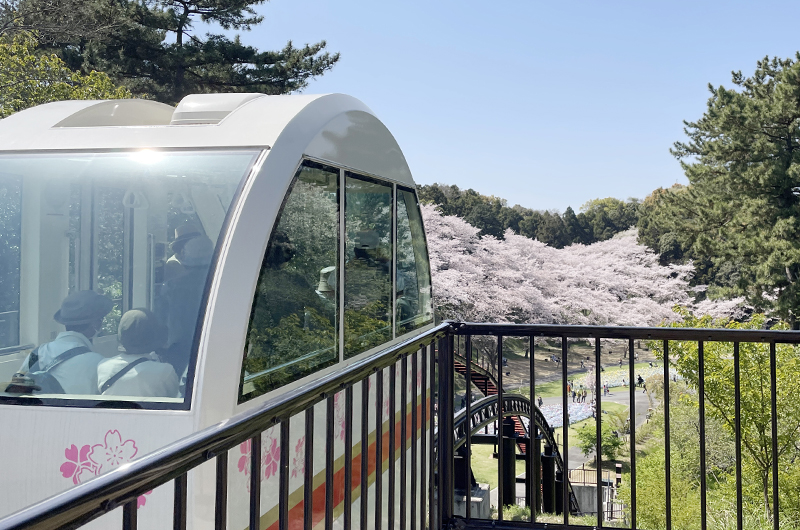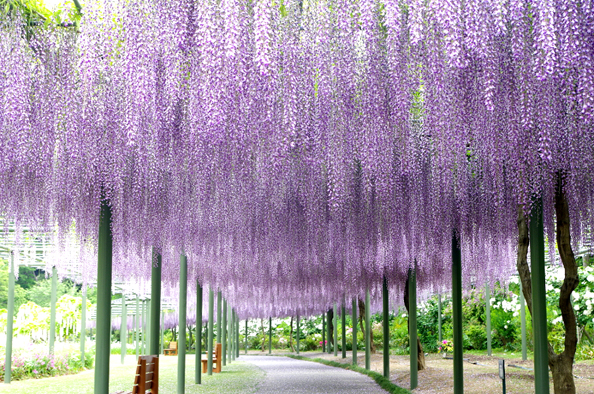 Hamamatsu Flower Park is a botanical garden on the edge of
Lake Hamana
. The park is about 30,000 square meters, and has plants of 3,000 different species. Here, you can enjoy seasonal flowers and greenery throughout the year.
The red, white and pink plum blossoms come into bloom at the middle of February and are viewed in mid-March. And from around February the plants in the park begin to sprout, and then in early April the tulips all blossom in many vibrant colors. Also, spring in Japan is famous for cherry blossoms, and if you look up you can see Yoshino cherry trees and double cherry blossoms blooming all over the park. Under the park's cherry trees is a famous spot for cherry blossom viewing parties in Hamamatsu City. Cherry blossoms blooming in a bright blue sky are beautiful, but there's a certain elegance to them at night, under illumination, as well. The early blooming Kanzanji Sakura and Hina Sakura, which were produced by the first park master, blossom from mid-February to early March, and cannot be seen anywhere else in Japan.

From around June, the cherry tree avenues transform into hydrangea-lined paths, Japanese irises bloom in purples and yellows, and the whole park is dyed in bright, vivid colors.
In October, the vibrant blooms of amethyst sage and roses flood the park with brilliant colors.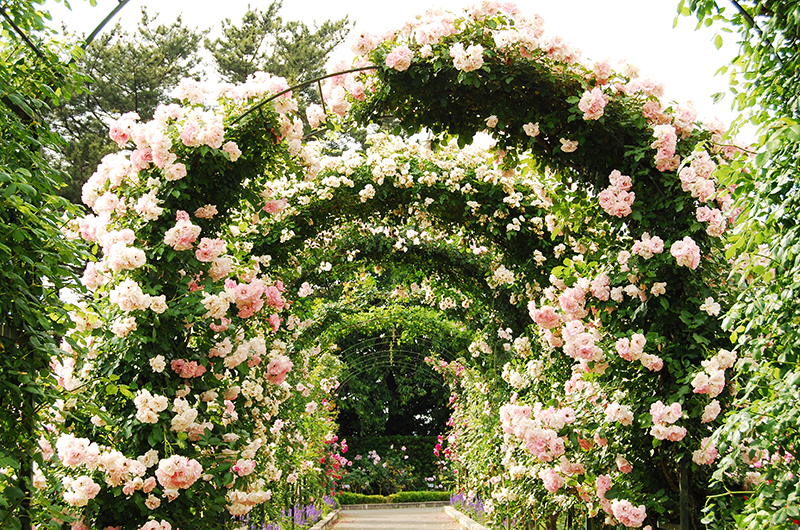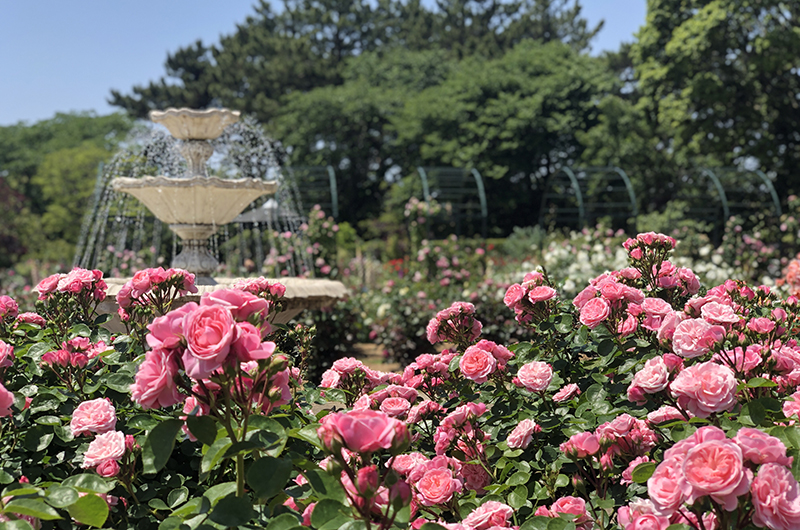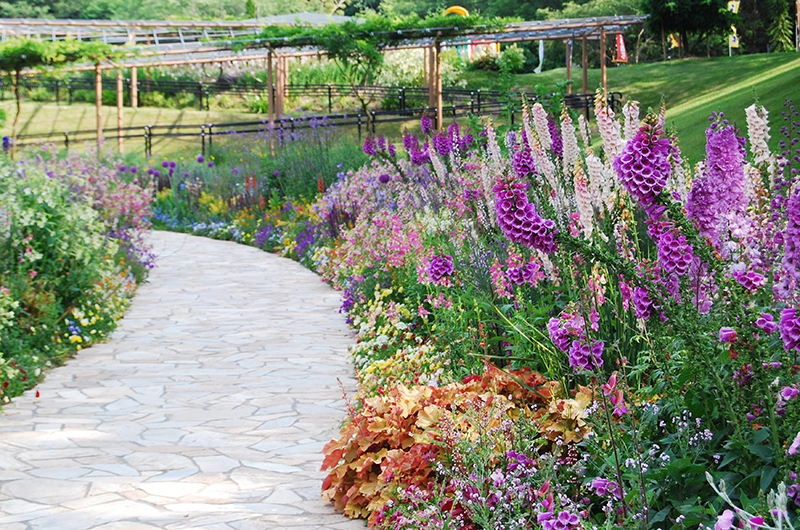 For December, the park is in Christmas mode. There are dazzling
illuminations
, a Christmas tree, concerts, and other Christmas events going on throughout the month. In the New Year, January brings rapeseed blossoms and daffodils, with plum flowers starting to bloom in February. And then it's spring all over again. No matter what time during the year you visit Hamamatsu Flower Park, you will be greeted by seasonal plants and enjoyable sights.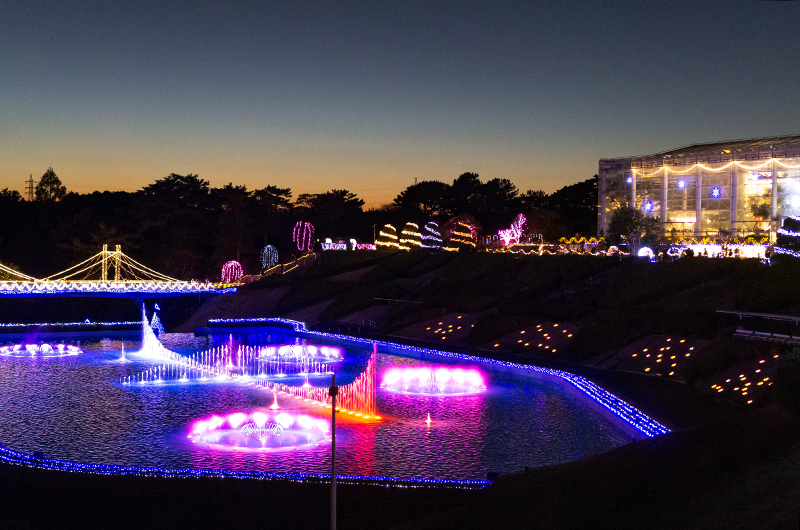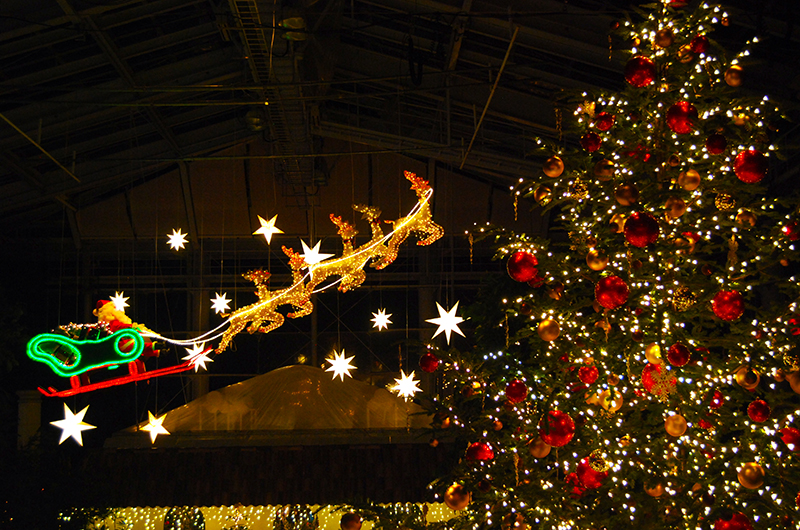 For indoor exhibits, there is a large greenhouse called the "Crystal Palace" in the center of the park. When you step inside, the first thing you'll see is the patio area covered in large flowers blooming to welcome you. As you progress into the interior, you will find the Garden Theater, where there are elaborate displays that change from season to season. (When we toured the park, the display was a collection of vivid and exotic colored Majorelle Blue plants.) At the large fountain in front of the Crystal Palace, there is a show every 30 minutes, on the hour and at half past, where music plays and the water almost seems to dance. If you visit the park at night, you can watch the show under illumination.
If you take the Ferris wheel as a landmark and make your way deeper into the park, you will find the "Children's Plaza." There are many different kinds of playground equipment set up, so this area is recommended for visitors who want to come as a family. (There is a charge for some equipment.) The steam locomotive D51 is also on display. (Some of the equipment will be closed on certain days.)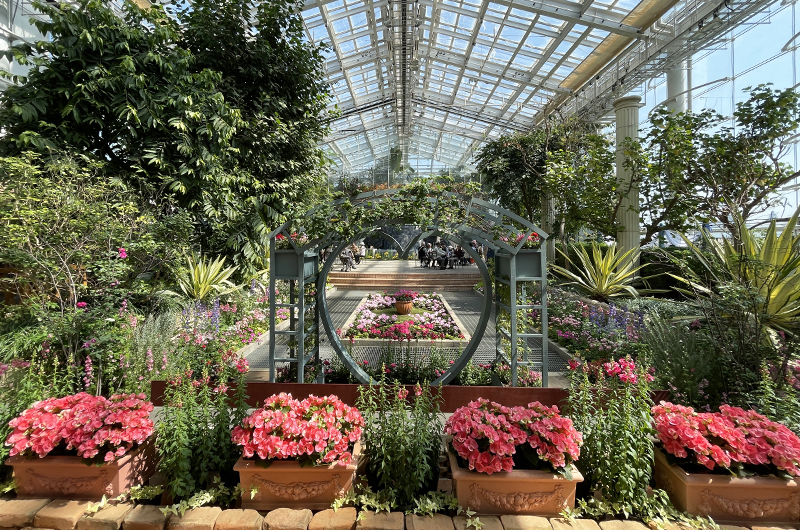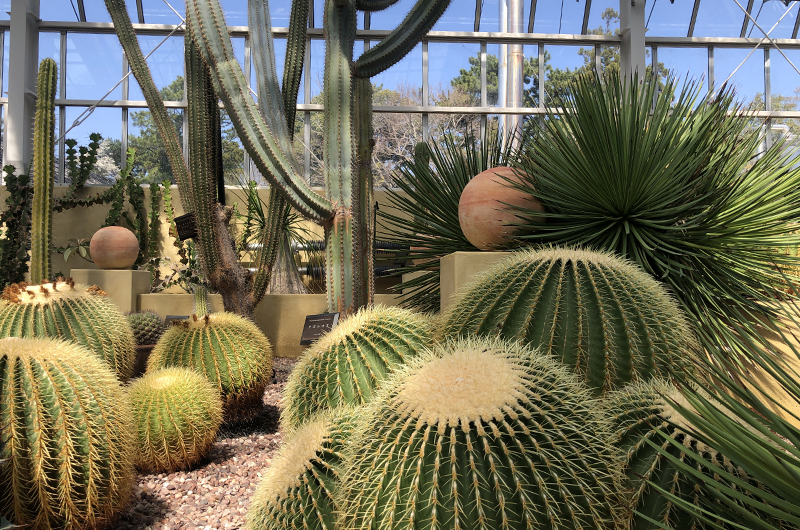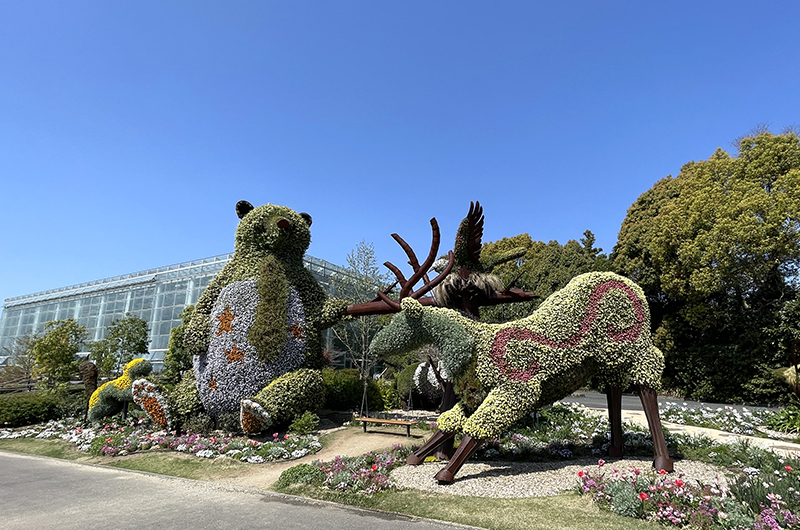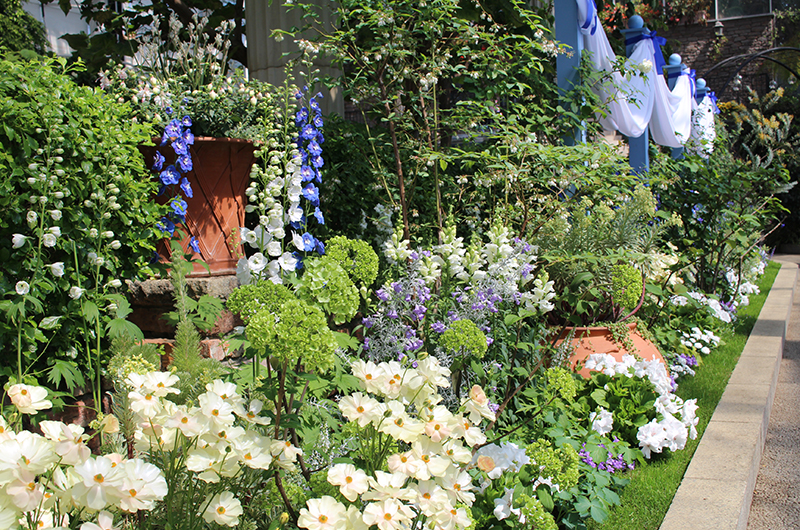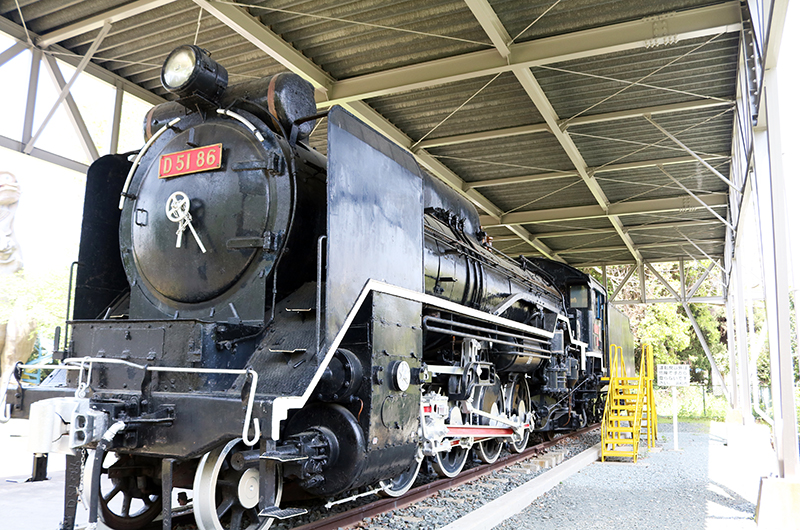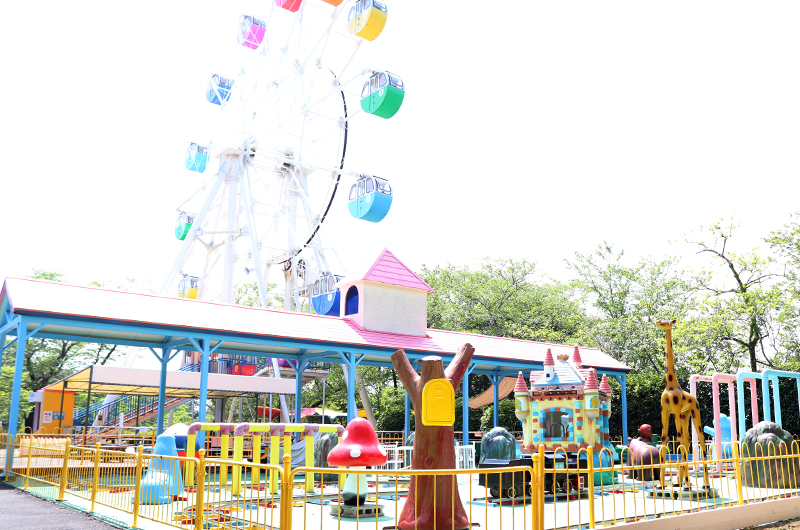 If you feel like just taking a walk in the park, please try our locomotive style tour bus, "Flower Train." Take a loop around the park while listening to explanations from one of our courteous guides (it takes about 15 minutes). If you first take a ride on the Flower Train, you can find out where things are and what is in bloom now, and then from there pick out the spots that interest you. This is a great way to spend time really exploring and enjoying our park.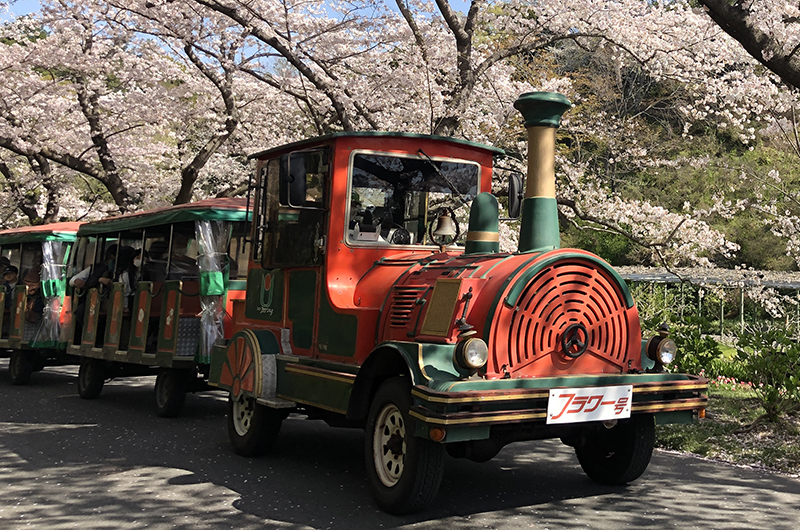 At the entrance of the park, we have our souvenir corner, where there is an abundance of great products available to you. There are decorative plants, various items with flower motifs (such as photo frames and ceramics), famous Hamamatsu sweets, and local products are all for sale. There is also a cafe restaurant, where you can take a rest or enjoy a meal if you like.
In addition to appreciating the plants, you can also come to Hamamatsu Flower Park to take part in various courses. Why don't you join? (For more information about events, please check the "Event" section on our home page.)
Hamamatsu Flower Park is definitely a recommended sightseeing spot around Lake Hamana where you can spend a day enjoying the seasonal flowers and the refreshing feel of nature.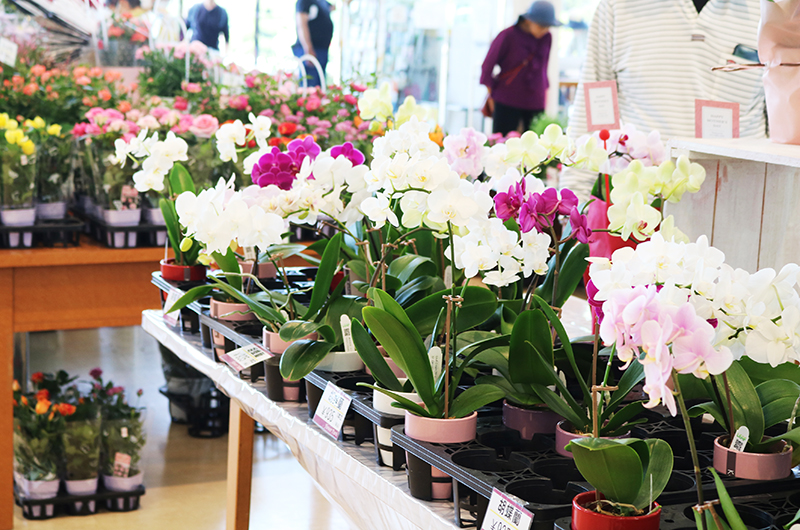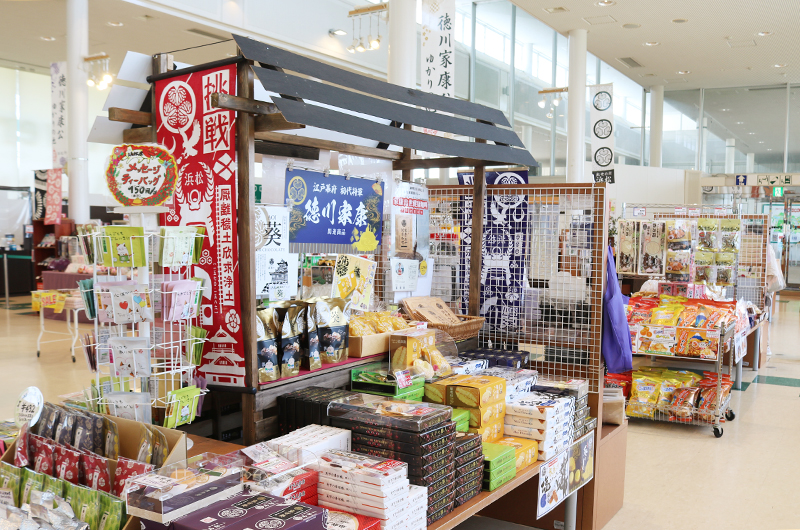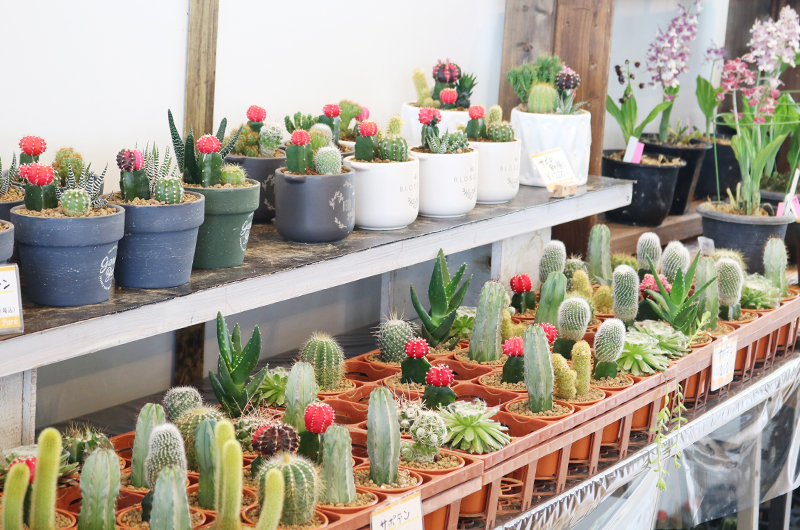 Admission
Mar - Jun
Children
FREE
Elementary & Junior high school
¥300〜¥500
Adult (High school and up)
¥600〜¥1,000
Jul - Aug
Anyone
FREE
Sep - Feb
Children
FREE
Elementary & Junior high school
FREE
Adult (High school and up)
※with shopping ticket ¥200
¥500
※The entrance fee and opening times may change, depending on the appearance of the garden as determined by the condition of the flowers in bloom, etc.
※Please contact us for information regarding admissions for groups of 15 or more, school excursions, people with disabilities and the elderly.

http://e-flowerpark.com/
(Japanese)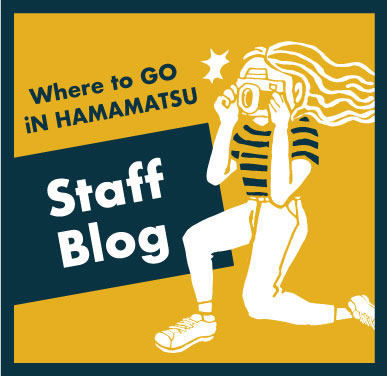 Flower Illumination
This time I'd like to recommend you to another cool awesome place in Hamamatsu to see.....
READ MORE
>>

Hamamatsu Flower Park

/ はままつフラワーパーク
ADDRESS
195 Kanzanji-cho, Nishi-ku, Hamamatsu-shi,Shizuoka
PHONE
053-487-0511
OPEN HOURS
 *It may be opened by night
May - Sep 9am - 5pm (Last entry at 4:30pm)
Oct - Nov 9am - 4:30pm (Last entry at 4pm)
Dic - Feb 10am - 4:30pm (Last entry at 4pm)
CLOSED
12 / 29 - 31
TRANSPORT
From Hamamatsu Station
[BUS]
Take the "Kanzanji Onsen" line bus (40 minutes ride) at bus stop #1 of the bus terminal to "Flower Park" ※The bus leaves every 10 to 20 minutes
[TAXI]
30 minutes
[CAR]
5 minutes from tomei Expressway Kanzanji S.I.C.
2023.4.25 update
Content may be subject to change after publication. Please also note that we are not accountable for loses and damages that may occur as a result of said changes.