They get wet without dissolving!?
Miraculous Washi Towel Shabu-shabu Experience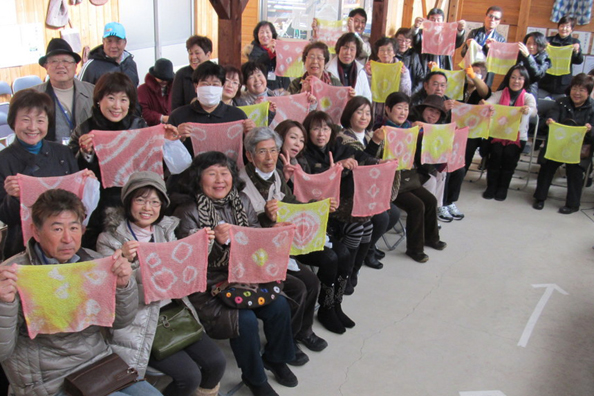 Shizuoka Rofu's Washi (Japanese paper) Towel Shabu-shabu Experience workshop is in Murakushi-cho, Nishi-ku, Hamamatsu. Located at the tip of the Shonai Peninsula which juts out into central Lake Hamana, the town of Murakushi-cho retains the tranquil scenery of its lake-surrounded setting. After that, the Washi Towel Shabu-shabu Experience offered at this workshop allows you to experience the instantaneous transformation of a crisp, freshly woven Washi Towel into a soft and fluffy towel by soaking (shabu-shabu) it in hot water. After that you get to dye it, creating your own unique Washi Towel to take home with you.



What is a Washi Towel?

A Washi Towel is a body-wash towel woven using the patented "Enshu karami-chijireori" method which was independently developed by Shizuoka Rofu based on "Enshu karami-ori," a special weaving technique that is used to make fishing nets that have long been in widespread use at Lake Hamana. The towels are composed entirely of Japanese-produced materials, including washi (Japanese paper) that can withstand exposure to water, Tencel made from wood pulp, and three kinds of heat-shrinkable thread. Because they are highly durable in water they can be used for over a year despite being made of washi. Although the towels work fine for lathering, the oil-absorbing properties of washi mean that they can be used without soap as well, and they are safe for people with delicate skin.


Washi Towel shabu-shabu process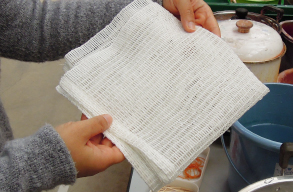 It is resilient and crisp.
2. Dip in hot water and stir

When you dip it in the hot water, only the heat-shrinkable threads shrink, while the washi and Tencel slacken and become a soft and fluffy pile.

3. Dip in cold water

Dip the towel in cold water and let it stabilize. After developing the pile once, the towel will maintain its shape.

4. Add a design

Depending on where you put the rubber bands, you can make a variety of unique patterns for the towel.

5. Dyeing

Change the coloring by adding one or two colors.

6. Finish

After you remove the rubber bands, your unique pattern will appear. When you dip it in the oxidizing liquid, the towel will instantly develop vivid colors, and your original Washi Towel is finished.
★Washi Towel Shabu-Shabu Experience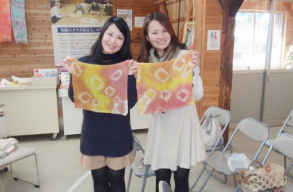 《 Hours of admission 》9am ~ 5pm

《

Required time

》

30 - 60 min.
《

Fee

》

500 yen, gift included. ※Tour by itself is free.
《

R

eservation

》

R
eception hours 8am ~ 8pm
Shizuoka Rofu Ltd. 053-489-2331 (Japanese Only)
※Generally opened every day year-round, but may be closed on occasion.






Experience is conducted in Japanese only.


We recommend that people who would like a more in-depth understanding of Washi Towels come with an interpreter.




Washi Towels are available for purchase in the Washi Towel Shabu-shabu Experience workshop, at inside Hamamatsu Station, service areas, hotels near Lake Hamana, and over the .




---
 WE RECOMMEND
・
A shop where you can buy multicolored Japanese paper near Hamamatsu station.
・

Authentic curry using real Sri Lankan spices
・

We just might have that "nostalgic flavor" you've been looking for!
・

A shrine dedicated to Orihime, and the birthplace of Enshu weaving
・

Scenic hot spring
---
View a Larger Map
ADDRESS
3294 Murakushi-cho, Nishi-ku,
Hamamatsu-shi, Shizuoka,
Japan 431-1207
PHONE
053-489-2331
TRANSPORT
From Hamamatsu Station
[TRAIN]
JR Tokai Line
"Maisaka" station (10 minute)
then walk (10 minute)
[CAR]
20 minute from Tomei Expressway Hamamatsu-nishi IC.
35 minutes from Tomei Expressway Mikkabi IC.
Parking available for 30 vehicles.
2015.5.20 update
Content may be subject to change after publication. Please also note that we are not accountable for loses and damages that may occur as a result of said changes.