Take a relaxing stroll around the quiet castle town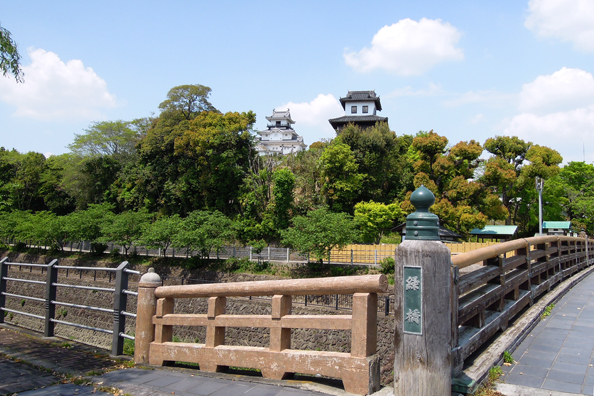 Kakegawa city is only one station away from Hamamatsu by Shinkansen (bullet train) and you can see the great castle close from the station like Hamamatsu city. Kakegawa Castle was called one of the best castles in Tokai region and the castle town around that has many historical buildings left from the old days. You can feel the good old days of Japan when you take an unhurried walk around the quiet castle town away from the bustle.

http://www.city.kakegawa.shizuoka.jp/foreignlanguage/en/Spots.html
Walking map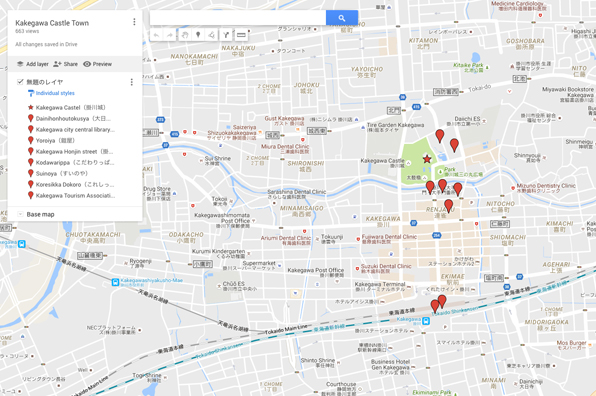 Kakegawa Castle【Kakegawajyo/掛川城】

Kakegawa Castle / Ninomaru tea room

Ninomaru Museum / Otemon
There is a beautiful castle restored as the first genuine wooden castle tower in Japan in 1994 and there are historical buildings such as Kakegawa Castle Palace or Takenomaru (old house). On the first and third Sundays of every month, you can see the tour guide who is in his Ninja costumes. Also there are lots of minute craft works and modern Japanese paintings at Ninomaru museum, and you can enjoy serving tea at Ninomaru tea room.

http://kakegawajo.com/
(Japanese)
Dainihonhotokusya【大日本報徳社】

Dainihonhoutokusha was established as a base of idea when the Hotoku campaign started in the Meiji era and you can see some buildings that have a taste of the Meiji era on the site. Daikodo (big auditorium) is designated as the country's cultural property.

http://www.city.kakegawa.shizuoka.jp/kankou/spot/rekishibunka/houtokusha.html
(Japanese)
Kakegawa City Central Library
【Kakegawa-shiritsu Chuo Toshokan/掛川市立中央図書館】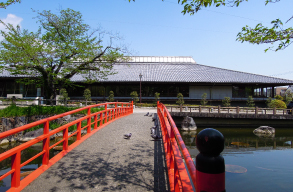 Kakegawa City Central Library is introduced in the article
Matthew No Me
(2013/03/25)
Yoroiya【鎧屋】

Yoroiya is in front Kakegawa Castle and you can buy or rent armors which are traditional Japanese protectors. Besides that, there are many imitation swords, Ninja goods, historical props and more in the shop. It is also popular for visitors to experience putting on the armor, which weighs 10 kilograms (there is a fee).

http://yoroiya.hamazo.tv/
(Japanese)
Kakegawa Honjin Street【Kakegawa Honjin Dori/掛川本陣通り】

Kakegawa Honjin Street is a stall village which has various shops serving food and drink. About 20 shops line the 60 meter street and they all have unique foods and appearances. There use open-air booths with bathroom facilities, and some shops are open at lunchtime, too.

http://honjindouri.hamazo.tv/
(Japanese)
Kodawarippa【こだわりっぱ】

At the restaurant on the second floor, you can enjoy the view of Kakegawa Castle and having food made with local ingredients. On the first floor, there is a product center where you can buy specialties from Kakegawa and a footbath, which you can enjoy for free. You can stop by and enjoy the facilities at any time.

http://www.kakegawa-kankou.com/kanko/guide/facility_detail.php?_mfi=237
(Japanese)
Suinoya【すいのや】

It is a small-time candy store, which was started over 50 years ago. From kids to adults, you can stop by when you're hungry and stuff yourself full with the famous Oden (dish of various ingredients stewed in soy soup) and Yakisoba (fried noodles). This store retains the same atmosphere as it did long ago.

http://r.gnavi.co.jp/jrkyjjr40000/
(Japanese)
Koresikka Dokoro【これしっか処】
※Souvenir shop of Kakegawa Station yard

This shop is in the concourse of the south exit at Kakegawa station where you can buy local products and souvenirs of Shizuoka prefecture. Fine products you can only buy here'll definitely attract you, such as freshly baked bread, and a parlor of crown melons direct from the farm.

http://koresika.jp/
(Japanese)
Kakegawa tourism association visitor center "Switch of travelling"
【Tabi no Switch/旅のスイッチ】

It is in the concourse of Kakegawa station and you can get information about tourist attractions and cultural exchange in and around the city. There is also a bike friendly station (they have a bicycle pump and simple tools) for people who enjoy the tour by bike. They don't rent bikes here, but they can introduce places where you can.※Bike friendly stations are set in 50 places around Kakegawa city.

http://www.kakegawa-kankou.com/ask/
(Japanese)
Access to Kakegawa Station
[TRAIN/ From Hamamatsu Station]
13 minutes by JR Tokaido Shinkansen "Kodama" / 24 minutes by JR Tokaido Main Line
[CAR]
Around 6 minutes from Tomei Expressway Kakegawa I.C. / Around 22 minutes from Shin-Tomei Expressway Mori-Kakegawa I.C.



2017.5.25 update
Content may be subject to change after publication. Please also note that we are not accountable for loses and damages that may occur as a result of said changes.