Enjoy experiencing Zen in a mountain temple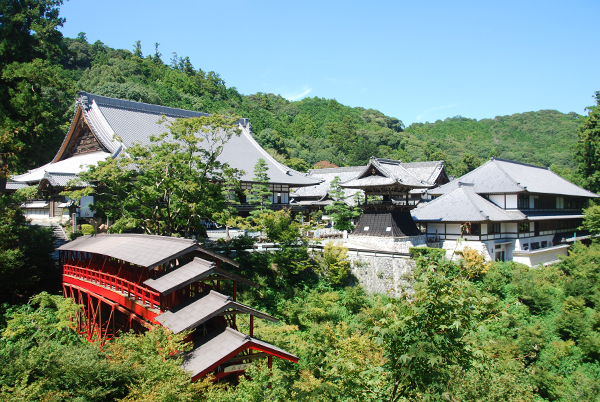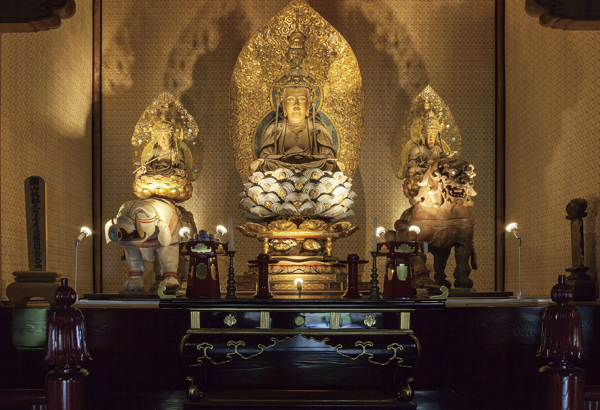 | | |
| --- | --- |
| | Wi-fi is available in some areas. |
Okuyama Houkouji is located in Inasachō Okuyama, Kita-ku, which is in the city of Hamamatsu, Shizuoka Prefecture. It is the head temple of the Houkouji sect of Rinzai Buddhism and is also famous as a Zen temple representative of the Tōkai region. The temple is also known as Okuyama Hansobo.
During the second year of the Kentoku Era (1371) Mumongensenzenji, the son of Emperor Godaigo, established this Zen temple on 60 hectares of land. 22 of the buildings are registered as a tangible cultural property. On the grounds were the Great Main Hall, the Hansobo temple, the Founder's Hall, and a three-story pagoda, among other buildings. On one occasion, Mumongensenzenji paid a visit to the shrine and seeing that the scenery was similar to that of Tendai-san Houkouji in China, he gave the name Houkouji to this temple.
Mumongensenzenji made pilgrimages to various regions of China and while on his return to Japan, his ship almost sank. It is said that the power of Hansobo allowed him to escape disaster and due to this miraculous event, they built a "Hansobo Shinden (main hall)" in the shrine's area and many people from all over the country now come to this temple to pray for protection from danger, prosperous business dealings, and fulfillment of wishes. Hansobo's earthly form is also known to offer protection from fire and so, the Hansobo Taisai is held in October and there is a Fire Protection Festival (or Fire Festival) in February.
There are over 500 stone arhat statues placed on the main road heading up the mountain kindly greeting all visitors to the temple. On top of the stone bridge, there are four arhat statues... or sometimes five, as some people who have witnessed this mysterious phenomenon have reported.
Admission
Babies and children under school age
Free
Junior high and down
¥200
Adult(high school and up)
¥500
<Discounts for groups of 20 or more>
Babies and children under school age
Free
Junior high and down
¥150
Adult(high school and up)
¥450
WE RECOMMEND!!
Zen experience
You can experience Zen such as Shojin Ryori (vegetarian dish), Zazen (Zen meditation), Shakyo (Transcribing sutra) and Shabutsu (Tracing a picture of a Buddhist image) at Hokoji. ※Some plans need to be booked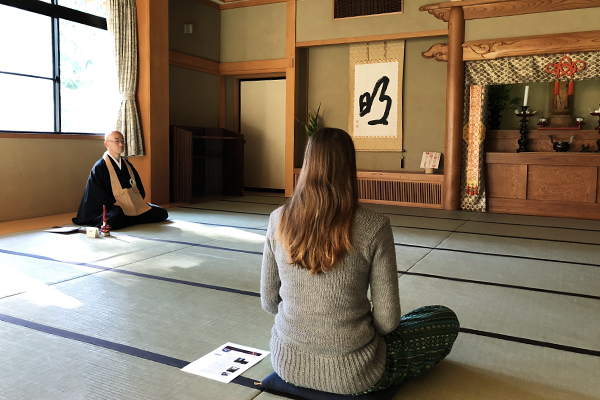 MORE READ!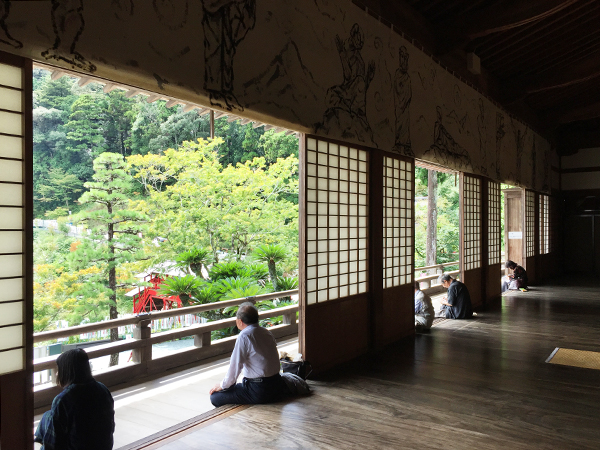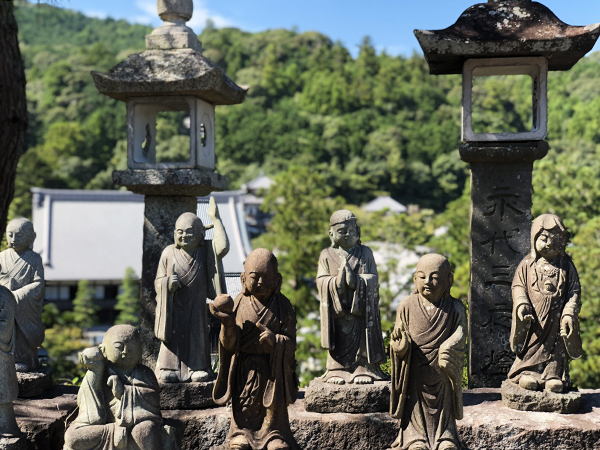 Hondo(registered tangible cultural property)
The main hall with 32m in width and 27m in depth is one of the most worth visiting architecture in Tokai area.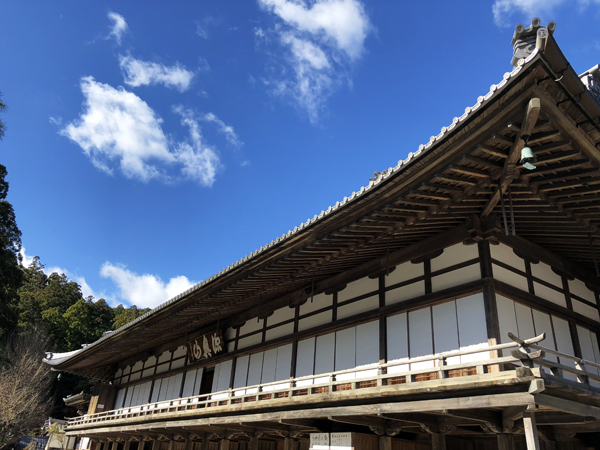 Hansobo temple(registered tangible cultural property)
The guardian god of Okuyama Hokoji is enshrined here.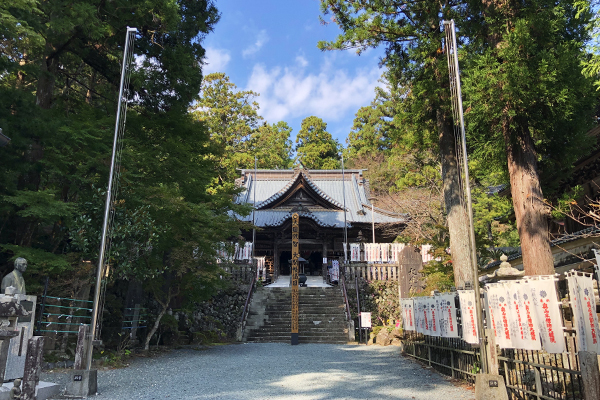 Three-story pagoda(registered tangible cultural property)
It is said that the original builder was saved from the brink of bankruptcy and was able to grow his business, so many business leaders from all over the country often come to pray here against bankruptcy.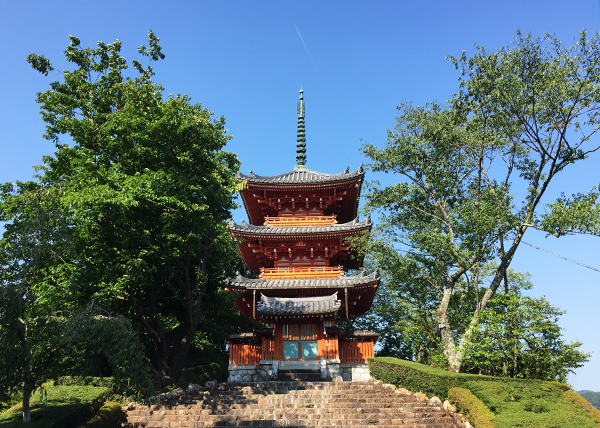 Somon(registered tangible cultural property)
A dignified gate welcomes visitors at the entrance to the Hokoji-temple grounds. It is known as the "black gate".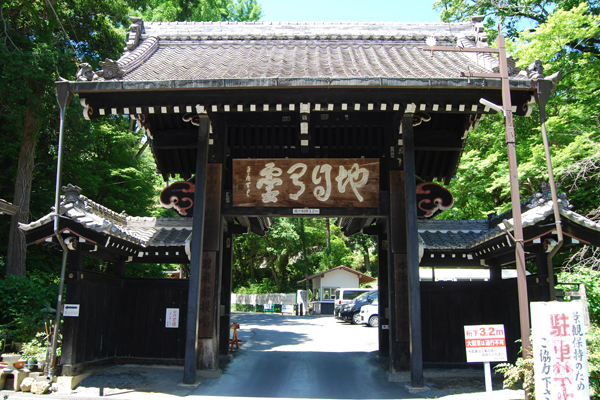 Sanmon(registered tangible cultural property)
This is the mountain gate which was rebuilt in 1953 by the chief priest Shizan Ashikaga. It is known as the "red gate".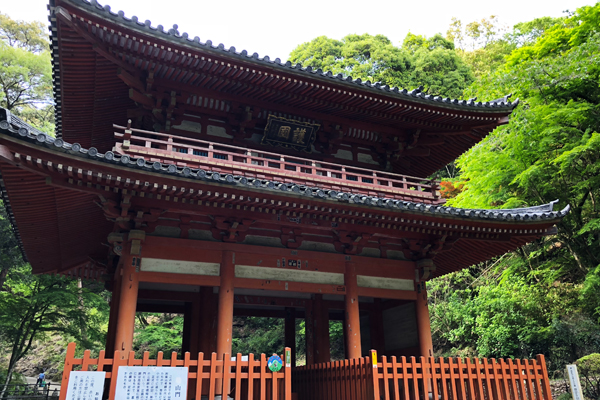 Gohyaku Rakan
Rakan means "Budda's disciple who has achieved enlightenment," and it came from a story about 500 rakans who had gathered when Budda passed away. People have been told that they will surely find a statue resembling themselves if they look around the 500 stone statues of Arhats of Houkouji.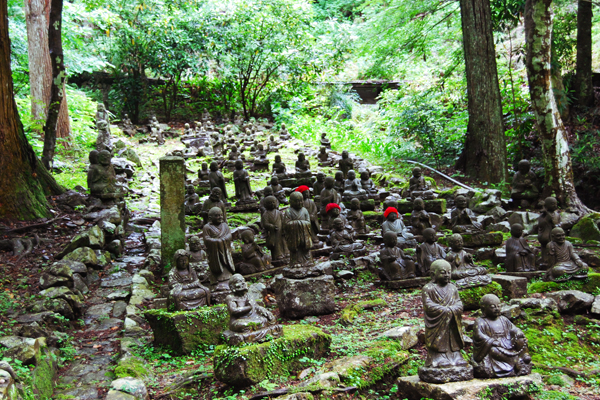 The main event at Okuyama Hokoji
Dec. and Jan.
Every Dec. 31st and Jan. 1st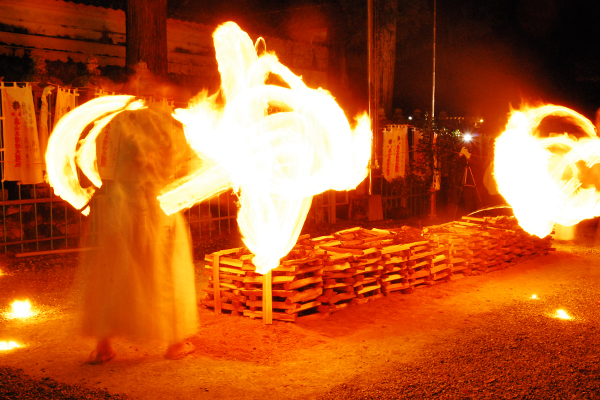 Okuyama Hansobo "Fire Festival"
It's a ceremony held to pray for "home security, good health and fire prevention" at Okuyama Hansobo, which is home to the god of fire prevention. It is said that you will have good health for a year if you succeed at "Hiwatari"(walking across the sacred fire on bare foot).
From late Mar. to the beginning of Apr.
Best time to see the cherry blossoms
details
Oct.
Every second or third Sunday in October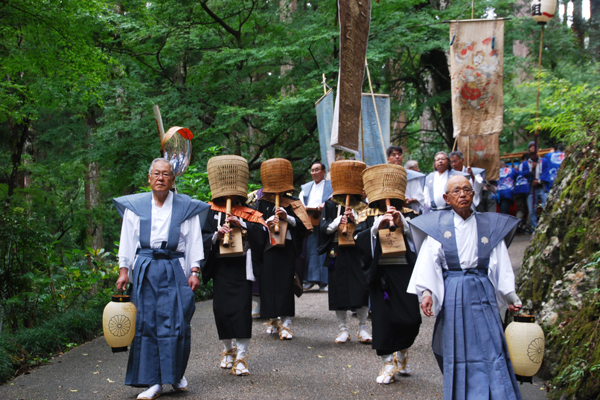 Okuyama Hansobo Taisai
Great prayer, Togyo (transferral of a sacred object from its place of enshrinement) and Chigo Gyoretsu (children's parade) will be held. There are other events held on the same day.
From late Nov. to the beginning of Dec.
Best time to see the changing leaves
details
English brochure
Click to Enlarge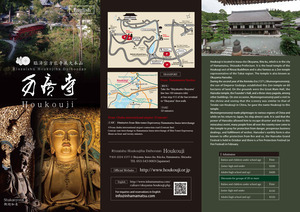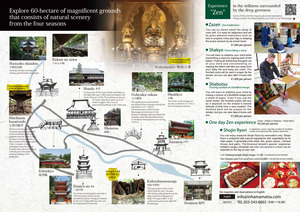 http://www.houkouji.or.jp/index.html
(Japanese)
>>

Okuyama Houkouji

/ 奥山方広寺
ADDRESS
1577-1 Okuyama,Inasachou,Kita-ku, Hamamatsu-shi,Shizuoka
PHONE
053-543-0003
OPEN HOURS
9am – 4pm (Mountain's reception closes at 3:30)
TRANSPORT
From Hamamatsu Station
[BUS]
Take the "Shiyakusho-Okuyama"line bus (60 minutes ride) at bus stop #15 of the bus terminal to "Okuyama" then walk
[TAXI]
50 minutes
[CAR]
10 minutes from Shin-tomei Expressway Hamamatsu I.C.
※From Chubu International Airport connection road (Centrair line) Centrair East Interchange to Hamamatsu Inasa interchange of Shin-tomei Expressway. 
About an hour and twenty minutes.
2020.2.17 update
Content may be subject to change after publication. Please also note that we are not accountable for loses and damages that may occur as a result of said changes.