In Japan people have long enjoyed the custom of viewing autumn colors when they are in season, known as momiji-gari. The "gari" in momiji-gari comes from the Japanese word for hunt and means to go looking for flowers and foliage. The custom originally started among the nobility in the Heian period (794-1185), but since the Edo period (1603-1868) it has spread among the common people as well, becoming established as a seasonal event.
About 70% of the land in Japan is forest, containing all kinds of deciduous (leaf-shedding) trees, and beautiful autumn colors can be seen all over due to the large variations in temperature and the like.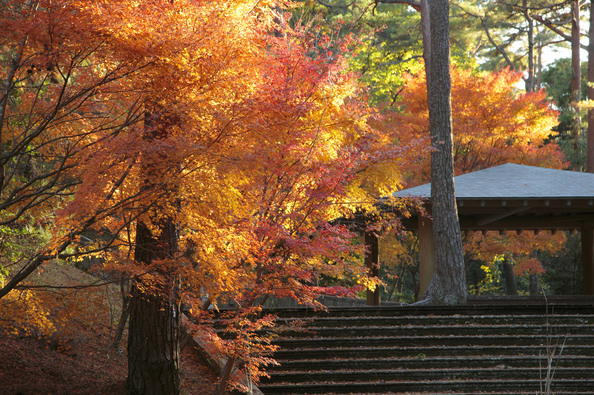 Momiji matsuri (autumn colors festivals)
2017 / 10 / 1 sun - 12 / 10 sun

There will be a special showing of the temple treasure during this period, and in addition, on Nov. 24 (fri), 25 (sat) and 26(sun), the Ryotan-ji garden, a nationally designated place of scenic beauty, will be specially open to the public at 2ight.
[Main leaf] shedding trees: Japanese maple, maple, white enkianthus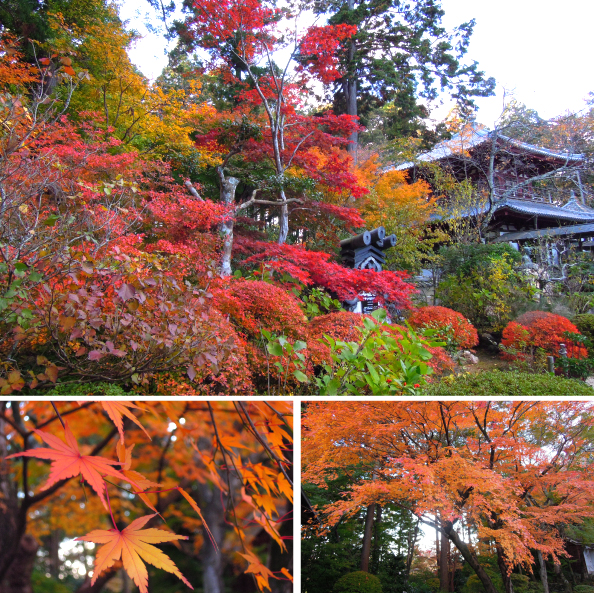 2017 / 11 / 26 sun 10am - 3pm

About 1000 color-changing trees provide a beautiful autumn display along the Miya River that flows through the grounds of the shrine. There is also free sweet sake service and oshiruko(¥200), as well as a musical performance with kotos held in the pavilion.
[Main leaf] shedding trees: Japanese maple


2017 / 11 / 19 sun
This event is canceled during construction work.
Shirakurakyo Gorge Momiji Matsuri
MAP
This is the most famous spot for autumn colors in western Shizuoka Prefecture. We can see vibrant maple leaves from a riverside promenade 3km long. There are also sweet sake(Amazake) served and local specialties sold.

[Main leaf] shedding trees: Japanese maple


2017 / 11 / 23 thu

Daito-in Temple Momiji Matsuri MAP
This ancient, historic temple has over 3400 branches throughout the country. Once every year only on this day you can pray to Hayagriva. With the beautiful view from the main temple building high up top, this is a popular spot for autumn colors.
[Main leaf] shedding trees: Japanese maple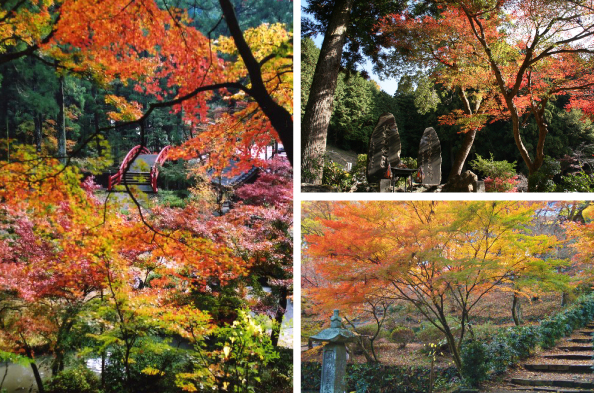 2017 / 11 / 26 sun
Around Hamamatsu Castle in the Hamamatsu town center, trees paint the scene with their autumnal colors. The colored leaves look especially attractive in the context of the elegant Japanese-style gardens. Enjoy a cup of tea served by Shointei Teahouse (300yen, a Japanese confection included), or you might like to have a look at the costume of a military commander from the Warring States period, or experience archery or craft demonstrations.
[Main leaf] shedding trees: Japanese maple, ginkgo, hornbeam

2017 / 11 / 25 sat, 26 sun

At Hattasan temple, there are plenty of activities you can enjoy.Hattasan temple offers a great chance not only to see traditional events, but also food, shops, market and workshop, a great selection for the family to do together.
The other recommendation is Yakuyoke mitarashi dango,As well known by the locals, the dango are belived to keep the eaters from the evils. This seasonal traditional sweet goes well with bitter green tea and is available from November 25 to December 3.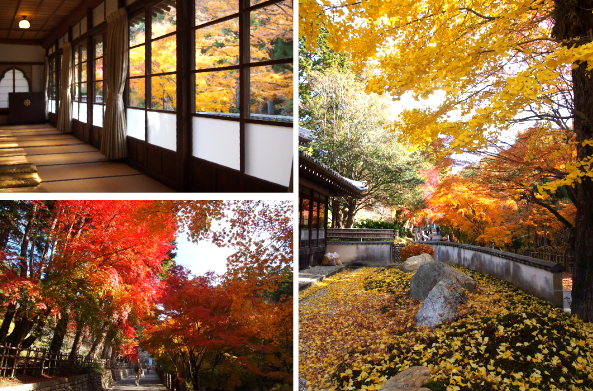 Additional autumn colors highlights
Shizuoka Prefectural Forest Park
MAP

[Main leaf] shedding trees: Japanese maple, maple, ginkgo
Shiroyama Park in the ruins of Futamata Castle
MAP

[Main leaf] shedding trees: Japanese maple
[Main leaf] Japanese maple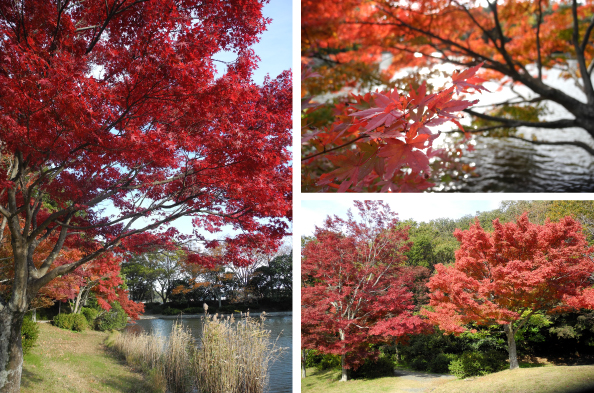 2017.9.27 update
Content may be subject to change after publication.
Please also note that we are not accountable for loses and damages that may occur as a result of said changes.