Great views of the sea and mountains! Enjoy cycling all the way around Lake Hamana!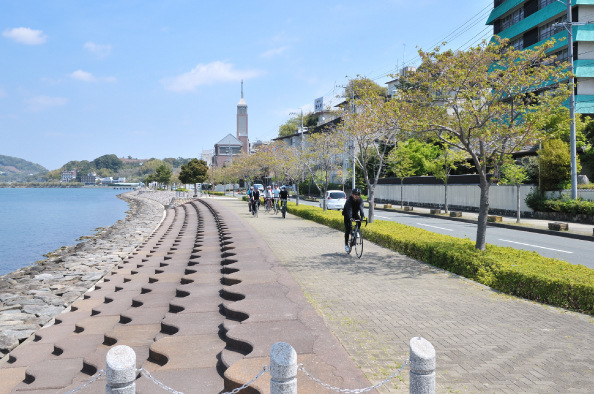 Photo:浜松観光コンベンションビューロー
Lake Hamana (Hamanako), in the western part of Hamamatsu City, has the shoreline among brackish lakes in Japan. Lake Hamana Cycling Road is a cycling trail that was laid out to lie almost full circle around the lake. Many people come to this cycling road where one can feel and enjoy the nature of Lake Hamana, some enjoy riding road bikes in earnest, some find pleasure in a light-hearted ride with rental bicycles during their trip

Photo:南浜名湖.com

Photo:奥浜名湖観光協会
Lake Hamana has a variety of places to see depending on each area. On the south side of the lake connected with the sea, there is Maisaka Town with the iconic red shrine gate standing in the sea, and a historic town Arai where Arai Sekisho (a historical checkpoint) still remains. On the north side, connected with the mountains is Mikkabi Town famous for mandarin oranges, and Sunza Town where marine sports are popular. In addition, the relaxing scenery is charming in this area with quaint stations scattered along the Tenryu Hamanako Railroad. On the west side, there are a number of attractions to visit: Kanzan Temple with hot-spring resort, Hamanako Pal Pal, Hamanako Flower Park and Hamanako Garden Park.
One can freely enjoy cycling during their trip as bicycles can be rented at bicycle rental terminals located in 7 spots around Lake Hamana. Bicycles can be dropped off at each terminal, so feel free to cycle wherever you'd like. With the Hamanako Excursion Ship, you can also take your bicycle aboard and travel from the Kanzan Temple area to the northern area.

http://www.inhamamatsu.com/activity/hamanako-sightseeing-cruiser.php
Bicycle rental "Cycling Around Hamanako YURIN"

※Please understand that the condition or numbers of bicycles and the status of accepting may be changed according to circumstances.
Kaikokan Terminal/海湖館ターミナル
In Arai Benten sea fishing park
PHONE:053-594-6624
OPEN:9am~4:30pm
Araimachi Eki-nishi Terminal/新居町駅西ターミナル
JR Araimachi station western neighbor
PHONE:053-594-5022
OPEN:9am~4pm
Bentenjima Kaihin koen Terminal
/弁天島海浜公園ターミナル
The south side of the JR Bentenjima station
PHONE:053-596-4187
OPEN:Apr-Sep 9:00am-4:30pm
Oct-Mar 9:00am~3:30pm
CLOSE:12/28-1/4
★Kid's bicycles available
agisaen terminal/渚園ターミナル
Nagisaen administrative builiding
PHONE:053-592-1525
OPEN:8:30am~5pm
Kanzanji Terminal/舘山寺ターミナル
Kanzanji Onsen tourism association
PHONE:053-487-0152
OPEN:9am~4:30pm
★Kid's bicycles available

Kiga Eki Terminal/気賀駅ターミナル


In Tenryu Hamanako Railroad "Kiga Eki"
PHONE:053-522-4720
OPEN:9am~4:30pm
★Kid's bicycles available
Mikkabi Eki Terminal/三ヶ日駅ターミナル
In Tenryu Hamanako Railroad "Mikkabi Eki"
PHONE:053-525-0102
OPEN:8:30am~4pm
★Electric bicycles available (extra charge apply)

Lake Hamana sightseeing cruiser

The last cruise leaving from Seto port is

at 3:45pm

from Mar 1st to Nov 25th, from Dec 29th to Jan 5th

at 2:20pm

from Nov 26th to Dec 28th, from Jan 6th to Feb 28th

Please be careful not to be late.
---
Admission

Child 12 and under / day
¥ 310
Adult / day
¥ 520
Deposit
¥1,000
Added for drop
¥1,000
※Deposit is charged to every customer and refunded upon return of the bicycle.
※Bicycles can be dropped off anywhere between terminals. In such cases, deposit is paid as drop fee and not paid back.
In the case of flat tire
Each terminal deals with the case differently. We request that you check with the terminal when renting.
How to rent
Fill in and submit the application for bicycle rental at each terminal.
Also submit some form of identification (passport, drivers' license, health insurance card, student identification, banking card, etc.) together with the application.
Sample of application for bicycle rental (English ver.)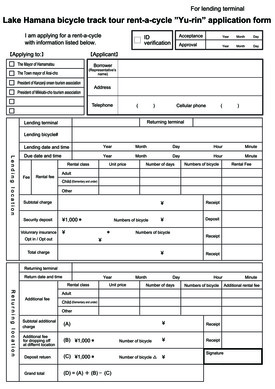 click to enlarge
Referring to the sample, fill in all fields inside the red frame of the application (4 copies) and submit at the terminals.
2019.10.11 update
Content may be subject to change after publication. Please also note that we are not accountable for loses and damages that may occur as a result of said changes.