Special feature of Summer in Lake Hamana
Traditional fishing which continues over 100 years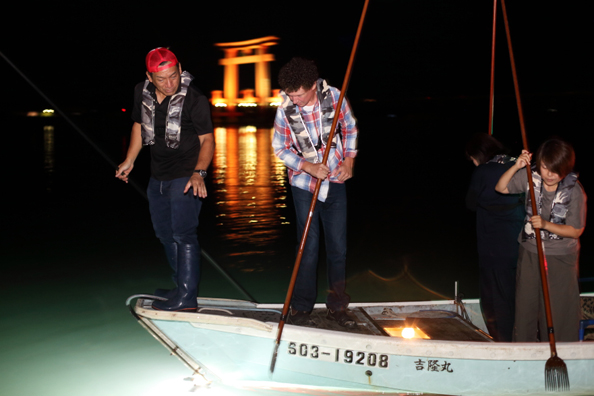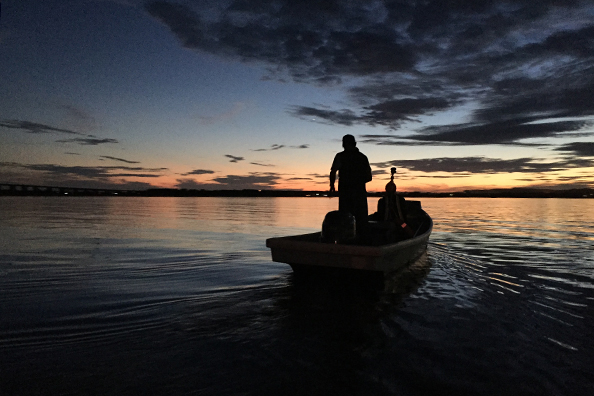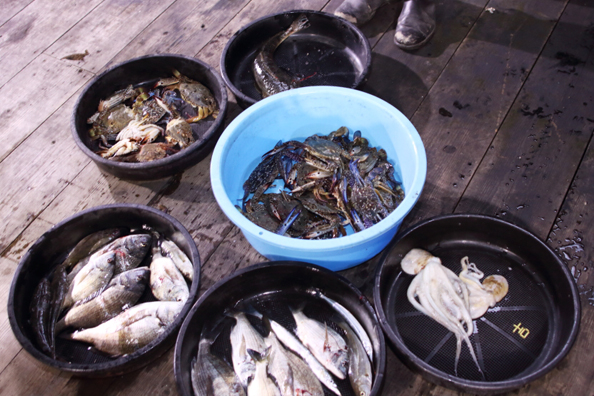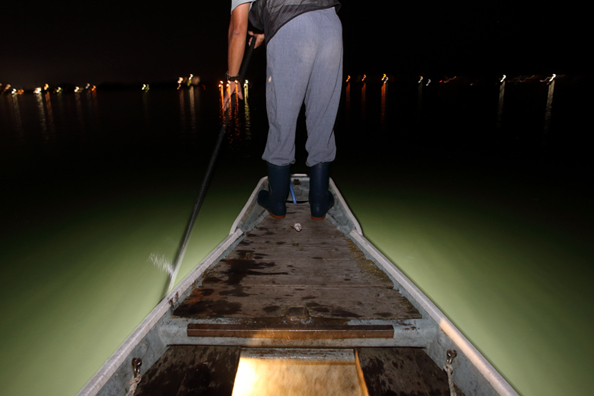 At Lake Hamana in Hamamtsu city, there is a unique fishing way called "Takiya fishing" which continues over 100 years in this area. The fishing is done from May to September in the shallow area of the southern part of Lake Hamana. They put a ship off at sunset and catch sleeping fishes or hiding marine products by lightning under the water in the darkness. Lake Hamana is one of the famous brackish-water lake and has quiet waves, so that you can see the bottom of the lake well and there are many kinds of fish living in there. Also there are many shallow spots where they can spear with a harpoon so this fishing style was born and succeeded. You can bring the products you got home, but also you can eat them at "Takiya-tei" on the raft floating on the lake. The boatman on each raft cooks them to tempura or miso soup at "Takiya-tei". The seafood you eat on the lake is exceptional.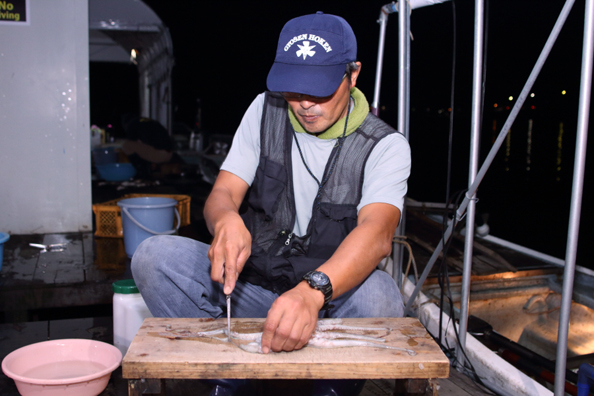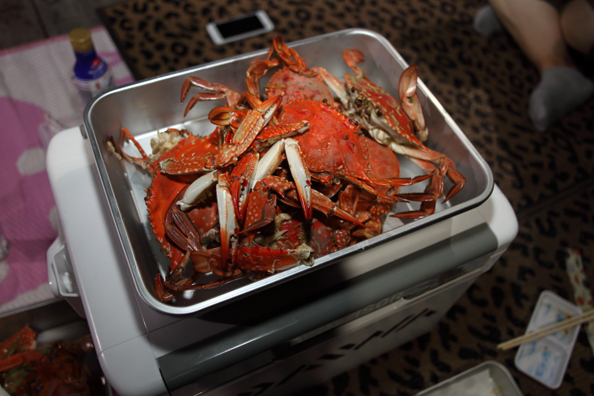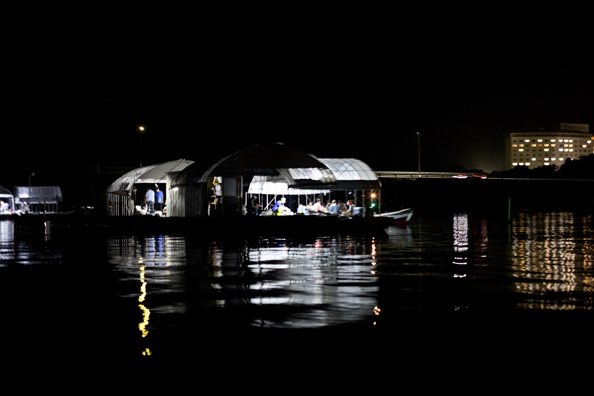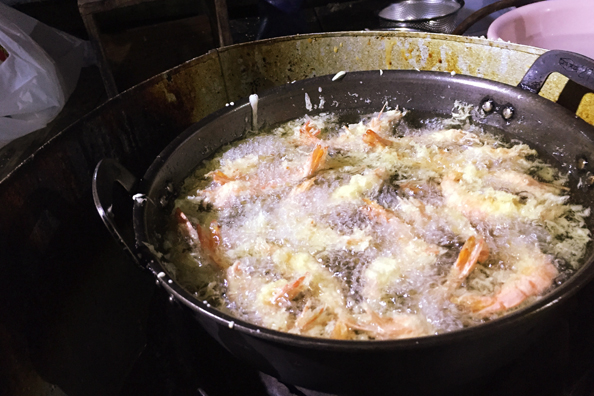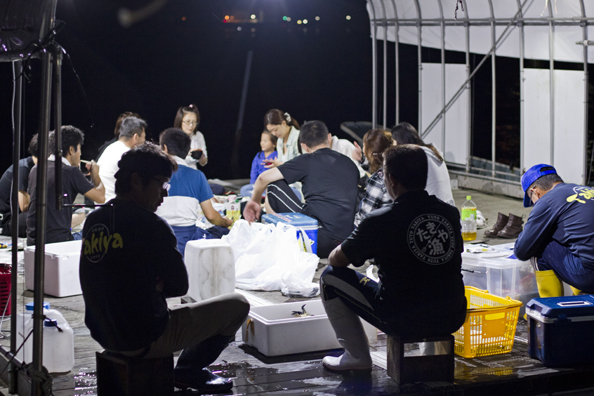 Period From May to September (The reservation starts on May first in 2017)
Fishing time 
Part 1:90 minutes after the sunset (Dinner at Takiya-tei is about 90 mins.)
Part 2:Start at 11PM (Dinner at Takiya-tei is about 90 mins.)
Capacity

Cooking

Charge

Memo

One raft(※1)




(up to 4 adults)

No cooking


¥27,000

You can take all fish home.(※2)

Cooking available




(using Takiya-tei)

¥30,000

You can bring fish which wasn't cooked home.(※2)

If you only want dinner to eat with raft

Adult (Jr. high and more) ¥3,000 / children ¥1,500 / baby FREE
(※1)
If you want kids to ride together, the combination of <2 adults plus 3 kids><3 adults plus 2 kids> are only available. In that case you need to pay additional 2,000 yen. (If one of the five passengers is an infant, the additional charge is not needed.)
★

The combination of <1 adult and 4 kids> is not available because we cannot guarantee an enough safety.


(※2) If you want to take fish home, please take care of it by yourself. Please bring a cooler box or refrigerant.

※It is allowed to bring drinks or foods into the "Takiya-tei". (such : Rice balls, bread)
Contact details
Takiya association 

053-592-2260(Japanese Only)
9985-3 Ubumi, Yuto-cho, Nishi-ku, Hamamatsu-shi
Where to ride on
Bentenjima beach park(
3775-2 Bentenjima, Maisaka-cho, Nishi-ku, Hamamatsu-shi
)
※3 mins walk from JR Bentenjima station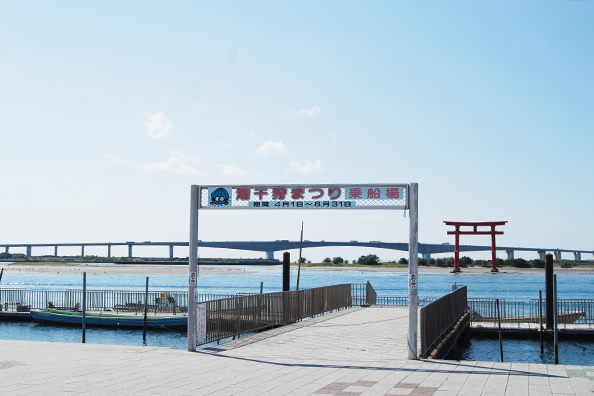 Yuto branch of Hamana fishing cooperation(9985-3 Ubumi Yuto-cho Nishi-ku Hamamatsu-shi)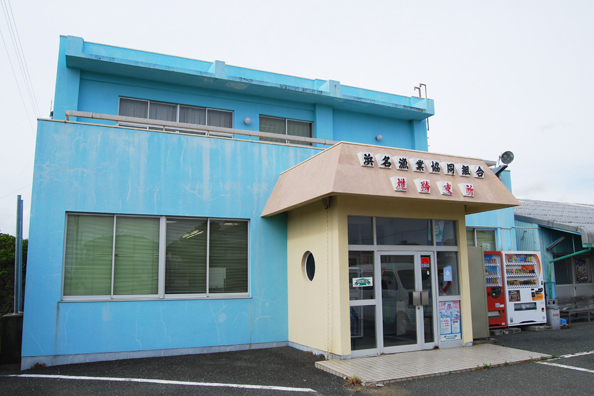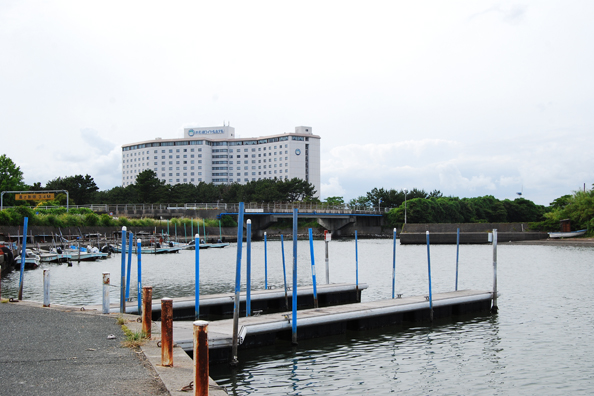 ■
Please be sure to wear a life jacket.


■

You have to follow the instructions of the boatman.


■

Because it's a small ship, you may fall down or fall into water if you lose the balance.

Please don't stand up suddenly and follow the instructions of the boatman.




■

Please be careful with the harpoon because its edge is so sharp.


■

All the staff including the boatman speaks only Japanese. If you are not confident with Japanese conversation, we recommend you to have a translator go with you.