During July and August,
many fireworks events are planned throughout Japan. It is just so fantastic to see the contest of the fireworks of various sizes.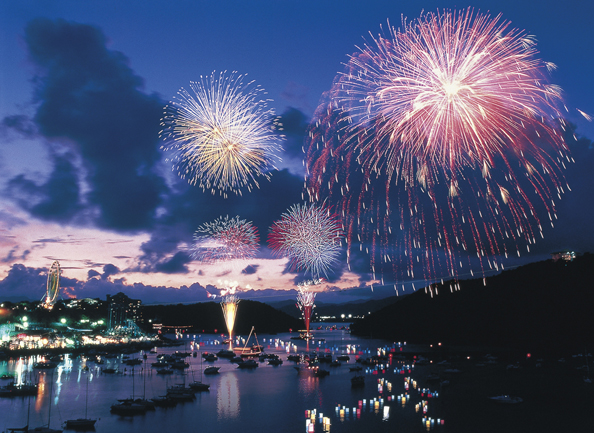 photo:

浜名湖かんざんじ温泉観光協会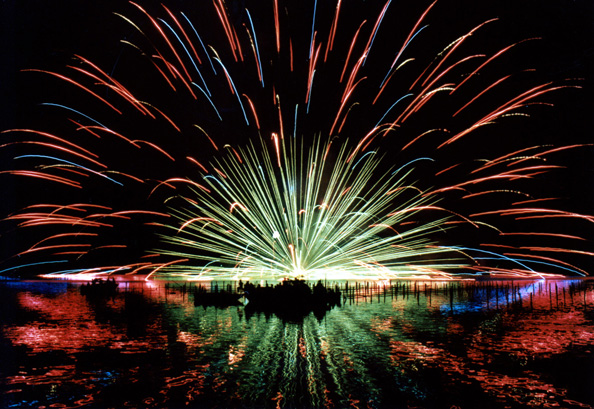 photo:

奥浜名湖商工会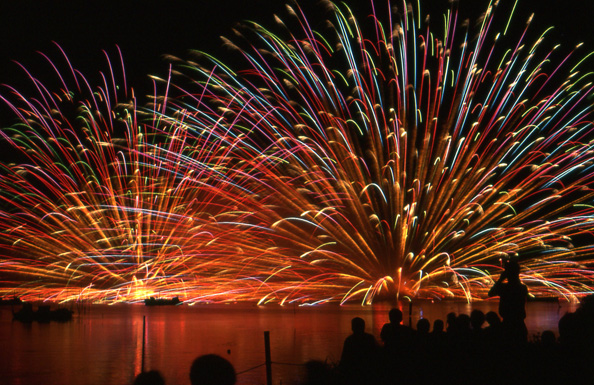 photo:

奥浜名湖商工会

photo:南浜名湖.com
7 / 23 sun

★Lantern Floating(Tōrō nagashi )

Details for
8 / 11 fri
8 / 14 mon
Nakano-cho Fireworks Festival
[Place] Hamamatsu-shi, Higashi-ku Nakano-cho, Tenryu d

ry riverbed

MAP
7:30pm - 9pm If it rains on that day
8 / 19 sat
Benten-jima Beach Festival
[Place] Benten-jima Kaihin park

MAP
3pm ~ 9pm Cancellation in the event of stormy weather.

---
Description of the Types of Fireworks!
Skyrocket Fireworks
Many fireworks are combined together to make a single firework that is launched into the sky which gorgeously colors the summer night sky and creates a fantastic scene.
Additionally, Japanese fireworks are unique in that they are round no matter what angle they are viewed from, allowing many people to enjoy the show at once.
On-lake Fireworks
Instead of launching fireworks into the air, on-lake fireworks are floated on the surface of the lake using a raft, and remotely ignited. While fireworks usually explode in a spherical shape, on-lake fireworks only explode in a half-sphere. However, because of their reflection in the surface of the lake, the explosion looks spherical, as if they were exploding in the sky.
Tezutsu ("Hand-cylinder") Fireworks
Tezutsu fireworks refer to a type of hand-crafted firework in which fireworks are first stuffed in a bamboo cylinder wrapped with rope, and then ignited while the cylinder is held by a person. The few seconds while the fireworks ignite, in which the fireworks produce an orange pillar of fire with great roaring noises, are of course spectacular, but also exciting are the pyrotechnicians holding the bamboo cylinder in imposing stances.
"Star mines"
Fireworks, to be launched into the air, are lined up and quickly ignited in rapid succession using a fuse to connect the fireworks. The large number of fireworks launched within a short timeframe is a spectacular sight full of sense of speed. Many firework festivals cap their finales with star mines.
"Niagara"
By igniting a row of hanging tubes filled with gunpowder spanning several meters to several tens of meters, gunpowder runs downward in unison. The gunpowder then ignites, creating a blazing spectacle that makes it seem as if the Niagara Falls is in front of you.