Authentic sushi enjoyed at the counter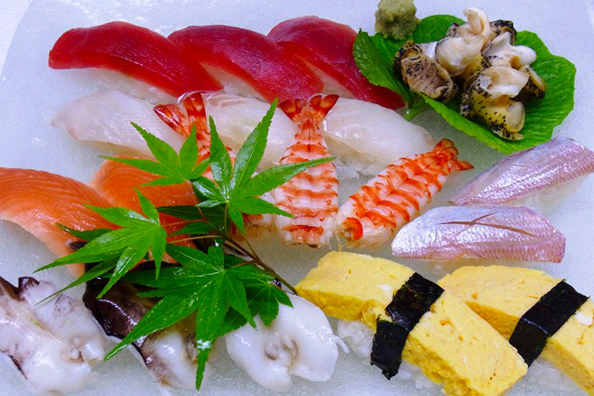 Service is in Japanese only,
but we do our best to provide a warm welcome.
Located a convenient two-minute walk away from the south entrance of JR Hamamatsu Station, Suehiro-sushi is an authentic sushi restaurant inheriting three generations of flavor and technique.
Our sushi chefs make sushi with fresh ingredients obtained locally from Lake Hamana. Among them, the rice roll using the flaver of Lake Hamana is popular for its good aroma and flavor. Although there is table seating, you can sit at the counter in a traditional sushi restaurant style and come face-to-face with the sushi chef while you eat.
You'll feel right at home surrounded by the friendly hospitality of this restaurant where flowers and dishes are changed according to the season and even a sushi beginner can go in without feeling nervous.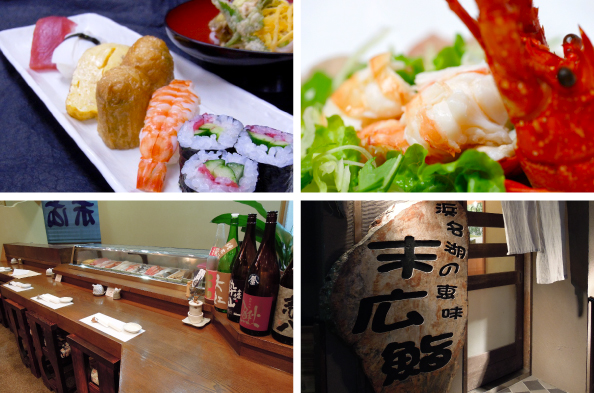 Menu / Price
Jo sushi
(deluxe sushi)
¥1,500
Tokujo sushi
(super deluxe sushi)
¥1,800
Chef's choice nigiri
(with soup)
¥2,300
(Add 1,200 yen to an item above and 2 dishes of the day will be included)
One-coin lunch
(sushi + soup)
¥500
★We are happy to take reservations in advance. (Telephone reservations)
Please tell us that you saw us on iN HAMAMATSU.COM at that time.
And when you go to restaurant, please refer to this page.

http://www.suehiro-sushi.jp
(Japanese)
View a Larger Map
ADDRESS
 360-6 Sunayama-cho, Naka-ku, Hamamatsu-shi, Shizuoka,
PHONE
 053-452-6288
OPEN HOURS
 Lunch 11:30am~13:30pm / Dinner 5pm~10pm
CLOSED
 Wednesday, every second Tuesday
TRANSPORT
 From Hamamatsu Station
[WALK]
 2 minutes
2013.3.25 update
Content may be subject to change after publication. Please also note that we are not accountable for loses and damages that may occur as a result of said changes.