・Although, our service is only in Japanese,
  we will welcome you from the heart with our energy and smile.
・You can see an <English/
中国(

繁体,简体)/

한국어/

ไทย> menu
・Free Wi-Fi and Ginren card are available.
Enjoy 0riginal Izakaya dining featuring the Shizuoka local menu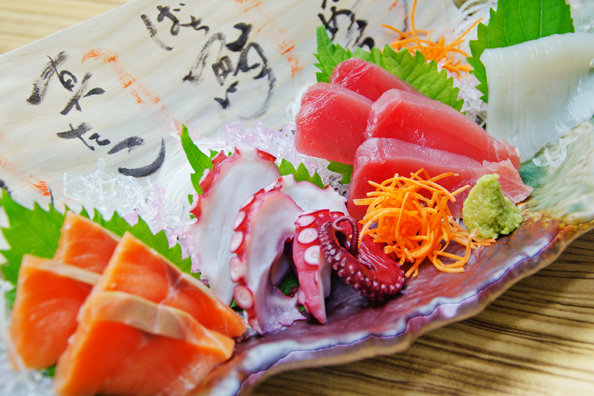 At Tennkuu, you can enjoy original cuisine using carefully selected food and flavor showcasing local ingredients. Our menu features local delicacies such as Shizuoka Shirasu (young sardines) with rice, and fried chicken with Shizuoka Maccha salt for customers who are looking to enjoy the unique flavor of Shizuoka. We also provide many kinds of alcohol and soft drinks. Our service staff have original and sometimes surprising performances to further enhance your dining experience.
The interior design gives the restaurant an ambiance of both sophistication and welcoming comfort.
Our seating arrangements are flexible enough that we can cater to a small group in a private room, or a large party of over 100 people. You can use us for various occasions.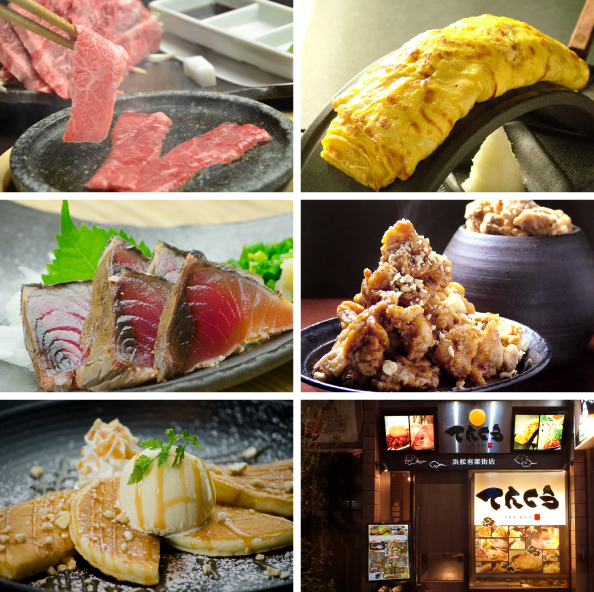 Menu/Price
Fried chicken shook with green tea salt made in Shizuoka ¥780
Tennkuu Ohashi rolled omelet
(you can choose toppings)
¥680
Dice shaped steak of natural tuna ¥580
Freshly boiled shirasu made in Shizuoka on rice
(with an egg)
¥580
Steamed green beans ¥380
Conger eel tempura ¥480
Superfine Japanese beef kalbi baked by hot stone ¥1480


★You can look at other menu from

here

<

English/

中国(

繁体,简体)/

한국어/

ไทย

/ 日本語>

http://www.cocoroch.jp/contents/company/tenkuu/ (Japanese)
■ Hamamatsu-shi ■
Tennkuu Hamamtsu Yurakugai

MAP
58 seats / 4 private rooms
Maximum seats for the party 50
TEL:053-453-7675
316-30, Tamachi, Naka-ku, Hamamatsu-shi

, Shizuoka

430-0944
Tennkuu

Hamamatsu Dai-ichi Dori

MAP
146 seats / 17 private rooms
Maximum seats for the party 90
TEL:053-458-7618
329-12, Tamachi, Naka-ku, Hamamatsu-shi

, Shizuoka

430-0944
Tennkuu

Hamamatsu Mall-gai

MAP
224 seats / 27 private rooms
Maximum seats for the party 150
TEL:053-457-6444
B-1 building B1, 135-1, Kajimachi, Naka-ku, Hamamatsu-shi
, Shizuoka

430-0933
■ Shizuoka-shi ■
Tennkuu

Shizuoka Ryogae-cho

MAP
130 seats / 25 private rooms
Maximum seats for the party 90
TEL:054-251-0055
Hamamura village 2F, 2-3-1, Ryougae-cho, Aoi-ku, Shizuoka-shi

, Shizuoka

420-0852
Tennkuu

Shizuoka Konya-cho

MAP
211 seats / 35 private rooms
Maximum seats for the party 150
TEL:054-272-1639
12-6 Konya-cho, Aoi-ku, Shizuoka-shi

, Shizuoka

420-0852
■ Fujieda-shi ■
Tennkuu

Fujieda-eki Minami

MAP
166 seats / 30 private rooms
Maximum seats for the party 120
TEL:054-636-0567
1-2-16, Tanuma, Fujieda-shi

, Shizuoka

426-0061
■ Toyohashi-shi ■
Tennkuu

Toyohashi-eki mae

MAP
207 seats / 37 private rooms
Maximum seats for the party 140
TEL:0532-52-5255
1-48-1, MAtsuba-cho, Toyohashi-shi, Aichi 440-0897
■ Fuji-shi ■
Tennkuu

Fuji-eki mae

MAP
174 seats / 25 private rooms
Maximum seats for the party 135
TEL:0545-62-6558
6-12, Fuji-cho, Fuji-shi, Shizuoka 416-0915