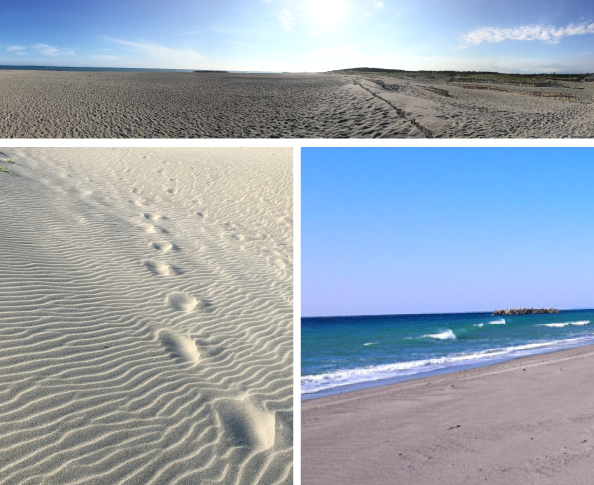 The mini desert by the sea!
Nakatajima sand dunes on the Pacific coast of Hamamatsu, Japan are a rare beauty in nature, in this unique environment you can be completely surround by sweeping dunes, while the sound of the sea engulfs you.
Nakatajima-sakyu are sand dunes located in the Hamamatsu coast, stretching 0.6 km from the beach and 4 km east to west. Known as the Enshunada seashore it spreads as far as the eye can see and fumon (wind-wrought pattern) which is drawn on the surface of the sand by the strong wind from the sea creates beautiful patterns fit for any art work. Loggerhead turtles that are designated as endangered species go on shore to lay eggs in summer. The eggs are protected by a local NPO group and released. The west side of the sand dune is where the famous flying kite's festival (

Hamamatsu Festival

) is held every May 3rd, 4th, and 5th so that you can see many kites flying in the air. This place is also used as a filming spot of the movies or promotion videos.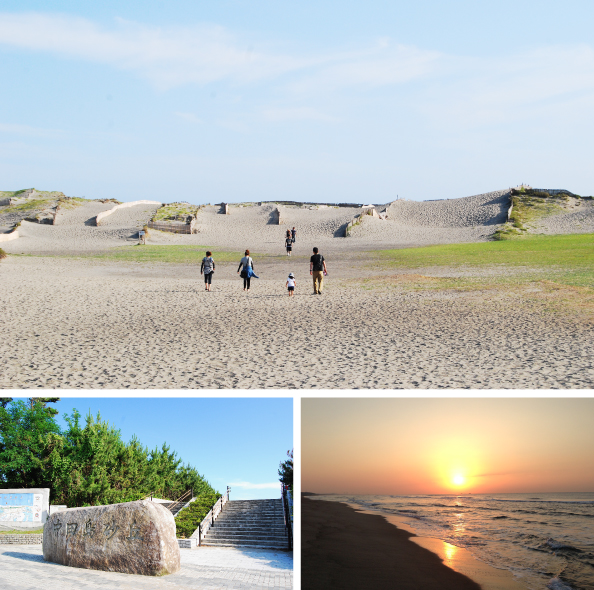 Nakatajima-sakyu is also famous as the first sunrise of the year. In Japan, it is believed that looking at the

first sunrise of the year (on January 1st)

is auspicious. Let's look at the sea shining gold from the sand dune!

The consideration of each of you is important at this seashore which is one of the few laying eggs places of loggerhead turtles.

Fireworks are strictly prohibited because turtles hate the lights and sounds of the fireworks. Also, you have to bring garbage back home.

Turtles may eat by mistake and cause death

. Let's protect the beautiful seashore!