Within the JR Hamamatsu train station, located in the center of Hamamatsu city, is a treasure trove of souvenirs.
We have carefully selected a range of Japan souvenirs which we would recommend buying to anybody coming to visit Hamamatsu City. We will introduce a wide range of local produce and sweets, from staple foods to slightly unconventional products. Please consult this list if you are thinking about choosing some souvenirs.
Food
Hamanako Fish Breeding Fishermen's Association (Link/ Japanese) → A

Left: Grilled split eel with & without seasoning / Right: Eel boxed lunch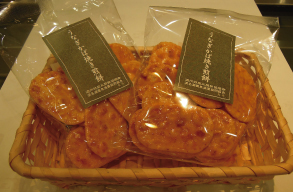 Eel Kabayaki rice crackers
Eels are very popular, either in convenient vacuum-sealed packs, or in hot boxed lunches. These "Hamanako eels", from the Hamanako Fish Breeding Fishermen's Association, are completely safe so you can enjoy without any worries. The "eel kabayaki rice crackers (senbei)", supervised by the Association, also offer a delicious match of eel and pepper, produced in the town of Haruno.
Marutaya Confectionary (Link/ Japanese) → A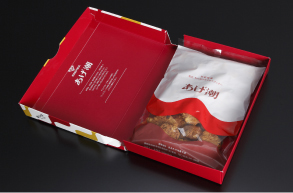 Ageshio
"Ageshio," Japanese-style cookies made with chestnuts, raisins, and orange peels, are a long-selling product of well-established sweets stores in Hamamatsu. Perfect as snacks, or with alcohol, they can be enjoyed by the whole family. The cookies are named "Ageshio" because they are filled with wishes that, as the tide rises in Lake Hamana, the people that eat them might be filled with happiness and luck.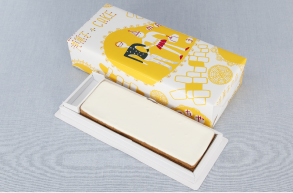 Cheese cakes
These mellow and light, easy to eat cheese cakes, made from the delicate combination of 3 layers of fresh sour cream, smooth cream cheese, and "High Tide" cookies, are not only popular locally in Hamamatsu, but also all over Japan.
Jiichiro (Link/ Japanese) → A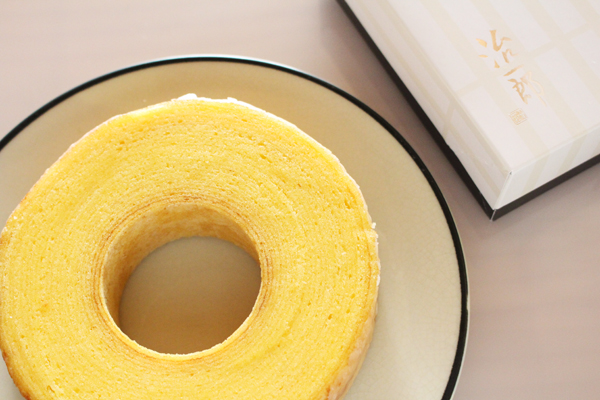 Jiichiro's Baumkuchen
The distinctive characteristics of these thin layered and lightly baked baumkuchen are their refined sweetness, their fluffiness, and their delicious moistness, which you can enjoy even without a drink to go along. These are the ultimate baumkuchen, born at the end of a long period of trial and error by their artisans.
Torii Sauce (Link) → A

Left: Torii Sauce / Right: Wasabi Sauce
This traditional Torii Sauce was created in 1924. This sauce, made with carefully selected ingredients, is perfect for a rich variety of foods, including fried items, salads, curry, or omelet rice. The "wasabi salt" is a deluxe mix of delicate salt and seaweed, to which the soft taste of wasabi has been added. It is perfect for adding a little bit of the taste of Japan to any dishes cooked at home.
Accessory
Gift Station Hamamatsu (Link/ Japanese) → A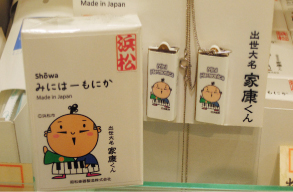 Mini Harmonica
This mini harmonica, with its illustration of Hamamatsu City's mascot character based on Tokugawa Ieyasu, "the successful Daimyo (Feudal Lord), Ieyasu-kun," is very representative of Hamamatsu City, the "City of Musical Instruments."
Belmart Hamamatsu (Link/ Japanese) → B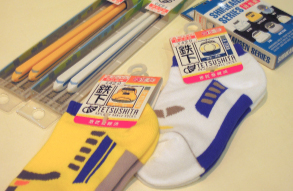 Shinkansen (Bullet Train) Goods
These cute shinkansen goods with their popping designs are perfect as souvenirs for kids who like trains.
Yamasa Chikuwa (Link/ Japanese) → A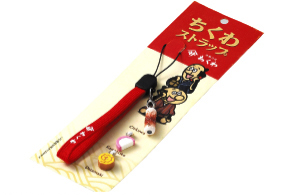 Chikuwa (Fish Cake) Straps
The fish paste products of Yamasa from Toyohashi City, in the nearby prefecture of Aichi, are also very popular in Hamamatsu. The pieces that attach to this cute mobile phone strap, modeled after chikuwa, kamaboko, and date-maki fish cakes, can be freely taken off, allowing for unique and individual arrangements.
杏林堂薬局 (Link/ Japanese) → C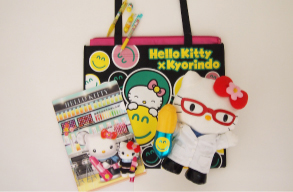 Kyorindo Original Hello Kitty Collaboration Goods
The mascot character "Hello Kitty," popular all over the world, and the "Kyorindo" drug store, centered in Hamamatsu and the west-center part of Shizuoka Prefecture, have entered into a collaboration. These are rare Hello Kitty goods, featuring the character in the roles of pharmacist, beauty staff, and managing nutritionist.

A → Right: MAY-ONE EKIMACHI WEST
B → Center: Belmart Hamamatsu inside MAY-ONE EKIMACHI WEST
C → Left: MAY-ONE EKIMACHI EAST

http://www.may-one.co.jp/
(Japanese)
Why not buy souvenirs from Hamamatsu for yourself, your friends, or your family?
[ADDRESS] 6-1 Sunayama-cho, Naka-ku, Hamamatsu-shi, Shizuoka 430-0926
[PHONE] 053-457-4111

2015.5.20 update
Content may be subject to change after publication. Please also note that we are not accountable for loses and damages that may occur as a result of said changes.