A unique sauce, the only one made in Japan using a wooden barrel aging process.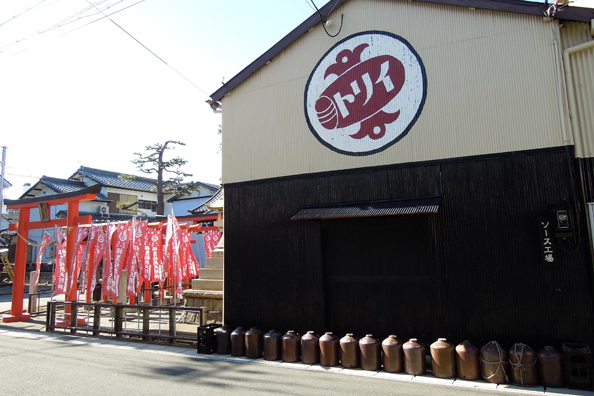 Located in Aioicho of Naka Ward in Hamamatsu, Torii Sauce has been making traditional sauce using wooden barrels since its founding in 1924.The main ingredients found in Japanese sauces are fruits, vegetables, and spices, Torii is very particular about these basic ingredients and they also do most of the work by hand. The flavor of their sauce has been well-loved by the people of the area for many years.
What is known simply as "sauce" in Japan is based on Worcestershire sauce, which originated in England. However, Japan's Worcestershire sauce was tweaked and refined after being brought to Japan, so the ingredients and taste are now very different. Also, there are versions of the sauce that are unique to Japan, such as a thicker version which is used on tonkatsu.
Factory Tour
First is an explanation of the sauce manufacturing process, followed by a tour of the premises.
Torii Sauce is made using homemade vinegar made with locally brewed sake lees from Hananomai brewing and locally procured vegetables, which are slowly matured in wooden barrels.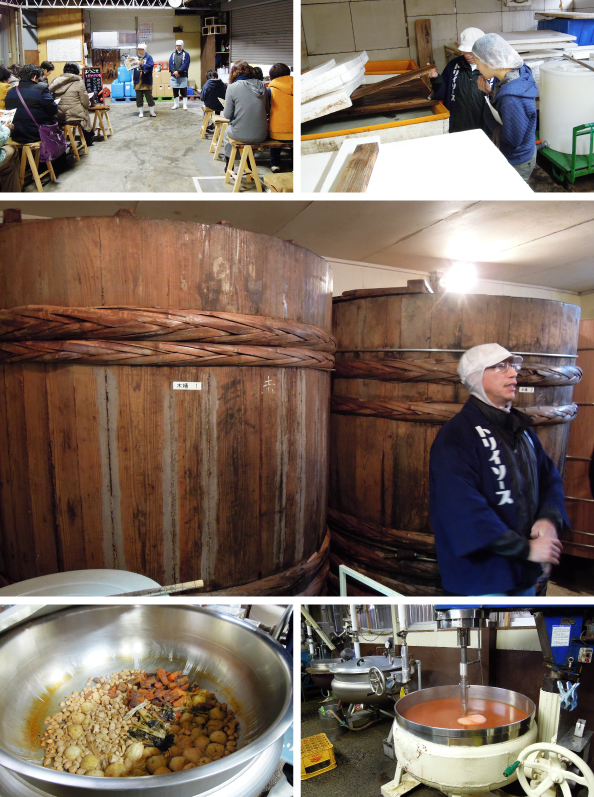 At the end of the tour, you can experience filling a bottle and applying a label, you can take home the bottle you filled yourself as a souvenir from the tour.
After the tour, you can buy products from the store attached to the factory. The sauce is also available for sale at MAY-ONE EKIMACHI WEST in Hamamatsu Station, and in supermarkets throughout the city.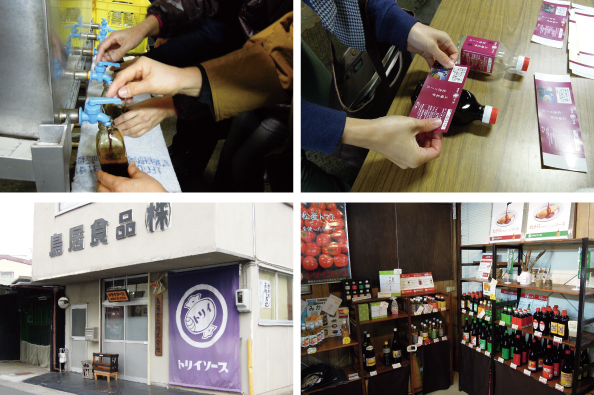 《

The required time

》40-60 minute tour
《

Admission

》Free
※Hat must be worn on premises (visitors will be lent proper hats)
《 Capacity 》For elementary school students and older, from 10 to 45 people.
《 How to make reservation 》Reservations are to be made two weeks prior to the date of the tour.

053-461-1575 ※English available
Reception hours:9am ~ 5:30pm

http://www.torii-sauce.jp/ (Japanese)
View a Larger Map
ADDRESS
20-8 Aioi-cho, Naka-ku, Hamamatsu-shi,
Shizuoka,Japan 432-8006
PHONE
053-461-1575
OPEN
9am - 5:30pm
CLOSE
Saturday, Sunday
TRANSPORT
From Hamamatsu Station
[BUS]
Take the all lines bus (10 minute ride)
at bus stop #8 of the bus terminal to
"Tobu Kyodo Center" then walk (3 minute).
[TAXI]
About 5 minute
[WALK]
About 20 minute
2015.5.20 update
Content may be subject to change after publication. Please also note that we are not accountable for loses and damages that may occur as a result of said changes.