The manufacturer of transmissions
that boasts high-accuracy in a micron unit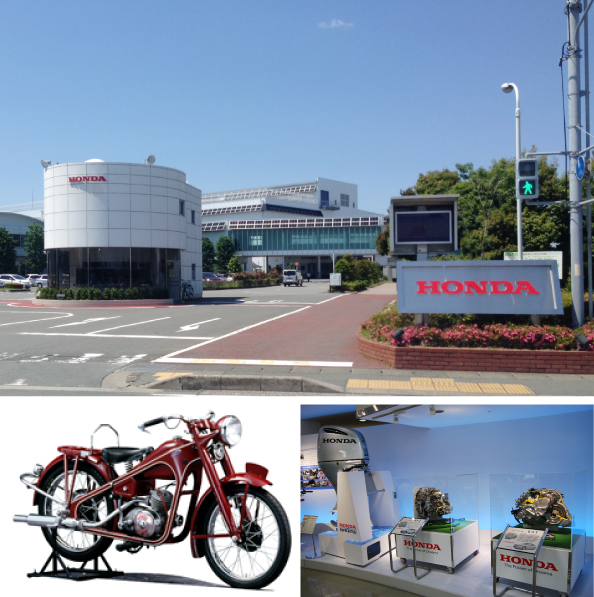 Hamamatsu city in Shizuoka prefecture is the city where Honda motor company established in 1948 and their first uni-motorcycle "Dream" was born. The head office has now moved to Tokyo but automatic transmissions, which is the one of the most important parts of automobiles, are still in production here in Hamamatsu. These transmissions are provided to Honda factories in America and Europe as well as Japan. You can observe the process of parts being created in a micron unit and the clean assembly processing area where they put the parts together under the observation of specialized staff.

It is not possible to observe the entire car making process, because it's a transmission production factory.
The factory tour of assembled Honda vehicles is located elsewhere.
Details for... http://www.honda.co.jp/kengaku/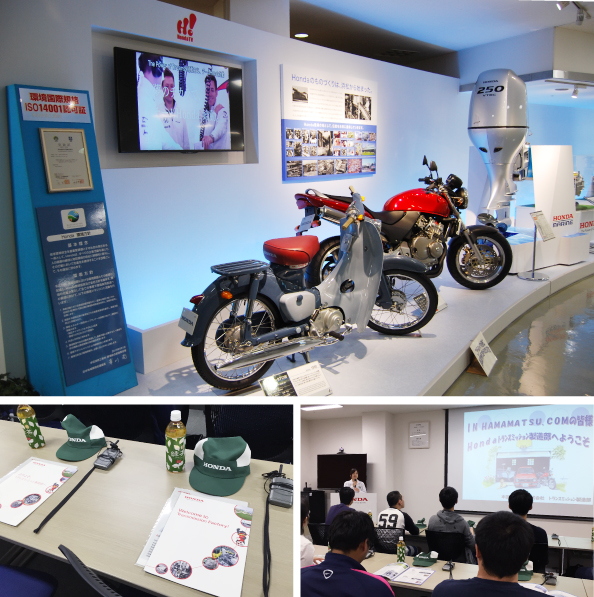 Monday through Friday (except Saturdays, Sundays, and non-operation days of the factory)
《 TOUR STARTING TIME 》

9am / 1:30pm ※Takes 120 minutes

《 MAXIMUM PARTICIPANTS 》

10-30 people (Elementary school students and over)
《 HOW TO MAKE A RESERVATION 》
Reservations can be made online from the 1st of the month to the 10th of the month, three months in advance of your desired tour date.
If you want to take the tour in April or August, the deadline is different due to the holidays.
【Tour】April  ⇒ 【Application】Jan.1st to 12th
【Tour】August ⇒ 【Application】May1st to 12th
We will send a confirmation email along with an application form. Please fill out the form and send it back to us by email or post.

Your reservation will be completed at this point.


※For more details / schedule calendar:
http://www.honda.co.jp/hamamatsu/#Entry (Japanese)


《 CONTACT DETAILS FOR INQUIRIES 》



Honda Motor Co., Ltd., Transmission Factory Hmamatsu Plant, Attn: Factory observation
TEL: 053-439-2011 (Japanese only)
Reception hours: 9am - 4:30pm (Except Saturdays, Sundays, and non-operation days of the factory)



■

This observation tour is arranged for a group. Individual applications are not accepted.
■

Please dress accordingly. (Shorts, heels over 5 cm and sandals are prohibited.)
■

The guided tour is conducted only in Japanese and there is no interpretation available. We recommend visitors provide their own interpreter if necessary.



http://www.honda.co.jp/hamamatsu/
2017.8.21 update.
Content may be subject to change after publication. Please also note that we are not accountable for loses and damages that may occur as a result of said changes.
ADDRESS
1-13-1 Aoi-Higashi, Naka-ku, Hamamatsu-shi
433-8501

TRANSPORT
From Hamamatsu Station
[BUS]
Take the all of the line bus (30 minutes ride) at bus stop #15 of the bus terminal to "Aoi-cho"
Take the "Takaoka Keiyu Hanakawa undo koen" line bus (30 minutes ride) at bus stop #16 of the bus terminal to "Honda giken Koujou mae"
[TAXI]
30 minutes
[CAR]
Around 6 minutes from the Tomei Expressway Hamamatsu Nishi I.C.