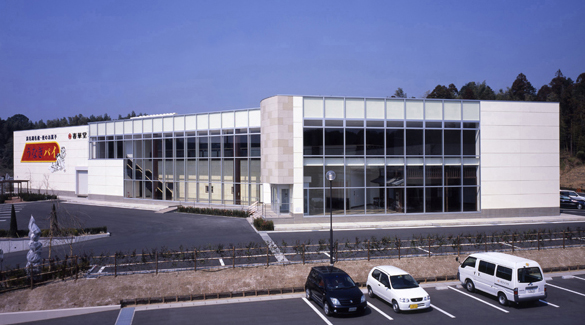 The tour is subject to change anytime due to the current pandemic situation. Please contact us in advance.
Shunkado "Unagi Pie", known throughout Japan, is an eel-flavored confection that is a symbol of Hamamatsu. It has recently become popular among foreigners, who like to buy it as a souvenir. At the Unagi Pie Factory, visitors who are interested can see how Unagi Pie is made, learn the secrets behind its tastiness, and learn about the history of Shunkado, which was founded in 1887. Since its inception in Hamamatsu in 1961, Unagi Pie has been made following a process that has changed little over the years. Eel extract, garlic and other such flavorings are blended together with carefully-selected fresh butter to make the confection. Nowadays, spin-off products of Unagi Pie, such as "Unagi Pie with Peanuts" and "Unagi Pie V.S.O.P.", are enjoyed far and wide by people of all ages.
How to make "Unagi Pie"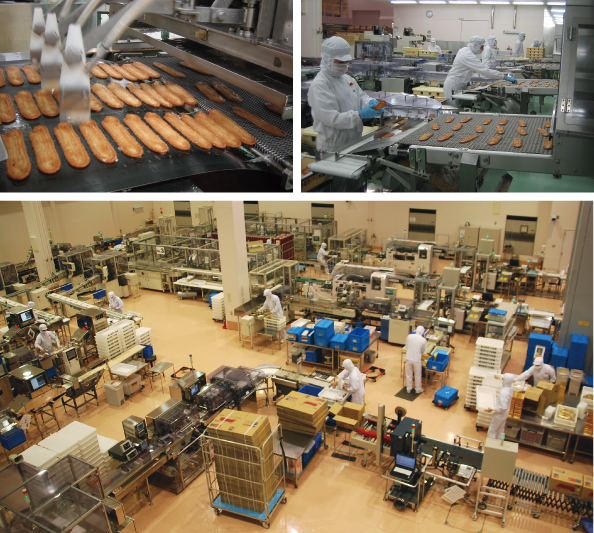 On the first floor, you can watch as the pies are baked in a special oven and sauce is spread over them, as with real grilled eel. You can also watch the pros carefully inspect the pies. In order to ensure a safe and secure product, the process is carried out in an airtight and hygienic environment at the factory. On the second floor, large windows give you a view of machines wrapping up the finished pies and packing them into boxes.
Unagi Pie Theatre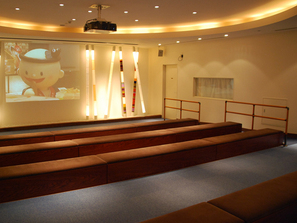 "Una-kun", Unagi Pie's mascot, introduces you to the unknown secrets behind Unagi Pie. Running time is about 10 minutes. (Only in Japanese)
Unagi Pie Café

You can taste freshly-baked Japanese and Western style sweets made in the open kitchen. Along with sweets arrangements featuring Unagi Pie, you can enjoy real matcha green tea and Shizuoka green tea with water simmered in a tea-ceremony style kettle. The gelato used to make the sweets is all original and handmade at the Unagi Pie main shop.
★ RECCOMEND MENU ★

Left: Unagi Pie Mille-Feuille - ¥650
Available only in early summer, this is decorated with matcha green tea and Japanese chestnuts.
Right: Unagi Pie Terrine - ¥700
Featuring Unagi Pie coated in white chocolate, this rich dessert has a unique melted texture.

Matcha green tea - ¥500
Matcha green tea steeped in water served in a tea-ceremony style kettle.
---
Factory-direct shop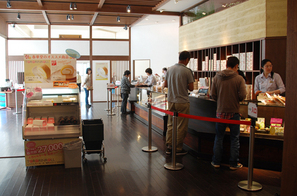 The first floor has a factory-direct shop where you can purchase Unagi pie and various other sweets freshly made by Shunkado.
---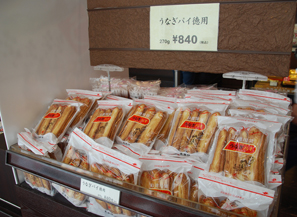 The "Economy-Size Package", sold only at this directly-managed shop, is such a popular item that it often goes out of stock.
---
Photo Ops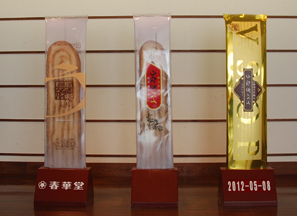 At the museum, there is a huge Unagi Pie monument - be sure to take a photo to remember it!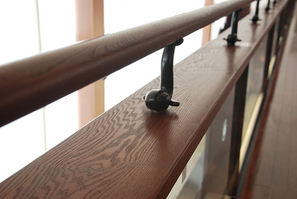 Be on the lookout for the eel-shaped banisters!
---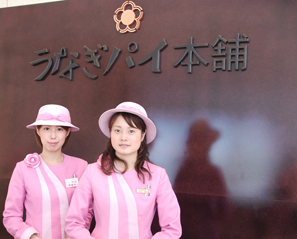 The concierge in front of the entrance will be happy to take a photo of you using your camera, just ask! Don't forget to say "Unagi Pie!" with them though!
---
※You can also get souvenirs from the factory tour

http://www.shunkado.co.jp/factory/
(Japanese)
View a Larger Map
>>

Unagi Pie Factory

/ うなぎパイファクトリー
ADDRESS
 748-51 Okubo-cho, Nishi-ku, Hamamatsu-shi, Shizuoka 432-8006
PHONE
 053-482-1765
OPEN
 10am - 6pm (Unagi Pie Café Last oder 5:30pm)
TRANSPORT
 From Hamamatsu Station
[TRAIN]
 JR Tokai Line "Maisaka" station (10 minute) then take on Taxi (15 minute)
[TAXI]
 30 minute
2012.6.13 update
Content may be subject to change after publication. Please also note that we are not accountable for loses and damages that may occur as a result of said changes.