(Hamamatsu Festival Edition)
Take home memories of the Hamamatsu Festival!
Hina Kites
These are miniature versions of the large kits flown at the Hamamatsu Festival. These kites are skillfully made by traditional kite makers despite their small size.
Mini Paper Lanterns
These small paper lanterns painted with symbols of Hamamatsu Castle and the festival, like festivals floats and kites can be folded up and stored in a box.
Rubber-soled Tabi
This unique traditional Japanese footwear is a regular part of festival-wear. In recent years, the design and performance has drawn attention. Called "ninja shoes", they are also popular with visitors from overseas.
Hamamatsu Festival Live CD
This live recording of the sounds of the Hamamatsu Festival is full of presence. Listening to this CD will bring back memories of the Hamamatsu Festival.
Kid's Short-sleeved Coat
They are more affordable than the adult version. They are equally good as souvenirs for kids or hung on a wall like a tapestry.
Belt Pouches
These small pouches are meant to be worn with a kimono sash, but they can be worn with a belt as well. Some are made with the same material used for the short-sleeved coats.

Sold at

Kamoeya

(Japanese) and festival goods shops
Shussejo and Tenjingura Beer Hamamatsu Festival labels (April only)
From Hamamatsu Shuzo, a brewer with a tradition going back to its 1871 founding, leading sake Shussejo and high-quality microbrew Tenjingura Beer will go on sale bearing limited edition Hamamatsu Festival labels.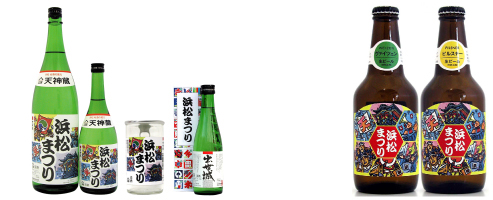 They will be sold at Hamamatsu Shuzo's Tenjingura, Entetsu Department Store, May-One Ekimachi West in Hamamatsu Station, and supermarkets across the city. (Tenjingura Beer requires refrigeration.)
Castella Rusk Tako Tako Agare
A rusk made by taking a castella (sponge cake) made with local ingredients and slowly baking it again in an oven. With the faint fragrance of Mikkabi mandarin oranges, the rusk evokes images of the big kites at Hamamatsu Festival.
★ We Recommend!! ★
Recommended Souvenirs From Hamamatsu Part1
Recommended Souvenirs From Hamamatsu Part3 (Convenience Store Edition)
2015.5.20 update
Content may be subject to change after publication. Please also note that we are not accountable for loses and damages that may occur as a result of said changes.