Take a walking tour of historic Arai-shuku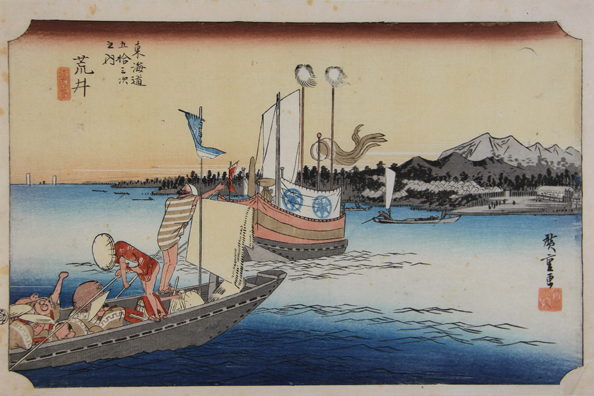 Photo : Sekisho History Museum
Arai-shuku was the 31st post station counting from Edo, out of 53 post stations along, the Tokaido, one of the five highways maintained during the Edo period. Today it is located to the west of Hamamatsu, in the city of Kosai. The Sekisho (checkpoint) and Arai-shuku were moved to the present location after being relocated twice due to natural disasters. At that time, they put the shrines and temples at the foot of the mountain and arranged the roads in a grid pattern, and the town was built in the style of Kyoto. Even now, well-kept alleyways and old houses remain, and vestiges of the original town can be felt.
Arai-shuku is perfect for leisurely walks, being a small town that takes about 30 minutes to walk all the way around.
Arai-shuku walking tour map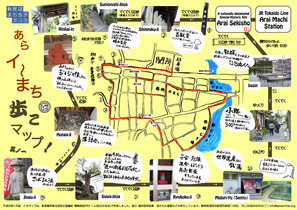 ★click to enlarge

[Guideline] 8minute walk from Arai-machi Station to Arai Sekisho/Sekisho History Museum
Arai Sekisho/Sekisho History Museum

As the only extant checkpoint (sekisho) building in Japan, the Arai Sekisho is a nationally designated Special Historic Site. Materials related to the history of Edo period transportation and the town of Arai are exhibited in the adjacent Sekisho History Museum.

[OPEN] 9am - 4:30pm




[CLOSED] Every Monday, 12/26 - 1/2




※If a national holiday falls on Monday, it is open. Open every day in August.


[OFFICIAL SITE] http://hamaguru.com/sekisho/ (Japanese)
---
| | | |
| --- | --- | --- |
| | Free space in Enshu Shinkin Bank "e-space" | |

There is a free open public space called e-space in Enshu Shinkin Bank Arai branch which is on the way from Arai station to Arai Barrier. There is a brochure corner where you can get information on the area, and you can use free Wi-Fi here. The historic place "Arai Barrier" is only two minutes' walk from here!

■ Do not drink or eat in e-space.
■ There is no bathroom in e-space. There is a public bathroom in the parking lot of Arai Barrier.
■ Please do not touch the exhibitions.
[PLACE] Enshu Shinkin Bank Arai branch (3358-8 Arai Arai-cho Kosai city)
[OPEN] Weekday: 7:30am - 8pm / Saturday: 8:30am - 7pm / Sunday and hollyday: 8:30am - 5pm
---
Komatsurou (Old Geisha House)

Starting in the Taisho period, an entertainment district grew on the south side of Arai Sekisho. Komatsuro operated as a geisha house as well as a folksy Japanese restaurant from the Taisho years (1912-1926) until the 1940s. Now it is run as a place for locals to socialize.

[OPEN] 9am - 5pm
[CLOSED] Every Monday, 12/29-1/3
[OFFICIAL SITE] http://a-machinet.org/komaturou.htm(Japanese)
Hatago Kinokuniya Museum

Hatago Kinokuniya is the largest of all the 25 or so hatago (now called ryokans or hotels) that were found in Arai-shuku, and although we do not know just when it was founded, in 1703 it was an official inn of the Kishu Domain, which belonged to one of the three branches of the house of Tokugawa. Here you can experience the elegance and culture of that time.

[OPEN] 9am - 4:30pm




[CLOSED] Every Monday, 12/26 - 1/2




※If a national holiday falls on Monday, it is open. Open every day in August.
Arai-shuku Teramichi (Temple Path)

The Teramichi is lined with temples and shrines amidst charming scenery along a well-tended path.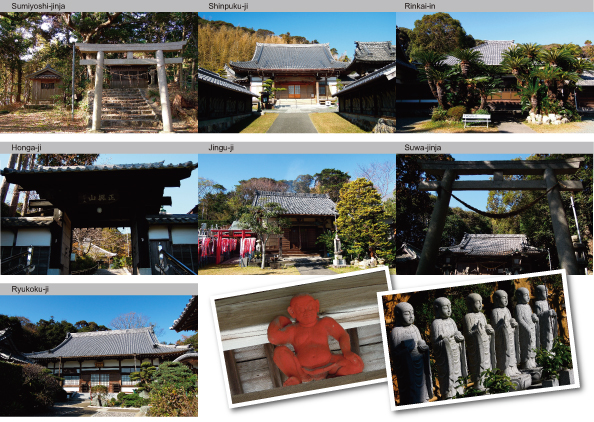 Arai-shuku sights
While few of the actual buildings survived through the times, there are informational signs displayed at the historic sites where you can find out about the Arai-shuku of the past. With storehouses and bath houses that remain unchanged along well-kept alleys that are full of atmosphere, as well as the sight of fishermen working in the harbor, Japanese people can find nostalgic scenes here.

Dining in Arai-shuku
Kohi Kanmi Yanagiya (Yanagiya Coffee and Sweets)
Asian Dining Kamana
Where Is this place ?
Check this
MAP
WE RECOMMEND!
★ Japan Oyster shacks around Lake Hamana
Enjoy grilled oysters at oyster shacks for a limited time
2015.5.20 update
Content may be subject to change after publication. Please also note that we are not accountable for loses and damages that may occur as a result of said changes.