Preserves the style of the Edo Period and the Tokaido inn culture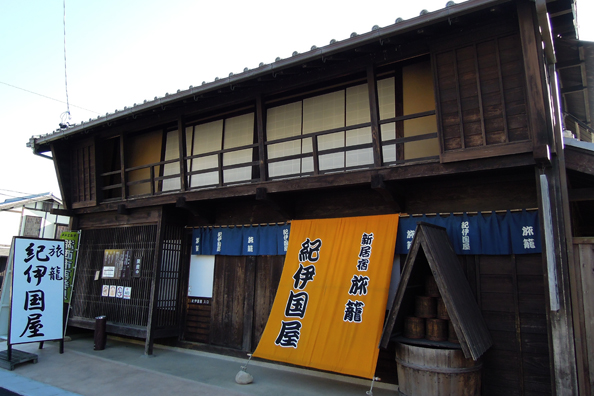 The town of Arai is located west of Hamamatsu City, and still retains vestiges of how it looked long ago, with historic buildings here and there. One of these buildings is

Hatago Kinokuniya Museum

, the largest of the 25 hatago (similar to modern inns and hotels) once found in

Arai-juku

, and while the date of its establishment is unknown, it was patronized by the Kishu Tokugawa family in Genroku 16 (1703).
It was lost in the great fire in Meiji 7 (1874), but was rebuilt and expanded as a two-story building immediately afterward, and operated as an inn for more than 250 years until it closed down in Showa 34 (1959). The building, which still retains certain elements of late Edo Period inn construction, was dismantled and repaired in Heisei 13 (2001), and now serves as a museum that preserves the culture of hatago and Tokaido inns.

You can learn about the lifestyle at the time from the bath area and kitchen on the first floor. There are still planks from the original construction in part of the main hallway that runs straight through the center of the building. The parlor located in the innermost reaches of the building was used as lodging for daimyo and other people of high status. From this room, you can see the elegant garden and rare suikinkutsu.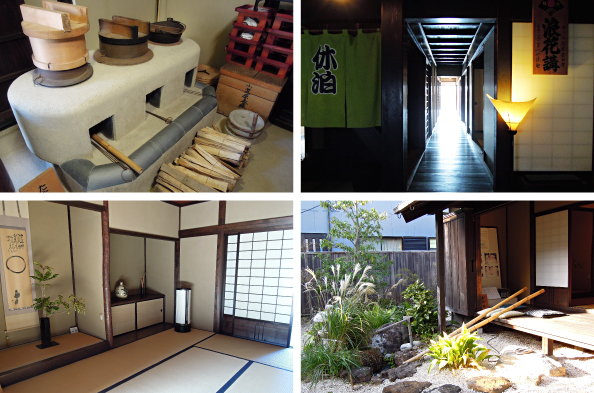 ---
| | | |
| --- | --- | --- |
| Suikinkutsu are one of the Japanese garden decorations that originated from Edo Period gardeners, and are an acoustic device unique to Japan. When you bring your ear close to the long bamboo pole, you can hear an indescribably pleasing acoustic reverberation. | | |
---
On the second floor at the top of a steep flight of stairs, are rooms divided by movable paper screens. The short 180 cm ceilings are to prevent the use of swords in fights.

In the rooms, items used by travelers of the time are displayed. Ninaibako (left photo) were used by traveling merchants to carry goods. Hakomakura (right photo) were wooden pillows constructed to keep the topknots (mage) that people wore at the time from being mussed. You can experience laying your head on one and see how it feels to sleep that way.

Behind the building, there is a storehouse that survived the fire of 1874. The planks were replaced during the repairs in Heisei 13, but the beams inside are from the original construction.

Admission
Araisekisho


Less than kindergarten

FREE

The small, Junior high student

¥100

(¥50)

Adult

¥310

(¥210)


Kinokuniya Museum


Less than kindergarten

FREE

The small, Junior high student

¥100

(¥50)

Adult

¥210

(¥150)


Araisekisho & Kinokuniya


Less than kindergarten

FREE

The small, Junior high student

¥150

(¥100)

Adult

¥410

(¥360)
※ ( ) Discounts for groups of 20 or more

http://www.city.kosai.shizuoka.jp.e.rx.hp.transer.com/2294.htm
View a Larger Map
ADDRESS
1280-1, Arai, Arai-cho,
Kosai-shi, Shizuoka,
431-0302
PHONE
053-594-3821
OPEN HOURS 
9am – 4:30pm
CLOSE
Every Monday, 12/26 – 1/2
※ If a national holiday falls on Monday, it is open. Open every day in August.
TRANSPORT
From Hamamatsu Station
[TRAIN]
Tokaido Main Line get off at "Araimachi" station (15 minutes) then walk (8 minutes)
[BUS]
Take the "Maisaka-cho, Kosai Shiyakusho" line bus at bus stop #4 of the bus terminal to "Sekisho ato" then walk 1 minutes
[CAR]
Around 30 minutes from Tomei Expressway Hamamatsu-nishi IC.
Around 30 minutes from Shin-Tomei Expressway Mikkabi IC.
Parking available for 33 vehicles.
2015.5.20 update
Content may be subject to change after publication. Please also note that we are not accountable for loses and damages that may occur as a result of said changes.