The creator building which is renovated from 50's architecture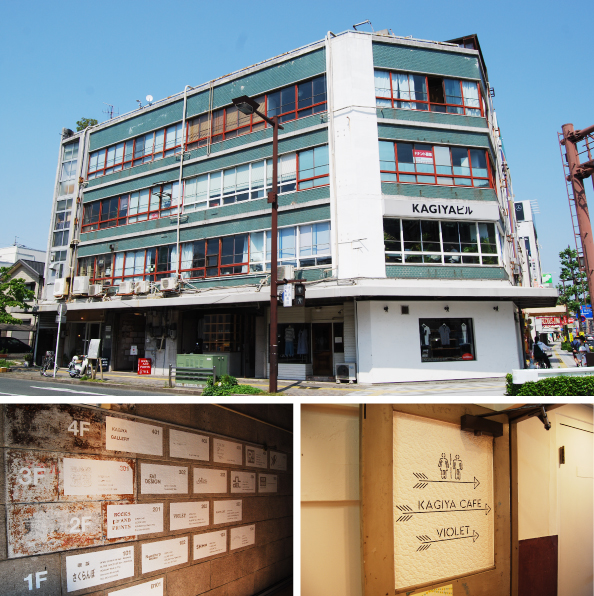 "KAGIYA building" is attractive because of the profound atmosphere from fifty years ago, and is one of the trendsetting places in Hamamatsu where creators and designers gather to create the latest culture trends. The building is located along "Yurinoki-dori" in Tamachi, Naka-ku, about an 8 minute walk from Hamamatsu city station. The nostalgic atmosphere, fusing with the new sensitivity, attracts people who visit here. There are unique shops, cafes, live music venues, and gallery spaces from the basement to the fourth floor, and the outside market that these tenants hold is a popular event.
KAGIYA Building
229-13 Tamachi, Naka-ku, Hamamatsu-shi 430-0944
TRANSPORT 8 minute walk from Hamamatsu Station

http://kagiyabldg.hamazo.tv(Japanese)
<< B1F >>

KIRCHHERR
Live house & Bar. The second shop of ZOOT HORN ROLLO

<< 1F >>

New Shop Hamamatsu
The department store which is like a town where small shops are gathered

SHHH
The select shop where you can get new, old and remade clothes

GROOVE
The old clothes shop where you can get unique and cool items

Sakuranbo
The nostalgic café which has over 30 year's history

<< 2F >>

BOOKS AND PRINTS
The bookstore which specializes in photo books and holds talk events or exhibition of the photographer Shingo Wakagi

Kagiya Caffe
The organic café where you can enjoy self roasted coffee until 2 am

Violet
The antique shop where you can get items that the owner bought in France

<< 3F >>

Antico
The western antique shop where you can get items selected carefully from Italy, France, and UK.

bar 23
The casual bar which has a room like a hideout and you can enjoy delicious food

<< 4F >>
Gallery space
The nonstandard community space where various events, lives, personal exhibitions, workshops are held.

Where to ask:Maruhachi real estate company
TEL 053-450-0812 / E-mail kagiya_bldg@maru8asset.com
KAGIYA Market
There are markets that are held by tenants a few times a year.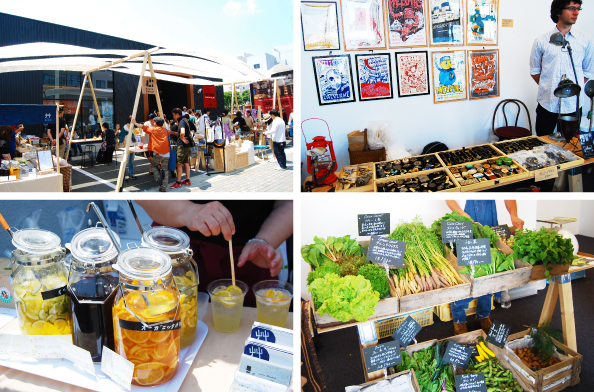 >>

KAGIYA Building

/ KAGIYAビル【kagiya biru】
ADDRESS 
229-13 Tamachi, Naka-ku, Hamamatsu-shi, Shizuoka 430-0944 
TRANSPORT 
From Hamamatsu Station
[WALK] 
8 minutes
2016.9.5 update
Content may be subject to change after publication. Please also note that we are not accountable for loses and damages that may occur as a result of said changes.