The place where the life of the founder of TOYOTA was recorded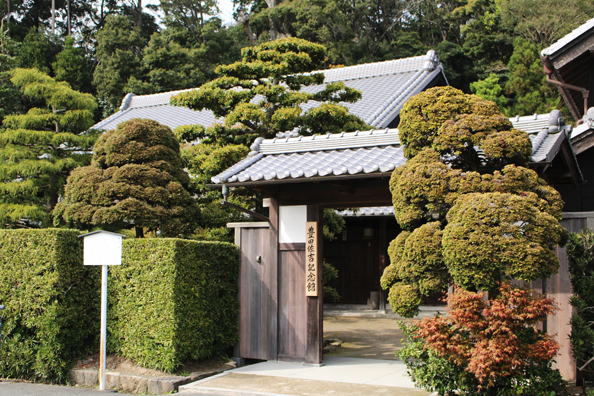 In Kosai city which is located west of Hamamatsu city, the house where Sakichi Toyoda was born in 1867 has been preserved in memory of his life. In 1890, he invented the "Toyoda Wooden Hand Loom System" by himself and established Toyoda Automatic Loom Works, Ltd in 1926. He had started learning about looms without any prior knowledge and his repeat improvements of the looms lead the company to create the world's highest class level's of loom which cannot be improvement any further. His spirit of continuous research and creation has been passed down through the generations, and it had become the foundation of modern Toyota group.
This memorial house is used as a facility for Toyota's employee training as it teaches many of important things.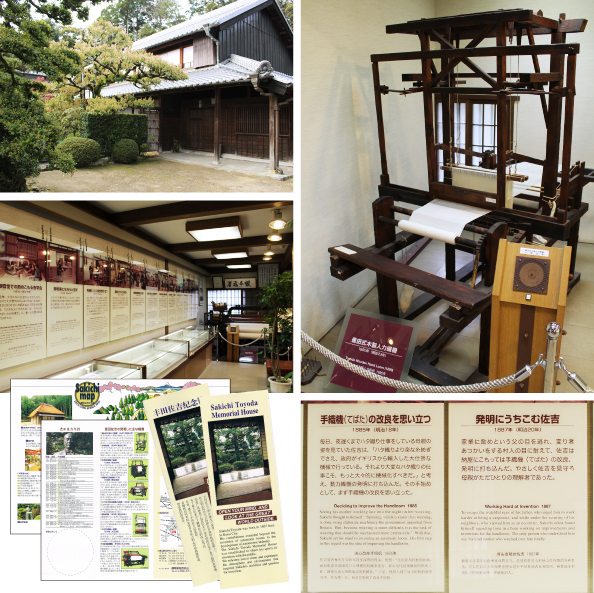 In the exhibition room, you can see the looms invented by Sakichi and display panels of his life with descriptions and illustrations. The loom he invented was equipped with a mechanism that stops automatically when the string snaps and was used in an age when there were no electronic controls. Moreover, it was an epoch-making invention that also introduced a shuttle (the horizontal thread) which automatically replenishes with new thread without stopping just before the old thread runs out.
In this memorial house, you can watch videos that introduces Sakichi Toyoda and his son Kiichiro. It shows Sakichi's inventiveness and extraordinary effort. ※The panels, videos, and pamphlets are provided in 3 languages including Japanese, English, and Chinese.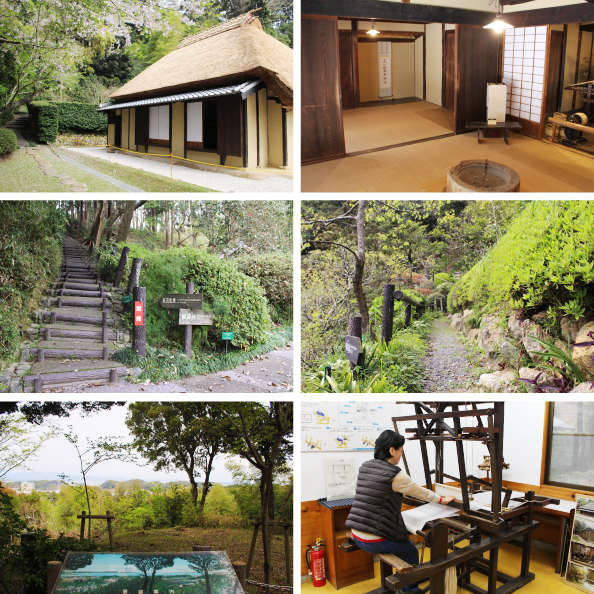 Not only you can observe the exhibition room, you can also visit the house where Sakichi Toyoda's was born. The garden has a snug arrangement and it give you a comfortable feeling. There is an observation area after you climb up the footpath behind the house, and you can see Mt. Fuji in clear weather. While in the garden and outside of the house, you might enjoy viewing the scenes that Sakichi might have also seen.
Also you can experience weaving at the lounge next to Sakichi's home. The room echoes with rhythmical sound of the loom when you get comfortable using it.

Sakichi Toyoda contributed much beyond the invention of automatic looms to the development of automotive industry. At this memorial house, you can learn about his ambition and passion.

https://www.toyota-industries.com/company/history/toyoda_sakichi/
ADDRESS 113-2 Yamaguchi, Kosai-shi, Shizuoka 431-0443
PHONE 053-576-0064 (Japanese only)
OPEN Apr. 1st ~ Sep. 30 9:30am ~ 5pm
Oct. 1st ~ Mar. 31 9:30am ~ 4:30pm
CLOSED
■Wednesdays (Except national holidays, in which case the following Thursday will be closed)
■Dec. 26 ~ 31 / Jan. 6 ~ 8
■Monday and Tuesday immediately before the last Wednesday in February
■Monday and Tuesday immediately before the first Wednesday in September

TRANSPORT From Hamamatsu Station
[TRAIN] JR Tokaido Main Line "Washizu" station (21 minutes) then walk 25 minutes (Taxi: 5minutes)
[CAR] Around 30 minutes from Tomei Expressway Mikkabi I.C.



2019.10.2 update
Content may be subject to change after publication. Please also note that we are not accountable for loses and damages that may occur as a result of said changes.