Japan's one and only public musical instrument museum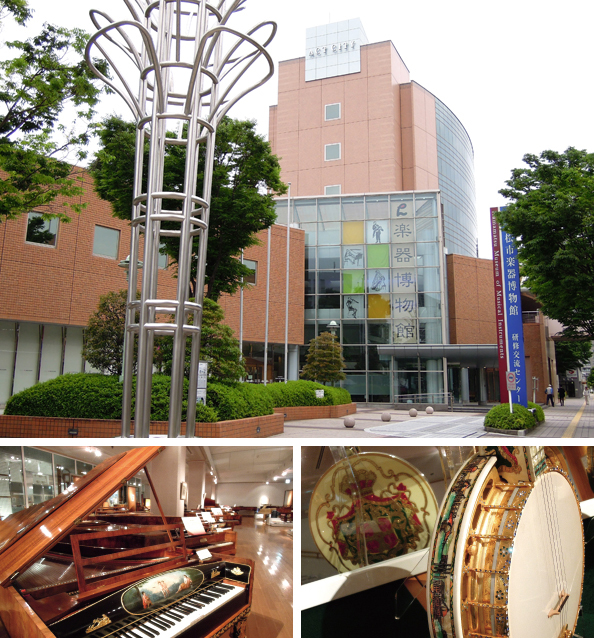 Hamamatsu, a city where companies like Yamaha and Kawai produce a large number of reed organs, as well as being the base for these world class organizations, strove to establish itself as a "city of music," so to speak. One step towards that goal was the creation of the Hamamatsu Museum of Musical Instruments.
The building houses roughly 1300 instruments from around the world which are lined up on display in separate exhibits representing Asia, Oceania, Africa, the Americas, Europe, and Japan.
There is a system that allows visitors to listen to the sounds of each instrument on a headphone stand or a super directional speaker. There are also movies available on monitor stands that introduce certain instruments so that even upon seeing one for the first time, people can learn about the way they sound and how they are played.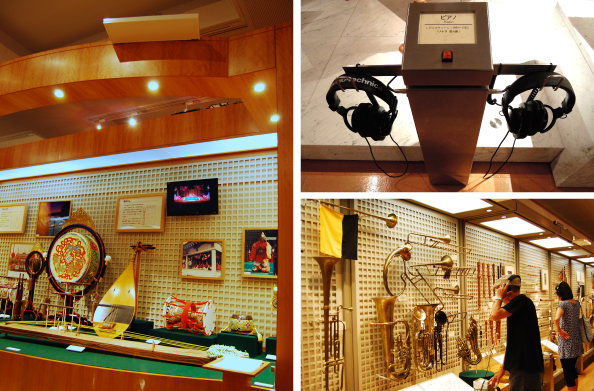 Left: When you stand under the super-directional speaker which is set above.
Right: You can enjoy the sound of instruments through the headphones.
A voyage around the world!
The exhibits are impartial and diverse, using the instruments as tools to respectfully introduce the cultures and histories of the people that play them. Whether it is the rows of instruments that gleam golden in the spectacular Asia exhibit, the unique instruments of the Oceania and Africa exhibit, or the air of elegance and refinement emitted by the Europe exhibit, these displays allow you to experience the sounds, history, and artistry behind the instruments first-hand. While making your way around the museum, it really feels like you are taking a trip around the world.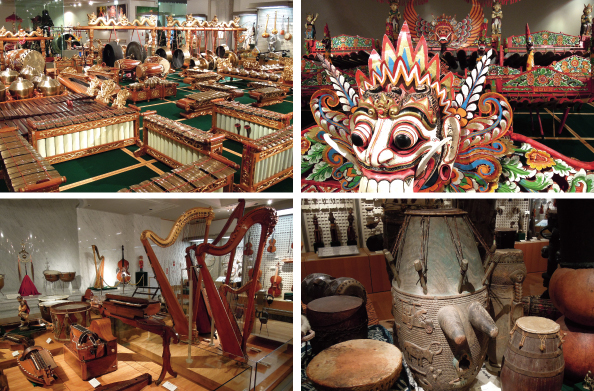 Worldwide Rarities
Cembalos
A cembalo created by F.E. Blanchet. Its value is comparable to a national treasure.

The Dimkedim
A Nigerian folk instrument that is no longer in production.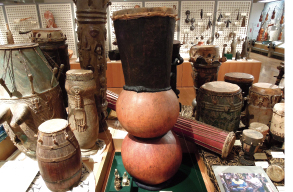 A wide variety of Japanese instruments

- Look. Listen. Touch -
Several times a day, in addition to presentations on an instrument, the museum staff also perform demonstrations and play musical scores. On the day of our visit, we were able to see a fortepiano demo and listen to an explanation. As opposed to a recording, being able to hear the sound of the instrument in a live performance was a very valuable experience.

Even outside of opening hours, the museum space is used on an as-needed basis for an array of salon concerts so visitors can enjoy themselves no matter how many times they visit.
http://www.gakkihaku.jp/en/event/event_top/

Sky Hall
In the "hands-on room," you can try playing a variety of instruments for yourself. Aside from drums, pianos, and guitars, rare and handmade instruments from Africa, Indonesia, and Mongolia are all at your disposal. Getting lost in the fun of performing isn't limited to kids with an interest in instruments. Adults can enjoy it too!

There is a koto, spinet, and electric cembalo set up for visitors to try out in the exhibits as well.

In the electronic instrument exhibit, there are old-time analog synthesizers, the nation's first rhythm machine, the DONCA MATIC, retro organs and more on display.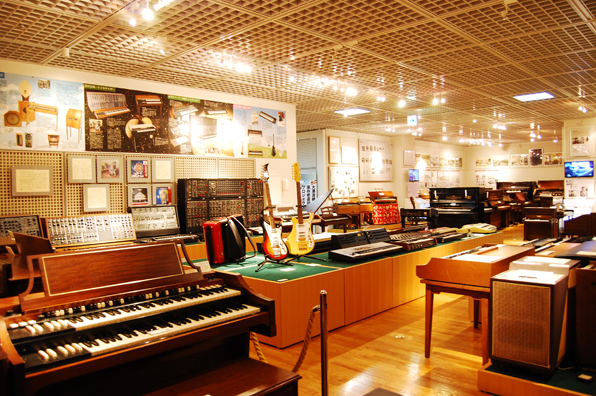 Gift Shop

There is a shop, "Andante," which sells music-related products within the building. Among the many goods you will find books about music, CDs, instruments, genuine music boxes, accessories, and much more. One product we would recommend is the mini-pin with musical motifs. Because these pins come in their own cases, they would be perfect as a gift. You could also get a harmonica, music box, or small folk instruments which are also popular.
With a purchase of 1,500 yen or more, you receive a special present! However, this is not inclusive of museum goods or credit settlement. This offer is valid only once for each person.
Additional Notes
★ In most museums, "photography prohibited" signs are usually clearly visible but this museum's permanent exhibits are photo-friendly. (Note: Certain planned exhibits and special exhibits may prohibit photography.)
★ If you show your ticket, you are allowed re-entry all day. This is ideal for visiting the neighboring cafe to get lunch so you can spend an entire day leisurely at the museum.
Admission

Senior high school

¥400

Adult

¥800

Discounts for groups of 20 over
Senior high school

¥320

Adult

¥640

Discounts for groups of 80 over
Senior high school

¥240

Adult

¥480
Elementary and junior high school students, senior citizens aged over 70 and people with disabilities are free.
Special Exhibitions may require additional see.

http://www.gakkihaku.jp/en/
View a Larger Map
>>

Hamamatsu Museum of Musical Instruments

/
浜松市楽器博物館【Hamamatsu Gakki Hakubutsu-kan】
ADDRESS
 3-9-1 Chu-o, Naka-ku,Hamamatsu-shi, Shizuoka 430-7790
PHONE
 053-451-1128
OPEN HOURS
 9:30am - 5pm
CLOSED
 The 2nd, 4th Wednesday of every month except a national holiday
December 29th – January 3rd
Facilities inspection days
TRANSPORT
 From Hamamatsu Station
[WALK]
 10 minutes
2019.4.22 update
Content may be subject to change after publication. Please also note that we are not accountable for loses and damages that may occur as a result of said changes.