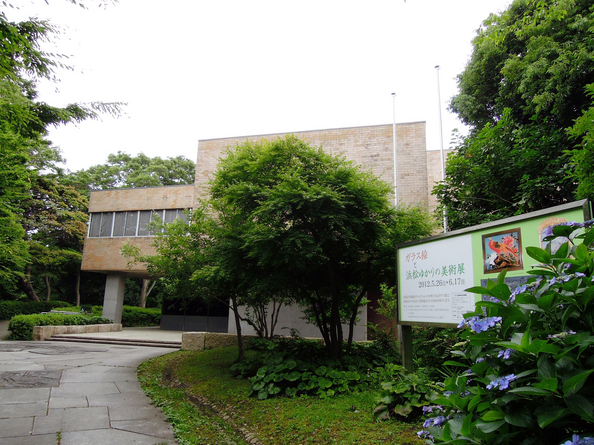 Hamamatsu Municipal Museum of Art is the first public art museum in the prefecture, and was opened to commemorate the 60th anniversary of Hamamatsu City. Located in a corner of Hamamatsu Castle Park, the art museum was opened near the Hamamatsu Castle Tower.

The featured pieces in the collection are 18th and 19th century traditional glass paintings as well as contemporary artists' glass paintings, which have made Hamamatsu Municipal Museum of Art well known as the "Glass Painting Art Museum."There are currently 450 glass paintings in the collection (around 250 traditional pieces, around 200 contemporary pieces), making it one of the finest collections in the world.According to the years the pieces were painted, the glass paintings are separated into traditional glass paintings and contemporary glass paintings, with the traditional section being separated further according to place of origin: the West, China and Japan. The majority of the traditional glass paintings were collected over many years by a Hamamatsu City doctor, Rokurou Uchida (now deceased), and around the time the museum opened, the well curated collection was donated to Hamamatsu City.
Also in the collection, centered around artists connected to Hamamatsu (Tamiji Kitagawa, Fuku Akino etc.), are contemporary Western style paintings, traditional Japanese paintings, Ukiyo-e depicting Enshuu region landscapes by Hiroshige Utagawa and many other Ukiyo-e masters, Otsu-e paintings, Doro-e paintings and other folk art, Chinese and Korean ceramics, and metal and stone Buddha statues. (※ These pieces from the collection are not on permanent display, so please check the homepage before you visit.)
Admission

High school

¥150

Adult

¥300

Discounts for groups of 20 or more




High school

¥120

Adult

¥240

Discounts for groups of 20 or more




High school

¥90

Adult

¥180
※Elementary and junior high school students, seniors over 70 years old, and handicapped individuals are free of charge.
※Special Exhibitions may require additioal fee.

http://www.city.hamamatsu.shizuoka.jp/artmuse/ (Japanese)
View Larger Map
Address
100-1 Matsushiro-cho, Naka-ku,
Hamamatsu-shi, Shizuoka, Japan
430-0947
PHONE
053-454-6801
OPEN HOURS 
9:30am - 5pm
CLOSE
Mondays, the following day of the national holiday
12/29 – 1/3
TRANSPORTATION
From Hamamatsu Station
[BUS]
Take the all of line bus (7 minutes ride) at bus stop #1 the bus terminal to "Bijyutsukan"
[WALK]
20 minutes
2019.10.2 update
Content may be subject to change after publication. Please also note that we are not accountable for loses and damages that may occur as a result of said changes.