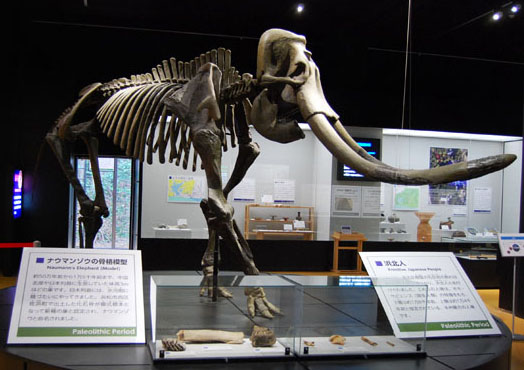 The Hamamatsu City Museum displays tens of thousands of years of the history of Hamamatsu, from prehistoric to modern times. Exhibits include a mounted skeleton of a Naumann's elephant which once lived in northern China and the Japanese archipelago from roughly 500,000 to 15,000 years ago, tools and ornaments excavated from ruins and ancient tombs, and much more. In addition, the adjoining nationally designated archaeological site, Shijimizuka Remains, is the site of early to late Jomon period village where the remains of dwellings, burial grounds and shell mounds have been discovered, and you can view shell mounds and reconstructions of houses of that period as well as a relocated and reconstructed farmhouse typical of the eastern coastal region of Hamana Lake in the mid-nineteenth century. The Hamamatsu City Museum and the Shijimizuka Remains are located in Shijimizuka Park and surrounded by nature. The park is free to enter, and it is enjoyed as a leisure spot by citizens.
PRIMITIVE TIMES (Paleolithic Period)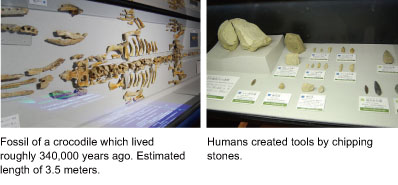 PRIMITIVE TIMES(Neolithic Period)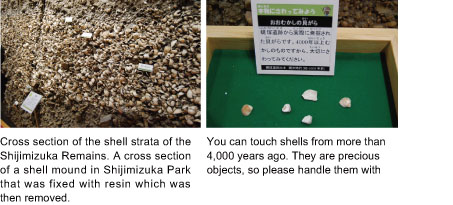 PRIMITIVE TIMES (Yayoi Period)
(Fifth Century BC to Second Century AD)

ANCIENT TIMES
(Third Century AD to Twelfth Century AD)

EARLY MEDIEVAL TIMES
(Twelfth Century AD to Sixteenth Century AD)
LATE MEDIEVAL TIMES




(Seventeen Century AD to Nineteenth Century AD)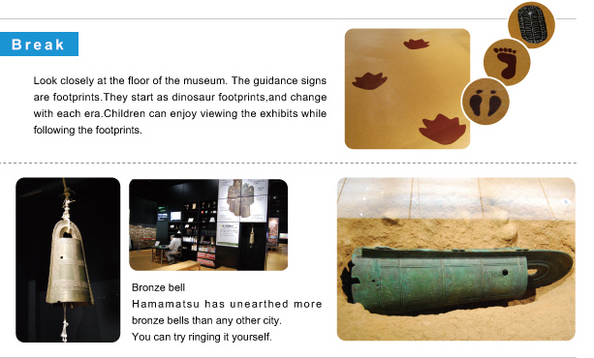 Admission

Children (Jr. high and down)

FREE

High school

¥150

Adult

¥310




Discounts for group of 20 or more




High school

¥120

Adult

¥240




Discounts for group of 20 or more




High school

¥90

Adult

¥180

A reconstructed village based on the excavation survey. You will feel like you have traveled back in time with the surrounding trees.

The preserved shell strata allows you to view the shells, sediments, animal bones and other remains preserved as they were at the time of the excavation.

A typical farmhouse of the eastern coastal region of Hamana Lake in the mid-nineteenth century has been relocated and reconstructed, and is on display here.

http://www.city.hamamatsu.shizuoka.jp/hamahaku/ (Japanese)
View a Larger Map
ADDRESS
22-1 Shijimizuka4chome,Naka-ku,
Hamamatsu-shi,Shizuoka,Japan
432-8018
PHONE
053-456-2208
OPEN HOURS 
9am - 5pm
CLOSED
Monday(It's opened in case of holiday.)
12/29-1/3
TRANSPORT
From Hamamatsu Station
[BUS]
Take the "Shijimi-zuka / Sanaru-dai" line bus (15 minutes) at bus stop #2 of the bus terminal to "Hakubutsu-kan" then walk 1 minute
[TAXI]
10 minutes
2019.10.2 update
Content may be subject to change after publication. Please also note that we are not accountable for loses and damages that may occur as a result of said changes.