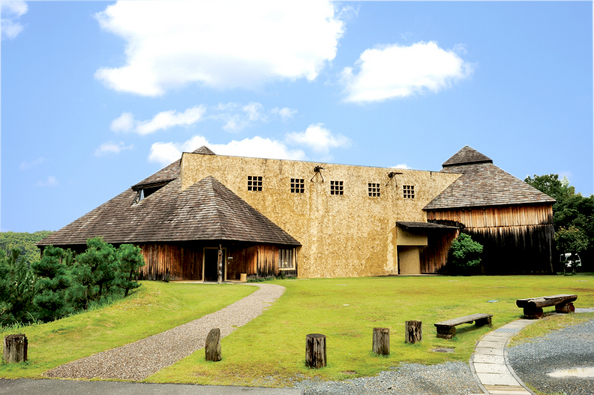 The Fuku Akino Art Museum is located in the forested hills of her birthplace near Futamatagawa in Tenryu Ward, Hamamatsu City, Shizuoka Prefecture. In addition to the permanent exhibition of works by the master artist Akino, several special and planned exhibitions are held throughout the year.
Fuku Akino (1908-2001) came into the public eye after receiving a commendation at the Bunten art exhibition at the age of 28 in 1936. Akino, who disliked the traditional natural themes commonly incorporated into Japanese art, participated in the organization of "Sogyo Bijutsu" (meaning "Creation of Art") with the goal of rejuvenating Japanese art, and continued on with her creative activities using a style that incorporated elements of Western techniques. At the age of 54, she took a post as a visiting professor at India's Tagore International University and was charmed by India. She continued to visit India occasionally thereafter, and produced works incorporating motifs based on India's scenery, landscapes, temples and so on. She also visited Nepal, Afghanistan, Cambodia and Africa in search of creative ideas. In 1999 she received recognition for her numerous achievements and was awarded the Order of Cultural Merit.

Fuku Akino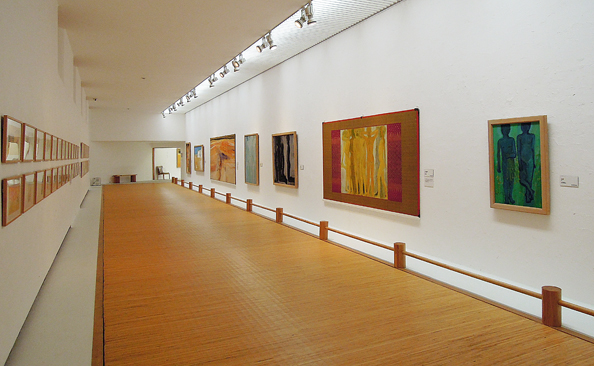 Permanent Exhibition Hall 1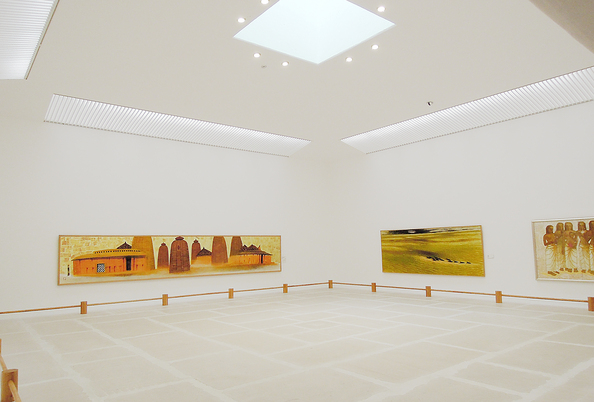 Permanent Exhibition Hall 2
In addition to the exhibits, we would also like visitors to take note of the unique architectural work that is the art museum itself. The building designed by Terunobu Fujimori is constructed with natural materials such as wooden plank walls and Teppei stone. The interior is surfaced with plaster mixed with straw and uses local Tenryu cedar, allowing visitors to feel the warmth of the natural materials firsthand.
In addition, the greatest feature of this art museum is that visitors remove their shoes and view the exhibitions barefoot. The floors of Permanent Exhibition Hall 1 are covered with rattan mats, and Permanent Exhibition Hall 2 is floored with marble. Visitors can seat themselves on the floor and admire the exhibits from the angle of their choice.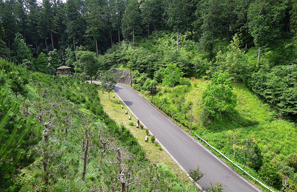 A somewhat long, sloping path leads from the entrance with its parking area to the art museum at the top of the hill. The sloping path, lined with seasonal flowers and foliage to enjoy, is not so much of an obstacle. However, those with difficulty walking or using wheelchairs can rest assured, as there is a car available to take them up to the museum entrance.

From the hall filled with gentle sunlight, visitors can step out onto the terrace with its pleasant view. There are benches where you can sit and relax, enjoying the atmosphere of the forest.

Please remove your slippers at the entrance to Permanent Exhibition Hall 1. From here, you can enjoy the warmth of nature directly.

Inside the museum there is also a video corner where you can watch a film of the artist Akino recorded during a visit to India at the age of 86, as well as a gift shop where you can purchase postcards and other museum goods. The exhibition hall on the second floor is used for planned exhibitions and also as a public gallery.

■
Photography is prohibited inside the exhibition areas.However, you can take pictures of the architecture, including the hallways and veranda!
■
The architecture of the building allows voices to carry easily, so please keep your speaking voice as soft as possible and view the exhibits quietly.
Admission

Junior high and under &




70 years old or more

FREE

high school

¥150

Adult(high school and up)

¥300
For special exhibitions, special admission fees may apply.

http://www.city.hamamatsu.shizuoka.jp/akinofuku/
(Japanese)
View Larger Map
>>

Hamamatsu City Fuku Akino Art Museum

/
浜松市秋野不矩美術館【Hamamatsu-shi Akino Fuku Bijyutsu-kan】
ADDRESS
 130 Futamata, Futamata-cho, Tenryu-ku, Hamamatsu-shi,Shizuoka, Japan 431-3314
PHONE
 053-922-0315
OPEN HOURS
 9:30am - 5pm
CLOSED
 Mondays (unless Monday is a holiday).
Closed between exhibitions.
Closed for the New Year's Holiday.
TRANSPORT
 From Shin-Hamamatsu Station
[TRAIN & BUS]
 Entetsu Railway Line get off at "Nishi-Kajima" station (32 minutes) then take the "Futamata-Yamahigashi" line bus to "Akino Fuku Bijyutsukan Iriguchi" and walk 7 minutes.
2018.11.9 update
Content may be subject to change after publication. Please also note that we are not accountable for loses and damages that may occur as a result of said changes.