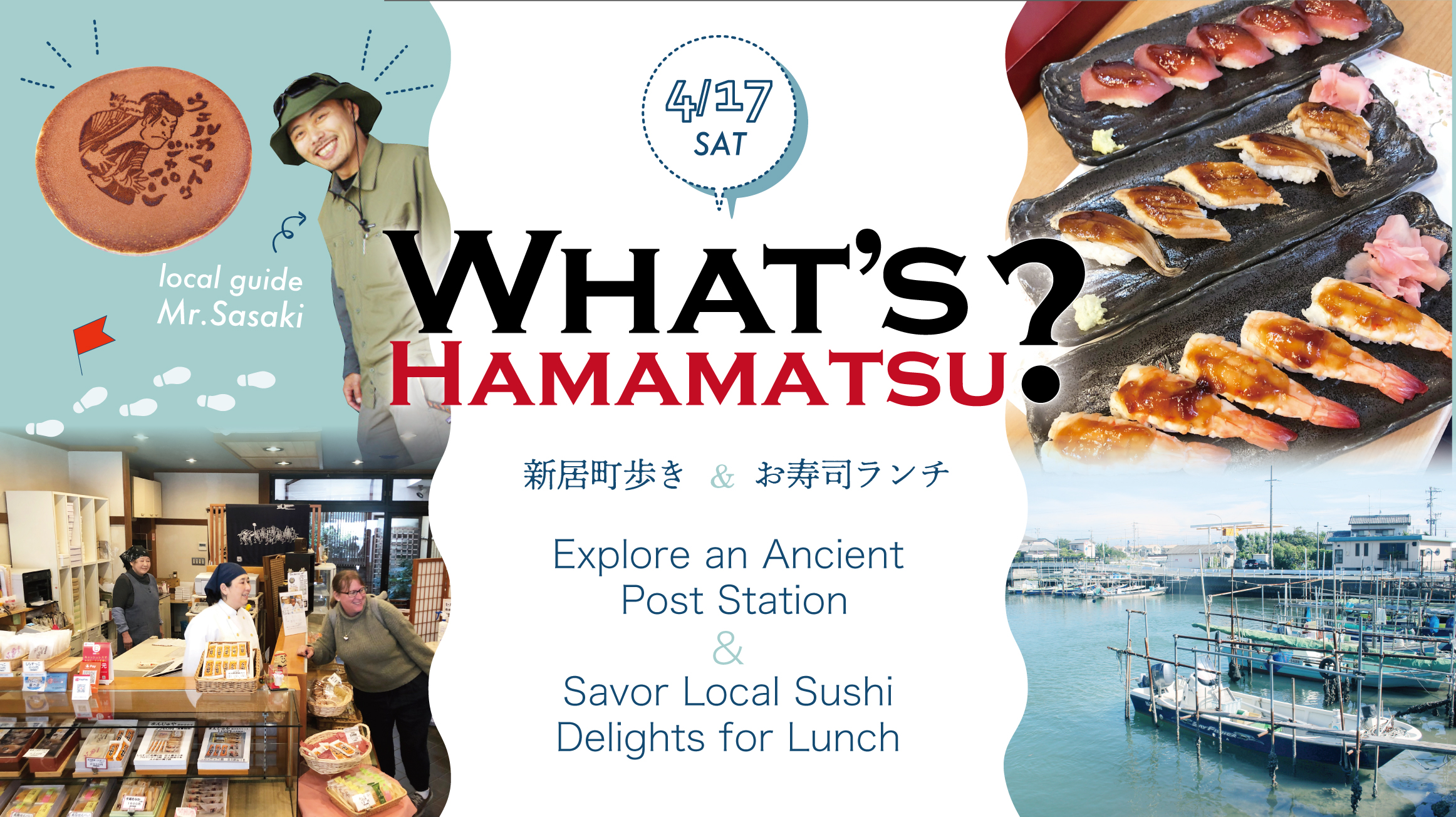 Explore an Ancient Post Station & Savor Local Sushi Delights for Lunch
Arai-Shuku is a post station on the ancient Tokaido Highway. Start the tour by taking a stroll with a local guide through streets that retain the atmosphere of the ancient time.
Tour around the town, visit recommended Japanese sweets shops (tasting available) and dried-foods store (kanbutsu-ya), and boat pits where you may see fishermen at work, and historical sites.
Enjoy sushi at a sushi restaurant with over 100 years of history after about 2-hour stroll♪
Come and explore Arai-Shuku, where the ancient and the present coexist, from the perspective of locals!
Date
April 17 (Saturday), 2021
Location
Neighborhood of Arai-Cho, Kosai City, Shizuoka Prefecture
Time
Gather at 8:30am
Dismiss at 12:30 (tentative)
Meeting Place
8:30 am at the entrance of Hamamatsu Station North Exit
Fee
Adult ¥4,500
Students ¥2,800
※1,000 yen off the student price for children under elementary school age who do not need sushi.
Language
Japanese (Inquire for English・Chinese interpreters)
Itinerary
・Take a train from Hamamatsu Station to Araimachi Station
・Guided walking tour around Arai-Cho
・Visit a Japanese sweets shop (tasting and shopping time available) and a dry goods store (shopping time available)
・Lunch at Sushi Matsu (end of tour)
※Note: Arai Checkpoint is on the walking route, but we do not enter.
Things to bring
・Comfortable shoes and shopping bags if necessary
Application deadline
Until April 10 (Saturday)
How to apply
Click on "Join" of the event page and then
send an e-mail to
whats@inhamamatsu.com
.
In your e-mail, please include bellow.
---
your name
your contact information
number of participants
means of transportation to the meeting place on that day.
---
※If you do not have a Facebook account, it is OK to apply by e-mail with your information!
Your booking is completed once you receive a reservation acceptance confirmation e-mail from us.
~Regarding the event, please read the following rules carefully:
■ Pay close attention to the novel coronavirus (COVID-19) infection control measures.
■ All staffs and participants will be required to wear masks.
■ No cancellation charge occurred in a case of poor health condition.
■ We will check participants' health conditions at the time of reception.
※Please note that the event is subject to cancellation due to the status of COVID-19.