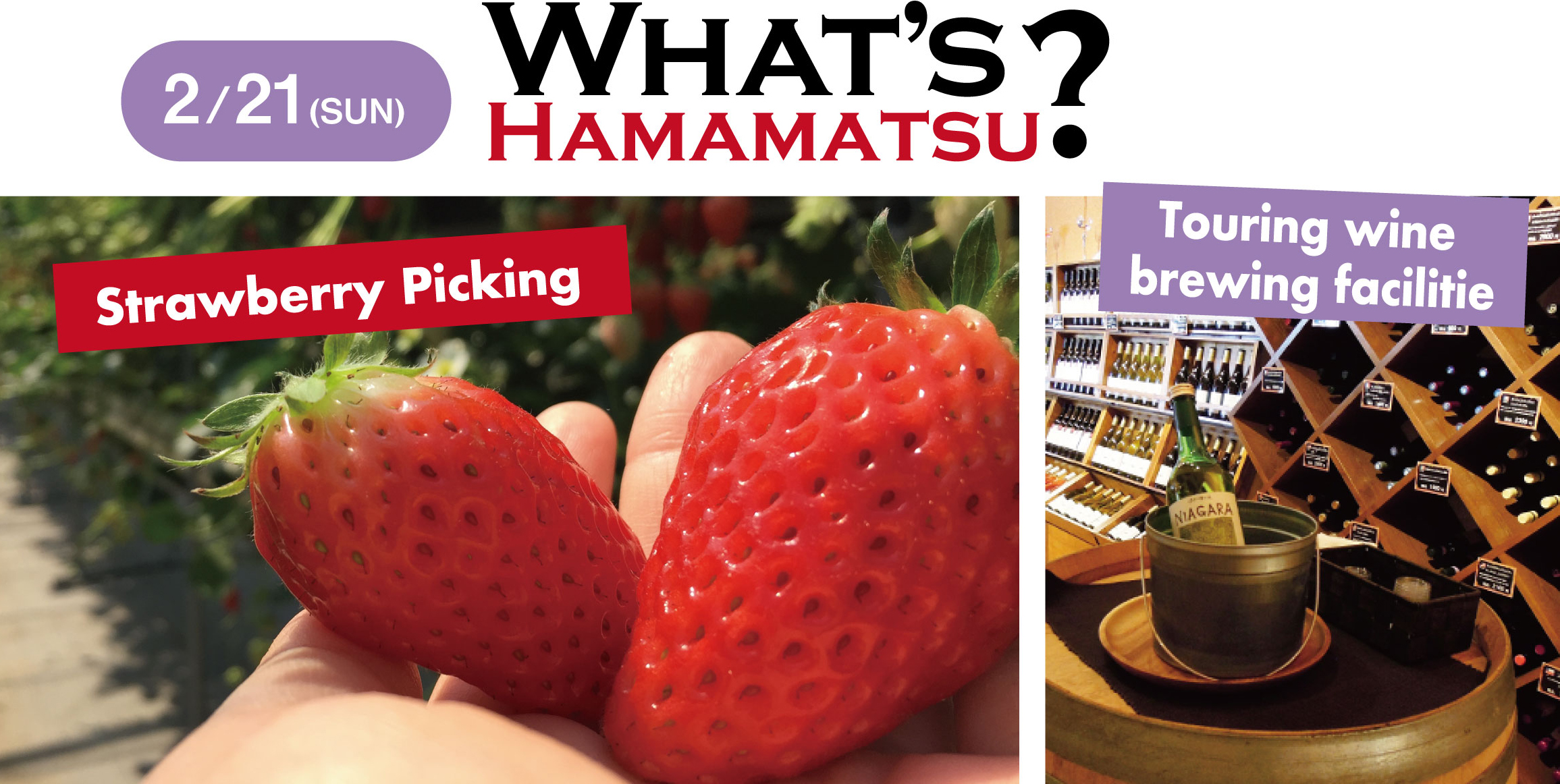 A Special Event! Strawberry Picking and Touring wine brewing facilities
It is a collaborative event between iN HAMA and Hamamatsu Fruit Park.

Everyone, regardless of nationalities and ages, is welcome♪

The event will start with a visit to a wine cellar, which is rarely available to public individuals, and we have souvenirs for you...!

Plus, to help participants mingle with each other, we will prepare short games with prizes and activities.

Let's all have lots of interactions while enjoying the outdoor activities!
Date
February 21 (Sunday), 2021
Place
Hamamatsu Fruit Park Tokinosumika,
4263-1 Miyakoda-cho, Kita-ku, Hamamatsu-shi, Shizuoka
※Please consult with us if you don't have any means of transportation to the event location, our staff could provide a ride (with a limited number of people).
※Parking available
Meeting Time
Meeting 10:00 am
Scheduled to be dissolved 12:50 am
Number of participants: 20people (min. 10 or more people)
Fee
Adult...¥5,000/person
Student(Junior high and High school student)...¥4,000/person
Elementary school students ...¥2,000/person
3 years old and over ...¥1,500/person
3 years old or younger ...¥Free
Language
Japanese (Inquire for English・Chinese interpreters)
Itinerary
・Picking Strawberry
・Playing games while walking
・Touring wine brewing facilitie
Things to bring
・Comfortable walking shoes
・Warm clothes
Application deadline
Until February 15 (Monday)
How to apply
Click on "Join" of the event page and then
send an e-mail to
info@inhamamatsu.com
.
In your e-mail, please include bellow.
---
your name
your contact information
number of participants
means of transportation to the meeting place on that day.
---
※If you do not have a Facebook account, it is OK to apply by e-mail with your information!
Your booking is completed once you receive a reservation acceptance confirmation e-mail from us.
~Regarding the event, please read the following rules carefully:
■ Pay close attention to the novel coronavirus (COVID-19) infection control measures.
■ All staffs and participants will be required to wear masks.
■ No cancellation charge occurred in a case of poor health condition.
■ We will check participants' health conditions at the time of reception.
※Please note that the event is subject to cancellation due to the status of COVID-19.