An extraordinary, seasonally exclusive view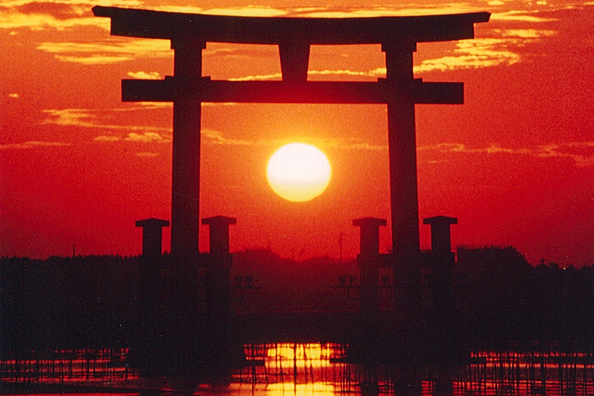 On Benten Island, Lake Hamana, located in Maisaka in the Nishi Ward of Hamamatsu, Shizuoka, is a red 18m torii, floating on the surface of the lake.Seasonally exclusive to a period of time about a month before and after the winter solstice (generally around the 22nd of December every year), it is possible to see the sun setting right into this red torii, which also happens to be the emblem of Benten Island. The red torii is also known to be a spiritual and mystical 'power spot'.Many people visit Benten Island in attempt to capture this spectacular sight, which can only be witnessed this season, on camera.
※The sun sets at around 4:41 PM around the 21st of November, and around 5:06 PM around the 21st of January.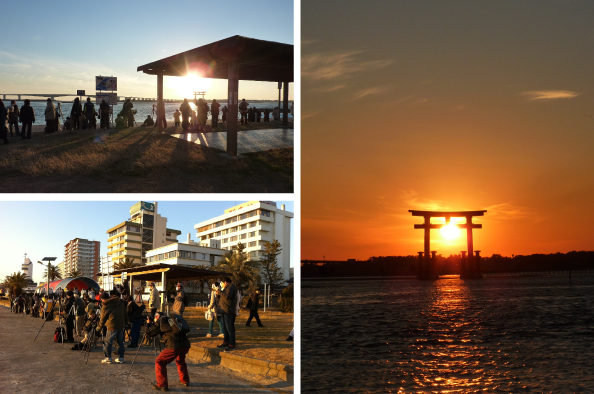 ・Because of the strong sea breeze, please be adequately prepared for cold temperatures.
・The spot at which this event can be best appreciated from is around the front of the public toilets on the east side of Benten Island Seaside Park. Please be advised that the view will change depending on the location.
2019.11.28 update
Content may be subject to change after publication. Please also note that we are not accountable for loses and damages that may occur as a result of said changes.