Enjoy both strawberry picking
and making your own original strawberry "sake"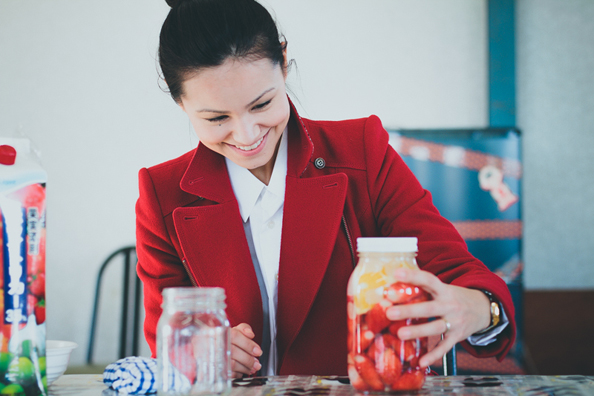 Photo : Rafael Helfstein Franco (Univers and You)
In Hamamatsu City, you can enjoy

strawberry picking

from January to May, and there are many strawberry farms around Lake Hamana. Among them, Kashima Harvest's activity of making strawberry liquor is popular. There, you can savor the freshly picked strawberries, and make strawberry sake to take home with you and look forward for it to mature.



Left Photo : Jesse Robbins (

studio green point

)

Right Photo : Rafael Helfstein Franco (Univers and You)
・ Sweet and smooth delicious sake.
・ Strawberries are rich in Vitamin C, folate, and fiber. It is said to have the power to prevent colds, soothe fatigue, and make skin beautiful.
・ If you drink 1 to 2 tablespoons before you sleep, it is said to be effective in nourishing and vitalizing your body.


Overview: Making Strawberry Sake at Kashima Harvest
・ Strawberry sake making is only available from March to May. Reservations are necessary.
・ After taking it home, the strawberry sake will need about 1 to 3 months to mature in a cool place.
・ For those who can't drink liquor, strawberry sour which uses rice vinegar instead is also available.
→I'm sorry but, this service ended on 2014.
★ Kashima Harvest (Strawberry picking)

[ADDRESS] 3624 Kurematsu-cho, Nishi-ku, Hamamatsu-shi
[PHONE] 053-487-0875 (Japanese only)
[OPEN] 2014 / 1 / 2 - 2014 / early-5
10am - 3pm (

It's over once the strawberries are finished

)
※Reservations must be made for groups of 10 or more people.

[CLOSED] No scheduled holidays (Confirmation required)






・30 minutes all-you-can-eat


・

Condensed milk service (no refills)

http://www.kashimaharvest.jp/index.html (Japanese)


Photos : Rafael Helfstein Franco (Univers and you)


Photos :

Jesse Robbins (studio green point)









2016.4.7 update
Content may be subject to change after publication. Please also note that we are not accountable for loses and damages that may occur as a result of said changes.