The annual Hamamatsu Performance, Kabuki,
a tradition in Japanese Arts
Jun 5 (Thu), 2014
[Place] Act City Main Hall

Afternoon performance.




[Open] 12:15pm [Start] 1pm


Evening performance.


[Open] 4:45pm [Start] 5:30pm





Both performances enforce simultaneous explanation via earphone guide. ※Japanese language only
Performance
Taikou Sanbasou
Shuumei Hiroukoujou
Ippongatana Dohyouiri
Cast
Ichikawa Ennosuke, Ichikawa Chusha, Ichikawa Ukon, Kataoka Hidetaro, and others
Synopsis and emphasis
Taikou Sanbasou
The Sanbasou dance is derived from Nou's "Okina" and is one of the main dances in kabuki. As the name states, it resembles the victory dance for when Hideyoshi Taiko had taken down the Osaka castle.
Shuumei Hiroukoujou
In 2012, second generation Kamejiro Ichikawa was succeeded by fourth generation Ennosuke Ichikawa who then passed on the name to ninth generation Ichikawa Chusha. Ennosuke's succeeding of this name was of great importance to the Omodakaya family, where he is to go greet everyone in all locations to celebrate his succession.
Ippongatana Dohyouiri
Mohei Komagata, who had failed to become a sumo wrestler in Edo, receives blessing from Torideshuku's Shakufu Otsuta, and promises once again to train to become a Yokozuna. 10 years later. Mohei, who's appearance had completely changed, returns to Torideshuku to seek Otsuta. But Otsuta fails to remember him. Mohei eventually stands up to ward off Otsuta's husband, Namiichizato Gijyuu and his minions. But Otsuta... This piece is Shin Hasegawa's best piece and is his masterpiece depicting the subtleties of human nature.
An English language explanation is available for today's performance.
Information
Ticket prices
First tier ¥6,500
Second tier ¥5,500
Evening performance Upper balcony (same day reservations) ¥2,000 
Student (same day reservations) ¥1,000
※Evening performance upper balcony seats are discounted tickets permitting viewing of the evening "Prologue" and "ippon Gatana Dohyouiri" only. Guests may expect to enter starting at 6:30pm.
※ Student tickets are limited to students age 24 and under.
Ticket Office
HFC Online Shop

(Japanese)
Act City Ticket Center
The general play guide will be on sale
2014 / 4 / 13 sun
★Come to the performance in "Kimono"!
For the evening performance only, guests who come wearing Kimono or Yukata will receive a free program guide (¥1,200 value) and earphone rental (¥700 value).
※Details will be posted here when they are available.
★click to enlarge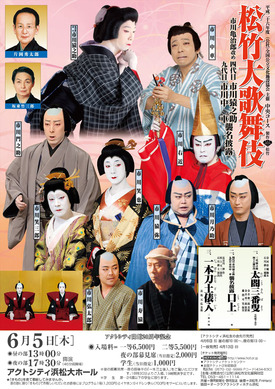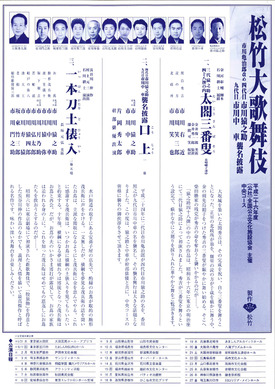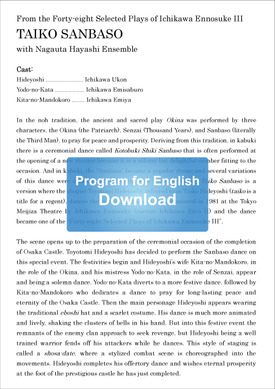 http://www.shochiku.com/
Inquiries ; Hamamatsu Cultural Foundation tel. 053-451-1114
2015.5.20 update
Content may be subject to change after publication. Please also note that we are not accountable for loses and damages that may occur as a result of said changes.