A town retaining the vestiges of a bygone era, the Kiga area.
Kiga, which served as a post station on the side road, "Himekaido", of the Tokaido road during the Edo period, is a town located on the northern coast of Lake Hamana and blessed with abundant natural beauty including the surrounding lake and mountains as well as the Miyakoda river which flows into the lake. The town has also retained many vestiges of that era, which enable visitors to experience a taste of history, such as the checkpoint that controlled travel along Himekaido, the town, and secret paths to avoid the checkpoint.
In addition, it is served by the local Hamamatsu train, the Tenryu Hamanako Railroad, and you can enjoy the natural beauty of the area's traditional Japanese landscapes from the train window.
Kiga

Sekisho (Checkpoint)

and Hime-sama Yakata

Kiga

Sekisho (Checkpoint)

is considered to have been established in 1601 by Tokugawa Ieyasu. Set up to defend Edo where the Shogunate was located, the checkpoint was used to prevent guns from being brought into Edo as well as to make sure that the wives and children of the Daimyo, who were required to live there as hostages, could not escape and return to their homelands.

There are historical recreations such as a room for interrogating criminals and a room for checking to ensure that women were not trying to escape to their homes by disguising themselves as men.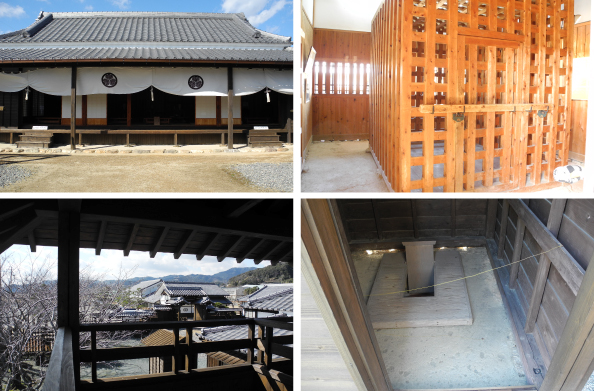 The barrier includes an unusual jail, a lookout point, and an old-style toilet
Hime-sama Yakata, located within Kiga

Sekisho (Checkpoint)

, features exhibits with litters used on journeys by the current princesses, imitations of the food served to retainers of the Kishu-Tokugawa clan, and various tools, as well as permit documents for passing through the barrier, and among these are many articles of historical value, such as a litter that was actually used in that era.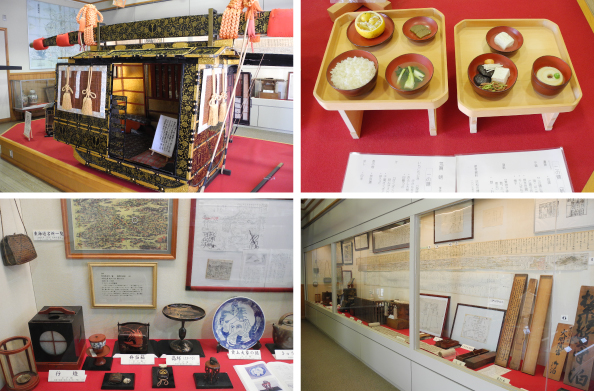 In addition, most of the souvenirs on sale in the reception area at the entrance to the checkpoint are either handmade by the staff or are made by local residents and sold on consignment.

Right: Works by top-ranking prize-winners in the photography and painting contest that is conducted each year are being sold as postcards this year in a first-time trial run.
ADDRESS
4577 Kiga, Hosoe-cho, Kita-ku, Hamamatsu-shi
ADDMISSION
Adult ¥200 / High school student or under Free
OPEN
9am - 4:30pm
CLOSED
Year-end and New Year holidays



★More Details

(Japanese)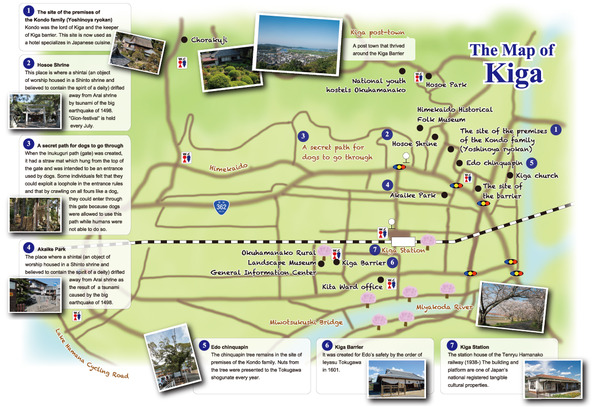 ★Click to enlarge
Okuhamanako Rural Londscape Museum General Information Center

In addition to beautiful landscapes and abundant nature, farming districts feature many traditional and cultural attractions that have been cultivated over a long period of time through the work of their people. The Rural Area Museum (Den'en Kukan Hakubutsukan) is an effort likening these various attractions to museum display items, seeking to preserve and utilize this farming region as an "open-air museum." The facility introduces people to the natural beauty of Kiga.
Part of that effort is the Shunsaiichi, now in its third year, which sells fresh seasonal fruit, vegetables, and ornamental plants from local farmers at around 100 to 600 yen.
There are also Chiisana Tabi events which are held once a month, offering a variety of small trips such as a program featuring a tea-picking experience and tea-based cuisine and a program with a temple tour along with Buddhist vegetarian cuisine and sutra-copying.

ADDRESS
4585 Kiga, Hosoe-cho, Kita-ku, Hamamatsu-shi
OPEN
8:30am - 5pm
CLOSED
Year-end and New Year holidays



★More Details

(Japanese)
Hime-sama Dochu (Princess Procession)
As the Kiga area's main festival, Hime-sama Dochu is a traditional event recreating a procession of princesses from the Edo period, accompanied by a beautiful roadside display of blooming cherry trees that add even more color to the dazzling princesses.
2015.5.20 update
Content may be subject to change after publication. Please also note that we are not accountable for loses and damages that may occur as a result of said changes.