On this day, the city time-slips back to the Edo Period!
April 6 (Sat) - April 7 (Sun), 2019
Route map
North ward office 1pm
Estimated time of arrival at Omatsuri Hiroba (

Festival square

) 2:15pm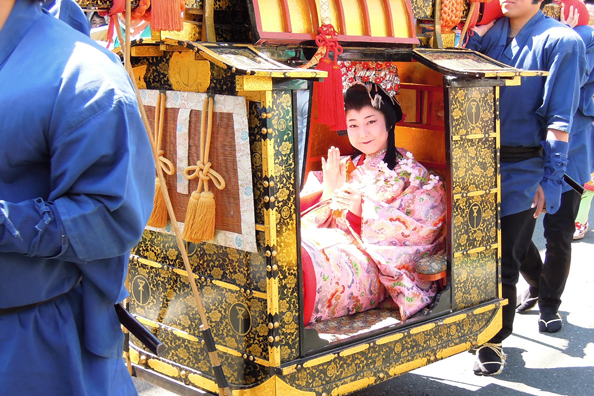 The Princess Road Procession (Hime-sama Dochu) is a festival that reproduces the travels by the daughters of noble families and feudal lords on Himekaido in the Edo Period. This traditional ceremony has been held on the first weekend in April every year in Hosoecho Kiga, Kita Ward, Hamamatsu City since 1952. Including the princesses dressed in gorgeous costumes based on research of the period, a procession of about 100 people parades through Kiga. During the procession, the princesses and handmaidens also perform dances. The many shops carrying local specialties from the Sanen Nanshin region are another attraction to enjoy.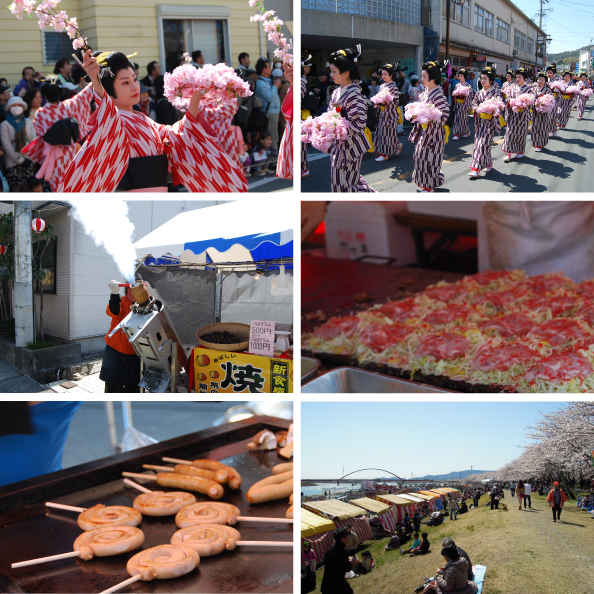 What is the Himekaido?
It is a common name for the branch of the Tokaido route connecting the Mitsuke-juku (Iwata City, Shizukoka) and Goyu-shuku (Toyokawa City, Aichi) stations. Though there are many theories, it is commonly said that the name comes from its popularity among the daughters of noble families and feudal lords in the Edo period because it avoids the checkpoint at Arai-sekisho, with its strict inspections of female travelers, as well as the dangerous ferry crossing between Arai and Maisaka.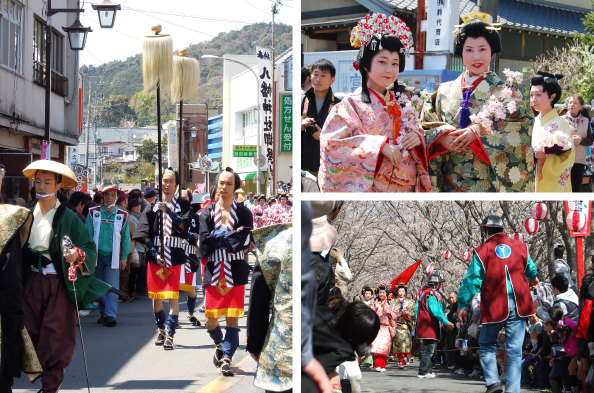 ---


Every year, participants in the procession parade are chosen from the general public for roles such as the princesses.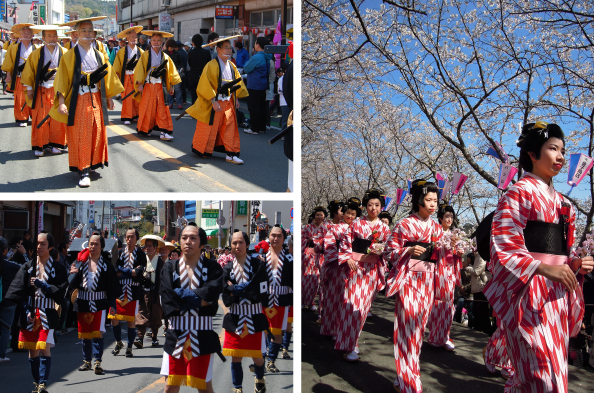 ---
Here is an explanation of the Princess Road Procession parade!

click to enlarge
The Princess Road Procession parade is composed of retainers and attendants with various roles that accompany the princesses. There are more than 100 participants, including guards leading the parade, porters carrying tools, the princesses' attendants, doctors and more.
LOCATION
Hosoe-cho, Kita-ku Hamamatsu-shi
TRANSPORT
[TRAIN] From Shin Hamamatsu Station
Entetsu Railway Line get off at "Nishi-Kajima" station, take an Tenryuhamanako Line going to "Shinjohara", get off at "Kiga" station (60 minutes)
[BUS] From Hamamatsu Station
Take the "Kiga" or "Miyakoda" line bus (50 minutes ride) at bus stop #15 of bus terminal station to "Kiga Yotsu Kado" or "Kiga-Eki mae"
[CAR]
Around 15 minutes from Tomei Expressway Mikkabi I.C.
Around 20 minutes from Hamamatsu-Nishi I.C.
Around 20 minutes from Shin-Tomei Expressway Hamamatsu Inasa

Traffic congestion is expected due to traffic restrictions near the event area.
If you are coming by car, please use the designated parking areas.<

Parking Area Map

>
Parking Fee : Free
※Round-trip shuttle buses is run from the parking lot to the venue. (5 minutes from event area.)
Capacity : 2,000 vehicles.

http://okuhamanako-shokokai.com/himesama.html (Japanese)
2017.12.18 updeta


Content may be subject to change after publication. Please also note that we are not accountable for loses and damages that may occur as a result of said changes.