Comfortable transportation with no transfers, Japan's buses are clean.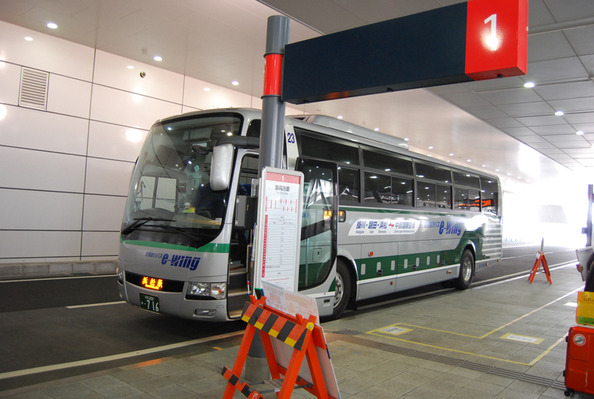 The Entetsu Bus e-wing is convenient for transportation between Chubu Centrair International Airport and Hamamatsu city. Bus destinations, apart from Hamamatsu, are Iwata and Kakegawa. There are a few bus stops along the way. The bus terminal at the airport is easy to find, and there are also guides. Japanese buses are clean and are used by men and women of all ages.
Inside the bus


"Destination" and "next stop" information is shown in Japanese and English on the electronic display at the front of the bus. Announcements are also made in the order of Japanese and then English. The interior varies according to the type of bus, but all vehicles are clean inside.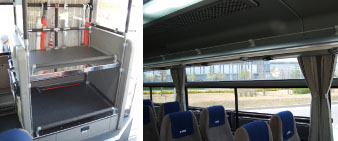 There is a place to store your luggage at the front of the bus and an overhead rack above the seats, so please use these for small luggage. Information about large luggage can be found below.

The guides placed in the pockets in front of the seats are, "Request for wearing seat belts" and "Luggage regulations"

Wearing seat belts on the bus is mandatory according to Japanese traffic law!
You must fasten your seatbelt.There are no lavatories on any of the vehicles. Please use the lavatory before getting on the bus. There are no lavatories near the bus terminal.
Please use the lavatory in the Access Plaza on the upper floor.
Where is the bus terminal
in Centrair International Airport

Follow the direction board, go through the passageway, and head towards the Access Plaza where the bus terminal is.

Arrive at the Access Plaza. There is an information counter at the center. Please visit here if you get lost!

Ticket machines only accept cash. We advise you to exchange your money at the foreign currency exchange located at the end of the Access Plaza!Your direction should be towards the right, at the first corner!

Take the elevator or escalator here to go to the first floor where the bus terminal is.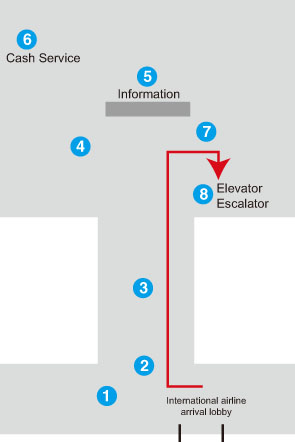 How to buy a ticket
You can purchase the ticket from your smartphone using your credit card. You can also pay the driver in cash.
How to get on the bus
When heading from Centrair Airport

There is a guide line drawn at the bus stop, so line up at the Hamamatsu line.

The destination is shown on the sides, front and back of the bus.

As it gets closer to departure time, bus crew will load confirm your destination. Hand your ticket to the bus crew, and board from the door at the front of the bus.
When the bus is approaching your destination, you need to give the driver a signal by pressing the buzzer button.
■
When boarding from Hamamatsu station
Ticket counter
[OPEN]
Mon., Tue., Thu., Fri. 7am~7pm /
Sat. 8am~7pm / Sun., Holidays 8am~5pm
[CLOSED]
Wednesday

The ticket machine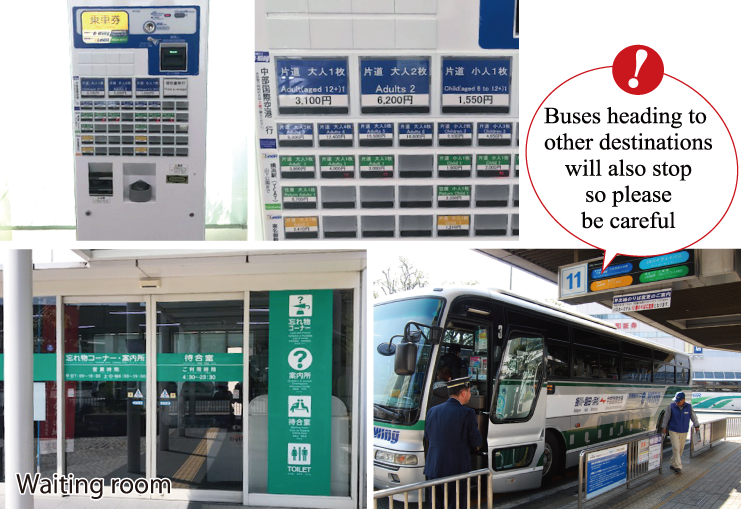 Purchase your ticket at the ticket counter, or from the ticket machine at the waiting room.
You must pay cash.
(You can use a card at the ticket counter *Only ENTETSU CARD)

Only buses heading to Chubu International Airport are reservable.
There is no need to reserve for buses departing from the airport (In order of where you line up)
How to check your luggage onto the bus

Please tie the tag to your luggage and keep the ticket stub. You will place your luggage by yourself. When you get off the bus, you will unload your luggage. Please show the ticket stub to the driver when you get off.

There are restrictions to luggage which can be checked.
The maximum length of each bag is 2meters,and 2piece of baggage with a weight of30kg each are allowed.
We advise to use the delivery service within the airport for luggage which exceeds the restrictions above.
YAMATO TRANSPORT CO,. LTD.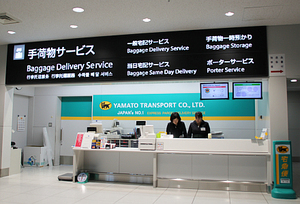 Photo by : http://www.centrair.jp/service/1188477_1621.html
This is a delivery service which sends your luggage to and from airports. For people who would like to send their luggage to the airport, please receive your luggage at the delivery counter in the Departure lobby on the third floor. For people who would like to send their luggage to their homes or destination, please send your luggage from the delivery counter in the Arrival lobby on the second floor.

Address of delivery, telephone number information is necessary! You cannot check fragile and valuable items!
We can also deliver long board

Other recommended services!
For people who are traveling from or to cold places, you can check large coats. You can travel lightly!
We also have rental services for cellular phones. If you have your passport and credit card, you can rent one at the spot!
!--------time table CSS end---------->
Time Table
Heading for Hamamatsu
Centrair
Terminal 1
Hamamatsu-Nishi I.C. Parking
Hamamatsu Sta.
Iwata I.C. Parking
08:00
09:35

●

10:10
09:55
09:30
11:05

●

11:40
11:25
11:00
12:35

●

13:10
12:55
12:45
14:20

●

14:55
14:40
15:00
16:35

●

17:10
16:55
17:00
18:35

●

19:10
18:55
18:45
20:20

●

20:55
20:40
20:30
22:05

▲

22:35
22:30
22:00
23:35

▲

24:05
24:00
● Those going toward Iwata I.C. will have to change trains here.
▲ Those going toward Hamamatsu Sta. will have to change trains here.
Heading for Centrair International Airport
Iwata I.C. Parking
Hamamatsu Sta.
(Bus Stop No.11)
Hamamatsu-Nishi I.C. Parking
Centrair
Terminal 1
04:25
04:25
05:00

●

06:40
05:45
05:45
06:20

●

08:00
06:50
06:45 (※)
07:25

●

09:00
08:50
08:45
09:25

●

11:00
10:30
10:30
11:05

●

12:45
12:00
12:00 (※)
12:35

●

14:15
13:30
13:30
14:05

●

15:45
15:15
15:15
15:50

●

17:30
18:00
-
18:25

●

20:05
● Passengers coming from Iwata I.C. will have to change trains here.。
※Buses depart from Gate 11 of the Hamamatsu Bus Terminal. The 6:40 and 12:00 bus departs from Gate 12.

Buses may be delayed depending on traffic conditions and weather. We do not take any responsibility for problems caused by the delay of buses so we ask for your understanding. Please board buses upon careful confirmation of traffic conditions, and choose buses so that you have enough time before boarding.
Fare
Adults
Children
Between Centrair and
Iwata I.C. Parking
¥3,400
¥1,700
Between Centrair and
Hamamatsu Sta.
¥3,200
¥1,600
Between Centrair and
Hamamatsu-Nishi I.C. Parking
¥3,000
¥1,500
2023.4.7 update
Content may be subject to change after publication. Please also note that we are not accountable for loses and damages that may occur as a result of said changes.