The basement of the department store is packed with delicious food!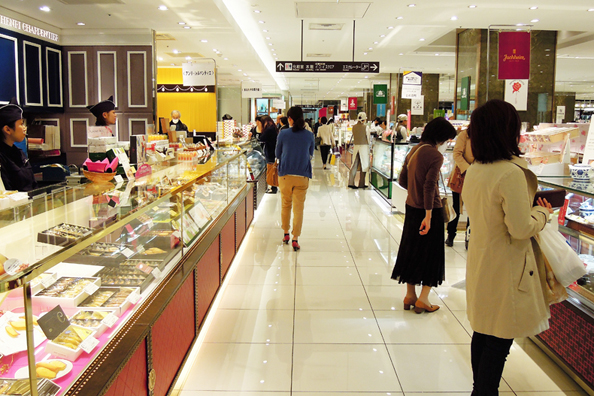 In the basements of Japanese department stores are often food stores and they are nicknamed as "depachika," a combination of "depa" which is a short form for department store and "chika" which means underground in Japanese. Depachika is one of the most popular floors among shoppers as they can purchase anything from fresh fruits and vegetables to prepared foods, sweets and liquors. You can find local cuisines as well as well-known food from all over Japan, which is another reason why depachika attracts many shoppers. Let's take a look at Hamamatsu City's Entetsu Department Store, located in front of Hamamatsu Station on the Japan Railway line, it has a depachika!
How to use depachika
It is a perfect place to look for souvenirs as this depachika has not only local specialities but also famous products from all over Japan.
If you get tired from sightseeing, you can visit the depachika where you can buy prepared full-course meals including appetizers, main meals and desserts, along with drinks. You could bring the food back to your hotel room and enjoy a relaxing dinner.
I recommend checking out special offers that are available for limited periods or only during certain times of the day.
B1F floor of the New Building
Japanese sweets section
You can find well-known local sweets makers like Shunkado which makes Unagi (eel) pie, a Hamamatsu speciality sweet, and Irikawaya which produces Mikkabi Mikan Monaka, a wafer cake. While being in Hamamatsu, you can also purchase beautiful and delicate sweets that represent Japan and are sold by such shops as Kanou Shoujuan, Souke Minamoto Kitchoan, and Tsuruya Yoshinobu. Please also enjoy the seasonal displays and products that change accordingly.

Left: Shunkado/ Right: Irikawaya

Left: Kanou Shoujuan/ Right: Minamoto Kichouan

Left: Tsuruya Yoshinobu/ Right: Japanese sweets section
Western sweets section
Hamamatsu boasts some locally and nationally well-known sweets shops like Jiichiro, which sells Baumkuchen, a kind of layered cake, and Marutaya Yogashi Ten which is known for its cheese cakes. This section also houses Rusco, which makes lovely, colorful rusks, and other stores that sell various colorful sweets, making shoppers feel happy and cheerful.

Left: Jiichiro/ Right: Marutaya

Left: RUSCO/ Right: Western sweets section
Liquor section
Entetsu Department Store original liquors, produced in collaboration with local breweries, are sold here along with Japanese sake, shochu or distilled spirits, high-end Japanese and western liquors and beers. Here, sake advisors can give you advice on what to buy. The sake which is used in the local festivals can also be found here during the Hamamatsu festival from mid-April to May 5th.


B1F floor of the Main Building
Grocery and fresh produce section
In this section, we offer fresh vegetables and meats for normal day-to-day grocery shopping. We also have stores like Meiji-Ya store that sells high-quality foods from all over the world, as well as local tea makers, Koyamaen and Chikumeido, who both produce high-quality tea leaves.

Left: Koyamaen, Chikumeido /Right: Meijiya

Prepared foods and gourmet section
This is one of the most popular sections in our depachika where shoppers can buy various ready-to eat foods. The one section called "Enshu Gourmet Suruga no Aji" is dedicated to selling delicious foods that have been loved by people in Shizuoka prefecture, including Hamamatsu. At "Kosei Iro Iro", you can buy Chinese, Japanese and Western bento boxes. This section also offers hot, deep-fried dishes and a variety of fresh salads.

dpck10.jpg Left: Enshu gourmet, Taste of Suruga/ Right: Kosei Iroiro

Oyatsu (Snack) Square
If you get hungry, why don't you try our Oyatsu Square where you can buy snacks? At Hamamatsu Manju, Tako Hachi, and Gozasoro, you can also see how the sweets and snacks are made on the spot while buying them. You could take a break with these freshly made snacks at the I-Ko-I Square (resting area) next to Oyatsu Square.

Left: Hamamatsu Manju/ Right:Takohachi

Left: Gozasoro /Right: Oyatsu Square
Food Display/ Sales area
A number of stalls line up to sell tasty and popular foods from all over Japan. These stalls change every week. Try some samples and enjoy talking with the cheerful and friendly merchants.

I-Ko-I Square / Place to assist your shopping
This area is located between the main and new buildings and is equipped with the facilities to assist your shopping at depachika. There are coin lockers to store your purchases and also refrigerated lockers to keep your food cold. For both lockers, you need to put in coins but you will get them back when you finish using them. In the sitting area, shoppers can use wifi services for free.

Floor Map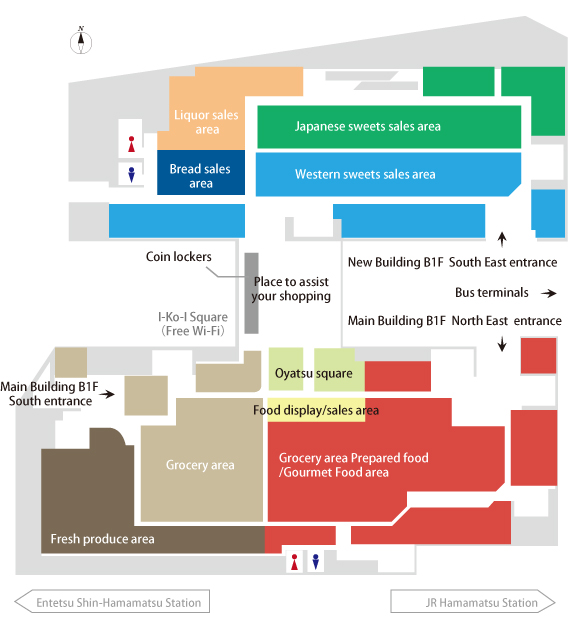 http://www.endepa.com/
(Japanese)
ADDRESS 
320-2 Sunayama-cho, Naka-ku, Hamamatsu-shi, Shizuoka 430-8588
PHONE 
053-457-0001
OPEN 
10am-7:30pm
Main Building 8F restaurant 10:30am-9pm
CLOSED 
Nothing
TRANSPORT 
From Hamamatsu Station
[WALK] 
1 minute
2015.5.20 update
Content may be subject to change after publication. Please also note that we are not accountable for loses and damages that may occur as a result of said changes.