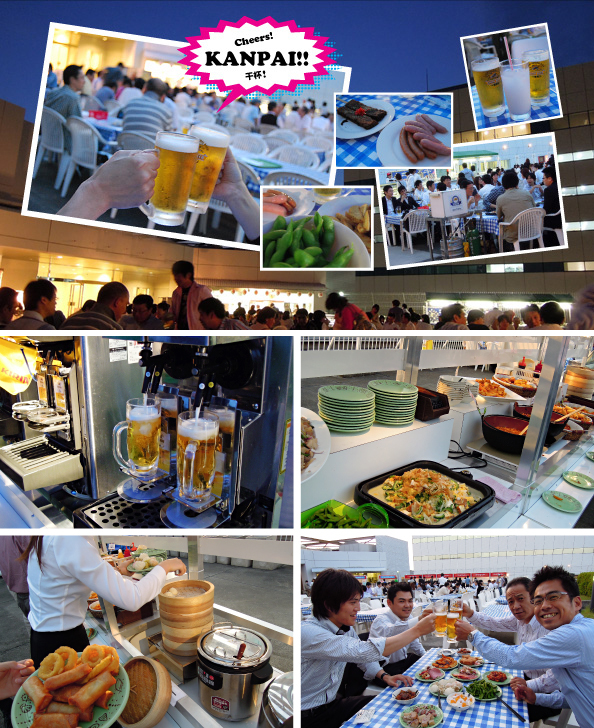 What is a beer garden?
A beer garden is a beer hall or beer restaurant located outdoors. In Japan, it has become synonymous with the summer season.
These are located in open spaces along rivers or on the roof tops of buildings and department stores for a limited time period between Jun and Sep during summer.
The reason for its popularity is that one can enjoy food and drink in an open and lively setting that is somewhat different from that in a bar together with friends on the way back from work or shopping.
How to use them
There are also a-la carte restaurants like bars but in many cases, they run food and drink buffets for a limited time period. Buffets where you can eat what you like and set course meals with a number of dishes are common.
Menu
There is a wide selection of drinks besides beer, including shochu with tonic water, oolong tea, juice and soft drinks. Dishes are mainly light snacks and finger foods that go well with beer. Recently, there are also places that devote themselves to desserts only.
Dried snacks like peanuts, dried cuttlefish, roasted mocha, baked mochi, cheese etc.
Chinese food such as fried rice, fried noodles, dumplings, spring rolls etc.
Side dishes such as fried chicken, green soybeans, roast beef, sausage, fish cake, omelette, fried potato, calamari, pork skewers, roasted rice balls etc.
Place
320-2 Sunayama-cho, Naka-ku, Hamamatsu-shi, Shizuoka
MAP

111-2 Itaya-machi Naka-ku Hamamatsu-shi, Hamamatsu-shi
MAP
3-1-15 Azukimochi, Naka-ku, Hamamatsu-shi, Shizuoka
MAP
3-8-1 Chuou, Naka-ku, Hamamatsu-shi, Shizuoka
MAP
2019.5.18 update
Content may be subject to change after publication. Please also note that we are not accountable for loses and damages that may occur as a result of said changes.