A light, full body exercise
that can be done by all Japanese anytime and anywhere !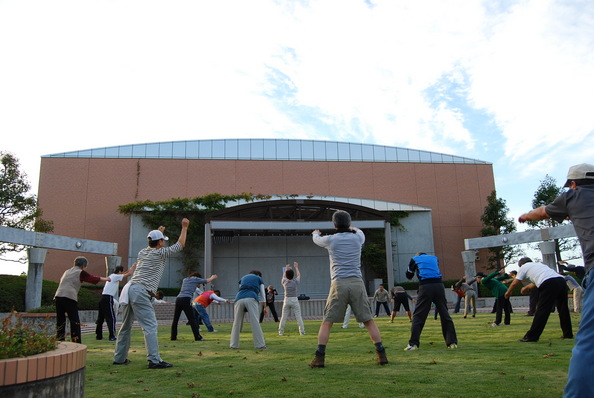 Radio calisthenics are an exercise with a piano accompaniment, first proposed with the aim of improving the physical strength as well as helping maintain and improve the well-being of the people.Since its first broadcast in 1928 by Tokyo Central Postal Bureau (currently known as NHK), Japanese radio calisthenics have become the longest-running program in Japanese media.
Japanese radio calisthenics were proposed by the Ministry of Post and Telecommunications Postal Life Insurance Bureau(currently known as Japan Post Insurance Co., Ltd.).In America, in the early 1920's, the "calisthenics" developed by Metropolitan Life Co., Ltd. were broadcast live in the New York and Washington D.C. areas.Japanese "radio calisthenics" were most likely created based on those in America.Since the health insurance industry is not stable if their insured customers are not healthy, many health insurance companies aimed to promote healthy lifestyles for the people.

Radio calisthenics are still a splendid part of Japanese culture now.With a history dating back to 1928, radio calisthenics are broadcast several times each day on the radio and television.
It truly is a magnificent exercise that anyone can perform anytime and anywhere. Because all Japanese learned these exercises as young students, even after growing old, their body will begin moving automatically as a conditional reflex upon hearing the music accompaniment.
These days the amazingness of radio calisthenics is generating new attention and many books and DVDs explaining how to correctly perform the exercises are being sold.Radio calisthenics is a necessary exercise that ensures the human body is exercised evenly. So, if the radio calisthenics are performed correctly, in addition to the improvement of visceral and cardiorespiratory functions, it is even believed to help people shape up.
Currently there are two types of radio calisthenics. Both are approximately 3 minutes long and have 13 movements.
Experience Japanese radio calisthenics!
Television broadcast
Radio broadcasts are also available. However, we recommend the television broadcasts because you can actually see how they are done.
They are broadcast several times each day.
[Channel] NHK E Television
[Time] Monday - Sunday 6:25am - 6:35am
[Channel] NHK General Television
[Time] Wednesday, Friday 2:55pm - 3pm
Discovering Radio Calisthenics<illustration, video>(available in Japanese only)
Those who are overseas can also learn about Japanese radio calisthenics.
http://www.jp-life.japanpost.jp/aboutus/csr/radio/abt_csr_rdo_guide.html
Please participate anytime in Hamamatsu City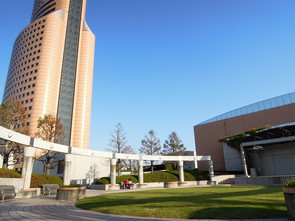 Every day from 6:30am radio calisthenics are performed at the Act Forest Music Plaza. Everyone is welcome to participate. Staff members with instruction books will be available so it is alright if you have not memorized the exercise movements.
About the Act Forest Music Plaza

Details for
2015.5.20 update
Content may be subject to change after publication. Please also note that we are not accountable for loses and damages that may occur as a result of said changes.