"Act Forest" grew on Act City, the symbol of Hamamatsu City.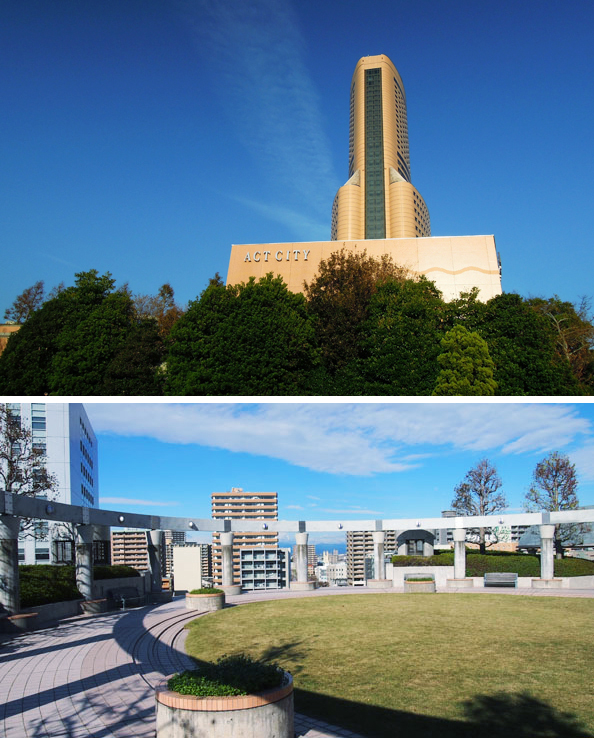 Act City, adjacent to Hamamatsu Station, opened in 1994. The young saplings on the rooftop park at that time have grown up tall and have now become a nice forest. This rooftop park was named "Act Forest" and is open from 6:00 a.m. to 7:00 p.m. to make more people utilize the park as a common place for physical exercise, like walking, or as a place of communication. It is a luxurious space where you can relax, even in the city center.
Recommended methods for utilization
★Walking
The course, "Chopin Hill" → "Forest Slope" → "Music Square" → "Recreation Square" → "Sun Square," is a walking course that takes about 20 minutes or 1.75 km there and back. Throughout the park, "maps of Act Forest" with current location and the course are displayed.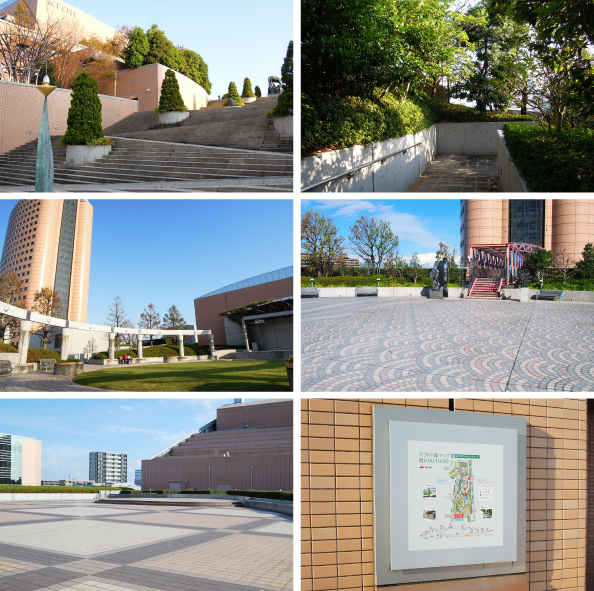 ★Radio calisthenics
At Music Square, visitors do radio calisthenics from 6:30 a.m. every morning. Radio calisthenics are a series of exercises for the purpose of improving strength, and for the maintenance and promotion of health, performed to the music on the radio. In Japan, kids learn the calisthenics at school, so most people from children to the elderly remember the exercises. Those who do not know the Japanese radio calisthenics can also participate with ease in the exercise as there is a staff member who serves as an example and gives instructions.




※ The calisthenics may not be performed depending on weather or other conditions.
★Teatime under the sky
Why don't you take out your favorite drink and sit outside on the benches or lawn in the rooftop park? You can enjoy a tremendously liberating outdoor cafe.




※Please take your own garbage home.
★Go straight from Act Forest to a place for breakfast
| | | |
| --- | --- | --- |
| Hotel Okura Bakery & Cafe | | Act City has restaurants that open from early morning, so you can head directly to any of the restaurants to enjoy your breakfast. |
Figaro on the 2nd floor of Hotel Okura (Breakfast set / Buffet)   

Link

(Japanese)
[Open] 7am -
Hotel Okura Bakery & Cafe on the 2nd floor of Act Plaza
Link

(Japanese)
[Open] Weekdays 8am - / Weekends and holidays 10am -
※Take out welcome
Freshness Burger on the 2nd floor of Act Plaza
Link

(Japanese)
[Open] 8am -  ※Take out welcome
KO:HI:KAN on the B1 floor of Act Plaza
Link

(Japanese)
[Open] Weekdays 8am - / Weekends and holidays 9am -  
※Take out available winter only
★Children, too, can play freely
| | | |
| --- | --- | --- |
| | | You can go up to Music Square on a wide expanse of grass even with a stroller, by taking an elevator. Also, you can enjoy having a picnic with your children in the open square. |
★Enjoy as you wish!
| | | |
| --- | --- | --- |
| | | Ways to have fun are infinite, from yoga and stretching on the grass, to Nordic walking, soft musical sessions, sketching, photo taking, bullet-train watching and more. |
※The park is closed from December 29th to January 3rd, and may be temporarily closed on other days due to maintenance or other purposes.

https://www.actcity.jp/pdf/actcity_pamphlet.pdf
2012.11.14 update
View a Lager Map
ADDRESS
111-2 Itayamachi, Naka-ku, Hamamatsu-shi,Shizuoka
PHONE
Act City Network
053-451-1111 (9am - 10pm)
053-451-1212 (9am - 6pm weekdays only)
OPEN HOURS
6am~7pm
CLOSED
Open all year round
TRANSPORT
From Hamamatsu Station
[WALK]
5 minutes
2019.10.7 update
Content may be subject to change after publication. Please also note that we are not accountable for loses and damages that may occur as a result of said changes.