A historic temple amid the picturesque scenery of Hamamatsu City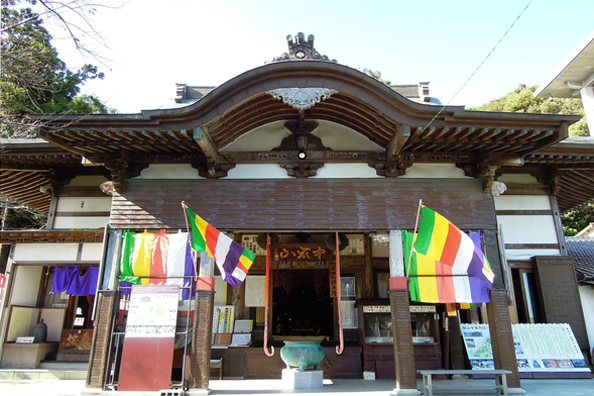 The zen temple Kanzanji of the Soto sect is located on the slopes of Mt. Tateyama, a small mountain about 50m high, located in the northern part of the Kanzanji hot springs town to which it lends its name. This historic old temple is said to have been established by Kukai (Kobo Daishi) in 810, it is a branch temple of Shuuyouji Temple on Mt.Akihasan (Detail for) in Haruno.
Around Kanzanji, there is a footpath prepared where you can walk around enjoying the view of Hamana Lake for about an hour. While walking along the footpath, you can visit Enmusubi Jizouson, Atago Shrine, Ana Daishi and the Kanzanji Seishi Kannon Bosatsu.

Left: View of Hamana Lake from the temple grounds
Right: The Tateyama Footpath

Left: Enmusubi Jizouson, where many come to offers charms in order to fall in love.
Right: Historic Atago Shrine, constructed in the Nara period (727 AD)

Left: Ana Daishi is said to aid those with ailments of the eyes
Right: Sho Kanzeon Bosatsu Statue, 16m tall (including base)
There are also a variety of dynamic views created by the natural red quartz rock formations that were formed about 100 million years ago, with Tosaka Rock foremost among them.

Left: Tosaka Rock
Right: A quartz beach found just off the footpath
Fire Festival of the Kanzanji Temple

A "Fire Festival" is held at Kanzanji Temple every year on December 15. The priests and monks conduct a prayer service for fire prevention, good health and good harvests. The roaring flames are magical, and when the fire has died down, a barefoot fire-walking ceremony is conducted. At the end, the general public can also experience fire-walking, and those who cross the fire are said to be protected from illnesses.

http://kanzanji.net/
(Japanese)
View a Larger Map
ADDRESS 2231 Kanzanji-cho, Nishi-ku, Hamamatsu-shi, Shizuoka, Japan 431-1209
PHONE 053-487-0107

TRNSPORT From Hamamatsu station
[BUS] Take the "Kanzanji Onsen, Murakushi" line bus (40 minutes) at bus stop #1 of the bus terminal to "Kanzanji Onsen" then walk 10 minutes
2019.10.7 update
Content may be subject to change after publication. Please also note that we are not accountable for loses and damages that may occur as a result of said changes.