Mikoshi-boats crossing the lake gracefully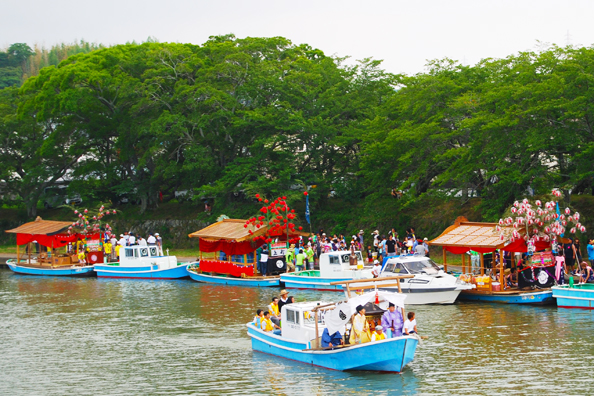 July 15 (Sat) and 16 (Sun), 2023
15 sat 2pm ~ / 16 sun 1:30pm〜8pm
[Place] Hosoe shrine and neighbourhood
[Information] Hosoe shrine 053-522-1857(Japanese Only)
Hosoe shrine located in Hosoe-cho, North-ward, Hamamatsu-city worships the god of earthquake which is rare in Japan, it has a Gion festival in July every year. A long time ago, during the Meio earthquake a tsunami in the area that connected Lake Hamana to the sea, made a shintai drift from Arai at the lake inlet to Akaike in Kiga and it was worshiped by the people. They say that is the history of Hosoe shrine. At the festival, Mikoshi-boats which have a shintai (object of worship) on it and twenty more consort ships that have Debiki (decoration stand) cruise gracefully on the depths of Lake Hamana. At night, Debiki with lighted lanterns parade around the town with lively Ohayashi (accompanying music).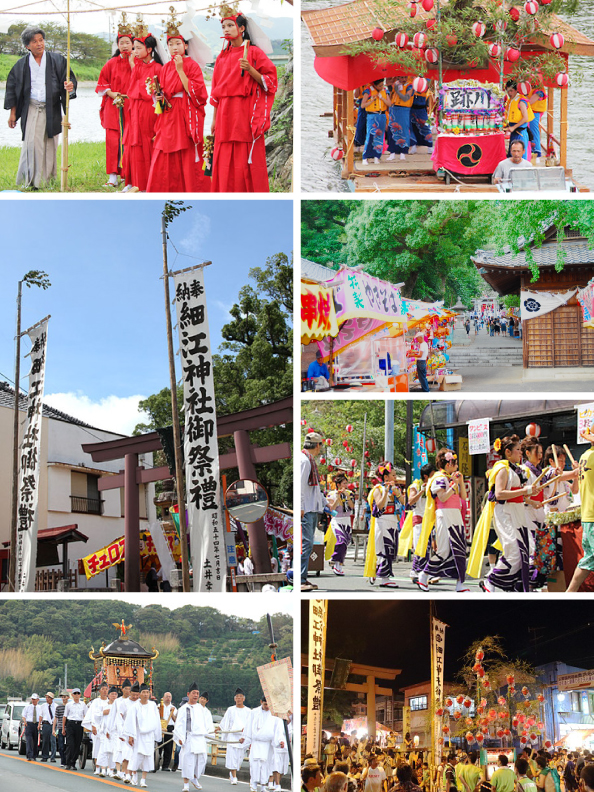 Main Events
15 sat
2pm~
Mikoshi and Debiki start from the shrine and meet at Akaike for a Shinto ritual. After that, they parade around the town and go to the shrine.
16 sun
1:30pm~8pm Togyo on Lake Hamana)
after having Shinto ritual, Mikoshi-boat and consort ship with Debiki will proceed about 4 kilometers on the depths of Lake Hamana. They will then go to the shrine with Debiki and Ohayashi. (They will arrive at the shrine at around 8pm)
ADDRESS 
996 Kiga Hosoe-cho, Kita-ku, Hamamatsu-shi, Shizuoka
PHONE 
053-522-1857 (Japanese only)
TRANSPORT
[TRAIN]
From Shin-Hamamatsu Station
Take Enshu Line, get off at "Nishi-Kajima" station, then change to Tenryuhamanako Line going to "Shinjohara", get off at "Kiga" station (approx. 60 minutes) and then walk for 6 minutes.
[BUS]
From Hamamatsu Station
Take the bus bound for "Kiga Mikkabi" at No.15 bus stop of the bus terminal, get off at "Kokuminshukushamae"(approx. 50 minutes) and then walk for 1 minute.
※On July 13thand 14th, 2019, due to the traffic control between 4pm and 9pm, visitors will get off at the temporary bus stop "Kigayotsukado" and walk for 10 minutes.
[CAR]
Tomei Expressway:15 min from Mikkabi I.C./ 20 min from Hamamatsu-Nishi I.C.
20 minutes from Shin-tomei Expressway Hamamatsu Inasa I.C.
2023.6.23 update
Content may be subject to change after publication. Please also note that we are not accountable for loses and damages that may occur as a result of said changes.