Hamamatsu-city has a population of 810,000 people with 30,000 registered foreigners and is second in size only to Takayama-city in Gifu. With mountains to the north and the Pacific ocean in the south (Enshu), Tenryugawa (Dragon river) east and Lake Hamana west, every direction is nature filled. The year round climate typically provides mostly pleasant weather and is said to be the best of Honshu. In winter the strong dry wind from the Pacific is known as 'KarakKaze'. Hamamatsu is located halfway between Tokyo and Osaka. The Tokaido Shinkansen and the Tomei Expressway offer easy accessibility which is convenient, reliable, frequent and safe.
Many outstanding global Japanese companies such as

Honda

,

Yamaha

and

Suzuki

have headquarters and/or manufacturing plants here or in neighbouring prefectures.
Firework Festivals

, often over lakes, rivers and sea, are frequent and attract wide eyed crowds. The

Hamamatsu Festival

is celebrated by a staggering 1.5 million people(approx). Districts march to

Nakatajima beach

in the morning proudly flaunting emblazoned robes, flags and huge kites to deafening sounds of bugles, drums and chants. Downtown comes alive by evening as colorful escorts parade dazzling chariots and floats to and fro. The festival takes place March 3, 4, and 5 - A truly amazing experience.
Special products from the area are

mandarin oranges

,

eels

, clams,

oysters

, and many others. Eels from Hamamatsu in particular have satisfied Japanese throughout the islands for ages and with dishes and shops dating back hundreds of years an association between the two was inevitable making eel synonymous with Hamamatsu.

Gyoza

is also a well recognized collocation as well as automobiles and musical instruments.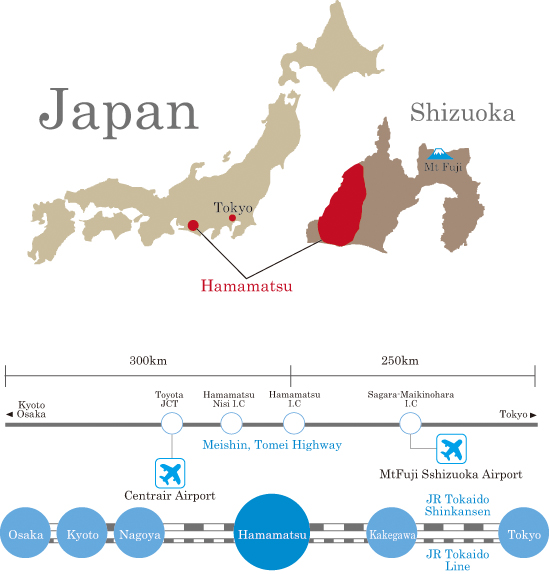 Hamamatsu - Tokyo
90min by Tokaido Shinkansen Hikari
120min by Tokaido Shinkansen Kodama
Hamamatsu - Kyoto
75min by Tokaido Shinkansen Hikari
90min by Tokaido Shinkansen Kodama
2015.5.18 update
Content may be subject to change after publication. Please also note that we are not accountable for loses and damages that may occur as a result of said changes.