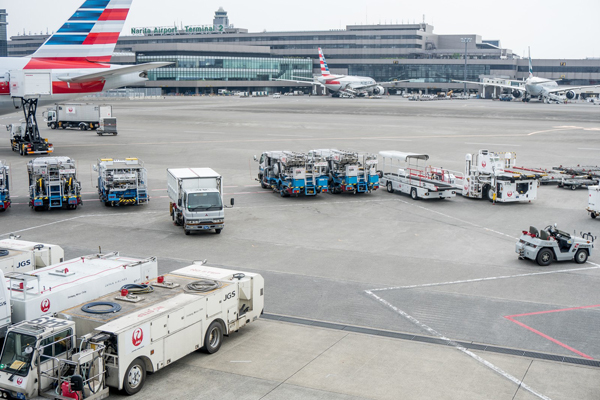 Narita Express
① To JR Narita Airport Station
② Narita Express bound for the Tokyo area
③ Get off at Tokyo or Shinagawa
④ Take the Tokaido Shinkansen (*See note below!) → Hamamatsu Station
Travel time
Approx. 2h and 30min - 3h and 20min
(not including transit time)
Price
min ¥10,980 〜 max ¥16,920
※The above is an approximation.
① To JR Narita Airport Station

The Narita Express ticketing office is marked using red signboards and wall
② Narita Express bound for the Tokyo area

>> Narita Express (Approx. 70min 〜 90min)
・Machines do not accept credit cards (SUICA accepted)
※Two tickets will be issued: a standard ticket and an express ticket
※The JR Ticket Office (Midorin no Madoguchi) accepts credit cards, but expect a long wait.
・No unreserved seats
・No in-car sales
・Wi-Fi available
・There is a large toilet
・All train cars are non-smoking
・Charging outlets available (may not be featured on all seats)
・200 yen discount during the off peak season, 200 yen increase during the peak season.
Reserved seat
(arriving in Tokyo)
¥3,070
Reserved seat
(arriving in Shinagawa)
¥3,250
Green car
(arriving in Tokyo)
¥4,640
Green car
(arriving in Shinagawa)
¥4,820
③ Get off at Tokyo or Shinagawa

There will be signs for "Fare Adjustment ・JR Tickets" and "Transfer to JR Line."
If you haven't bought a Shinkansen ticket yet, proceed to the ticket office, and if you already have a ticket, go straight to the transfer ticket gate.
※Customers who chose to pass Shinagawa and change to the Shinkansen in Tokyo will have a greater likelihood of finding a seat!
④ Take the Tokaido Shinkansen (*See note below!) → Hamamatsu Station (approx. 80min to 110 min)
The Shinkansen bound for Hamamatsu is the one marked as for "Nagoya, Shin-Osaka, Okayama, Hiroshima, Hamamatsu."
Please note that not all Shinkansen will make a stop in Hamamatsu.
For additional information on how to ride the Shinkansen,
please click here.
| | |
| --- | --- |
| Non-reserved seat | ¥7,910 |
| Reserved seat | ¥8,240 |
| Green car | ¥12,100 |

https://www.narita-airport.jp/en/
2019.12.13 update
Content may be subject to change after publication. Please also note that we are not accountable for loses and damages that may occur as a result of said changes.