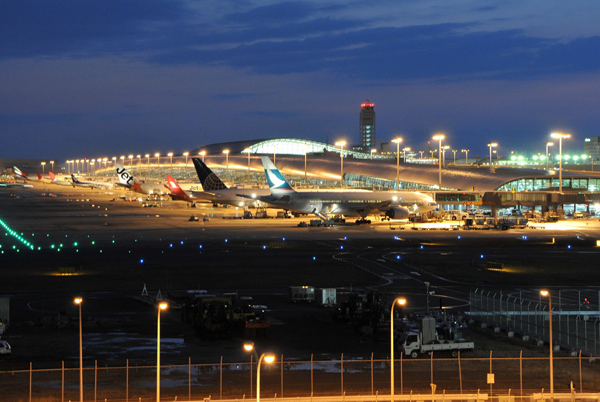 ① Head to JR Kansai Airport Station
② Take the Limited Express Haruka bound for Kyoto
③ Get off at Shin-Osaka
④ Take the Tokaido Shinkansen (※ See note below!)→ Hamamatsu Station
Travel time
Approx. 2h and 20min - 2h and 50min
(not including transit time)
Price
min ¥10,830 〜 max ¥16,260
※The above is an approximation.
① Head to JR Kansai Airport Station

JR Kansai Airport Station is accessible from the 2nd floor, which is the Domestic Arrivals / Departures" lobby.
From the second floor Information Desk, head straight along the hallway with an atrium. You will soon see JR Kansai Airport Station.
② Take the Limited Express Haruka bound for Kyoto
Upon entering the station, ticket machines are located on the left hand side.
There is a ticket gate in front of the ticket vending machine; enter it and proceed down to where the platform is located.
>> Haruka Express(Approx. 50 min.)
・Purchase tickets via a green ticket machine (credit card accepted)
※Purchasing tickets via the machine is recommended over doing so at the JR Ticket Office (Midorin no Madoguchi) as it usually is faster.
※Two tickets will be issued: a standard ticket and an express ticket
・Reserved seats are recommended because you may be unable to find an unreserved seat.
・No in-car sales.
・Wi-Fi available
・There is a toilet, however it is small.
・All train cars are non-smoking.
| | |
| --- | --- |
| Non-reserved seat | ¥2,260 |
| Reserved seat | ¥2,570 |
| Green car | ¥3,500 |
③ Get off at Shin-Osaka Station
After getting off, go up the platform stairs and follow signs for the Shinkansen.
If you follow the signs, you should find yourself before is a ticket gate for the Shinkansen platform. Please change to the Shinkansen there.
④ Take the Tokaido Shinkansen (*Note!)→ 
Get off at Hamamatsu Station (approx. 90 to 120 minutes)
The Shinkansen bound for Hamamatsu is the one marked as for "Nagoya, Shin-Osaka, Okayama, Hiroshima, Hamamatsu."
Please note that not all Shinkansen will make a stop in Hamamatsu.
For additional information on how to ride the Shinkansen,
please click here
.
| | |
| --- | --- |
| Non-reserved seat | ¥8,570 |
| Reserved seat | ¥8,900 |
| Green car | ¥12,760 |

https://www.kansai-airport.or.jp/en
2019.12.13 update
Content may be subject to change after publication. Please also note that we are not accountable for loses and damages that may occur as a result of said changes.