Domestic landline telephone calls
Hamamatsu's area code is (053). If you are calling outside of Hamamatsu City, be sure to dial the area code first. You can make calls inside Hamamatsu City with or without the area code.
If you call a domestic landline telephone from a mobile phone, you must dial the area code first.
Public telephones
There are many public telephones in train stations, hotels, department stores, the city hall, hospitals, major roads and other public places. They are either grey or green in color.

Lift the receiver, insert a 10 JPY or 100 JPY coin or insert a telephone card, and dial the number after you hear the dial tone. If you use a 100 JPY coin, you will not receive change, so please be careful. If you hear a beeping sound during the call, this indicates that the call will end soon, so insert more coins or your telephone card.
Telephone cards are available in 500 JPY and 1,000 JPY varieties, and can be purchased at convenience stores or at vendors in stations.
Public telephones capable of making international calls will indicate "International and Domestic."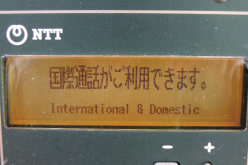 You can use the international telephone company below to make international calls.
■KDDI

For information on other reasonably priced international calling services, visit
http://www.001.kddi.com/en/
For inquiries via telephon 0057 (24 hours/day, all year round)
■NTT Communications

For information on other reasonably priced international calling services, visit
http://506506.ntt.com/english/service/
For inquiries via telephon  0120-506506

[Open during: 9:00AM - 9:00PM 7days a week, including holidays, except from Dec. 29 to Jan. 3]
■SoftBank Telecom

For information on other reasonably priced international calling services, visit
http://tm.softbank.jp/english/business/phone_service/
For inquiries via telephon 0088-41 (Mon-Sun)
2015.5.19 update
Content may be subject to change after publication. Please also note that we are not accountable for loses and damages that may occur as a result of said