A firm understanding of these rules
will help you enjoy living a comfortable life in Japan.
Rules in Japan are different from those in your country!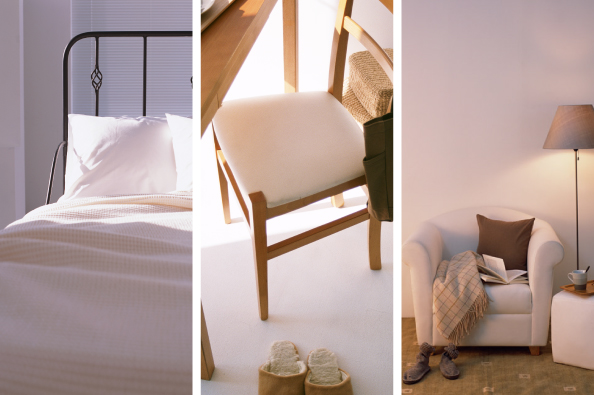 Necessary Documents and Other Items
★Inkan (Personal seal)
In Japan, as a matter of custom, signatures are generally not accepted. Rubber ready-made seals are not accepted either. An inkan is necessary for living in Japan. Be absolutely sure you have one.


★Personal Identification Cards/Certificates
These are items which verify your identify.
・Certificate of information recorded on foreign resident registration file (外国人登録原票記載事項証明書, gaikokujin tōroku genpyō kisai jikō shōmeisho)
・Verification of current address (verification from foreign sources will not be accepted)
・Residence Card (在留カード, zairyū kādo), etc.


★Guarantor
A guarantor is a person (or company) who, in the event that you the tenant are ill or lose your employment and are unable to pay rent, takes on the responsibility of paying in your place. When renting a room, you will need to have a guarantor (in some cases two). Another option is to use a guarantor company, which is similar to a consumer credit company and provides payment guarantee service. After passing through a credit check by the guarantor company, they will act in place of a guarantor on your behalf. Whether to use a guarantor or a guarantor company is determined by the landlord or managing company of the place you're trying to rent, so you'll need to check to be sure. After passing a review stage, a surrogate company will act as your guarantor.


★Certificate of Income
A document which provides proof of your income situation, that in turn shows whether or not you will be able to provide payment for rent from here on out.
※Mainly necessary only in cases where a single individual is your designated guarantor.
・For company employees: Statement of Earnings (request from employer), certificate of salary, certificate of tax payment
・For recent retirees: Copy of last year's final income tax return / certificate of tax payment
・For those about to begin work: Certificate of (estimated) salary (request from employer)
・For the unemployed: Remittance certificate from bank, scholarship grant certificate, account statement (copy of bankbook)


★Items which may be necessary depending on the situation
・Certificate of school enrollment
・Permit to engage in activity other than that permitted under the status of residence (資格外活動許可書, shikakugai katsudō kyokasho)

Understanding in advance which of the above documents you have or need to acquire will allow for smooth progress in obtaining your rental contract. However, which documents are necessary will vary slightly depending on the real estate agency. Be sure to confirm in advance which ones you will need.
Necessary Funds for Signing a Contract
★Key money
Paid to the landlord as a "courtesy," this is a uniquely Japanese practice. Generally equivalent to one to two months' rent, this will not be returned upon moving out.


★Security deposit (guarantee)
Generally equivalent to 1 to 2 months' rent, this is a fee deposited temporarily with the landlord. While it is returned upon moving out, be aware that it may not be returned due to dirtiness of or damage to the room. Japan has a unique rental system which stresses a restoration to original condition. Be aware that as a rule, putting nails into walls, repainting walls, or relaying floors is prohibited.


★Brokerage fee
A fee paid to the real estate agency for brokering a contract. The maximum limit of this fee is set by the law at one month's rent, although there are cases where half a month's rent is charged.


★Advance rental payment
This is the first rental payment that must be made when signing a contract. In most cases, the monthly rate is divided into daily segments, and rent is paid on the period starting from the contract date to the next rent payment due date.
You move into an apartment on the 5th which has a rent of ¥51,000, to be paid on the 25th of each month.
¥51,000 rent ÷ one month (30 days) = ¥1,700 rent per day
There are 20 days between the 5th when you move in and the 25th.
¥1,700 × 20 days = ¥34,000 ←Your advance rental payment.
※The first rent paid upon moving in is the only time that daily calculation will be used to determine payment. Rent is normally paid in one-month units.


★Accident insurance
An insurance fee that covers fire and other disasters, ¥10,000 to ¥20,000 yen every two years is the standard rate. Payment is mandatory for almost all apartments.


In recent years, more and more apartments do not require key money or security deposits, and in some cases a brokerage fee isn't necessary either. Be sure to check and adjust your budget accordingly.
Monthly Expenses Following Move-in
★Rent
Generally, payment methods include ATM transfer, paying at a convenience store, or bank transfer, where payment will be automatically withdrawn from your bank account each month.
Heating and lighting expenses (electricity, gas, water) necessary for everyday life are not included in your rent.


★Service charges (Management fees)
Some apartments charge fees for cleaning and repairing public spaces, or managing and maintaining complexes, which are separate from the monthly rent. The rate can vary, from no charge at all to ¥10,000 to ¥20,000 per month.


In order to avoid trouble with paying your rent and service charges, be sure to decide on a method of payment after speaking with the real estate agency.
Process Leading up to Move-in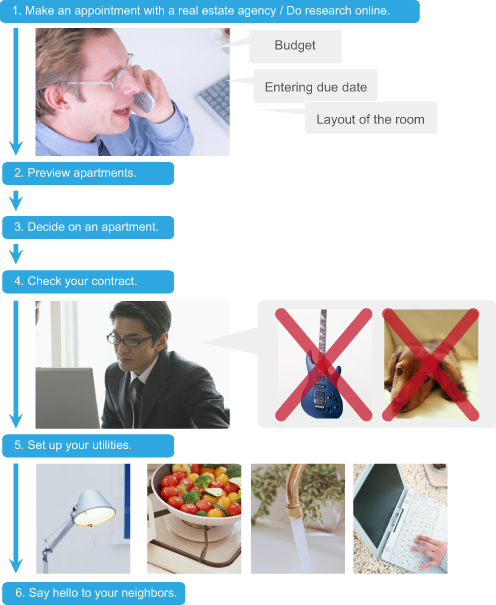 1. Make an appointment with a real estate agency / Do research online.
If you contact the real estate agency in advance with your preferred conditions, the agency will prepare a list of apartments that match your preferences before meeting with you, allowing for your meeting to go more smoothly.
Also, if there's an apartment you found online that you'd like to ask about, be sure to make note of the inquiry number.
While there's no guarantee that you'll be able to find an apartment that matches up with your preferences, it's important to communicate your wishes clearly and thoroughly at this stage of the process.


2. Preview apartments.
If you find an apartment that catches your interest, go ahead and check out the room and building in person. Look around a few places, narrow down your choices, and find an apartment that's ideal for you.


3. Decide on an apartment.
You won't be able to sign a contract right away. First there's an application examination, in which you must pass examination by the landlord (or managing company) or guarantor company. At this step, you will need many of the items introduced in the above section, "Necessary Documents and Other Items."
Once you pass through the examination, it's finally time to sign a contract!


4. Check your contract.
Before signing, look over the contents of your contract together with the real estate agency.
As a basic rule, the rental contract period in Japan is two years. However, there are many other do's and don'ts which apply to each different apartment, so be sure to understand those as well. If you're not confident in your Japanese ability, it's probably safer to go over the contract with an acquaintance who understands the language, but make sure to tell the real estate agency if you don't understand anything. It's important to try to establish mutual understanding.


---

※Normal contracts and fixed-term contracts
When moving into an apartment with a two-year contract, the tenant can choose whether or not to renew the contract at the end of the two-year period, barring special circumstances such as renovation of the building due to dilapidation (under a normal rental contract). However, with a fixed-term contract, the contract cannot be renewed at the end of the period and will be dissolved. Fixed-term contracts are still rare, but it might be a good idea to remember this just in case.


---

5. Set up your utilities.
Basically, an apartment's utilities are in suspension at the time you move in. You'll need to make phone calls to the appropriate utility companies and say something to the effect of, "I've just moved in and would like to have service started again." Be sure to tell them your address. For further details.
In Japan, you have to pay for everything: electricity, gas, water, and internet or phone lines. Just like with your rent, you'll have to determine a monthly method of payment for these services. Unlike rent, it is possible to pay with a credit card. But be aware that if bills go unpaid for too long, your service will be cut off.


6. Say hello to your neighbors.
Those not confident in their Japanese in particular will need to cooperate with neighbors. So please stop by and greet your landlord as well.
Common Issues
Here we introduce issues that might occur due to differences between the customs of Japan and those of your country. Try to learn about Japanese customs ahead of time in order to live a comfortable life in Japan!


Separating Garbage
In Japan, garbage is carefully separated into set categories, such as burnable, non-burnable, recyclable, etc. Days on which it's ok to put out garbage are also divided by these categories. Separation guidelines vary by region. Be careful to obey rules concerning removal days and collection places. In almost all cases, the real estate agency will supply a calendar when you sign the contract, which has removal days marked on it (in English, Portuguese, Spanish, and Chinese).Further details concerning garbage disposal can be found

here

.


Noise
In Japanese apartments, sound carries over into adjacent rooms and lower floors more than you might imagine. In the event you have some friends over for a party, you'll need to show plenty of consideration for your neighbors. As a basic rule, playing instruments is prohibited; however, some apartments allow it, so speak with your real estate agency.


Unpaid rent
Be sure to pay on time. Japan is a country that's strict on rules. Continuing to make late payments or falling behind on payment for months may result in you being asked to move out, so beware.


Two people moving into a one-person room
The number of tenants who may occupy a room is determined in the contract. Moving into a one-person apartment with a friend or lover is prohibited. Even if it's a case where you feel you have no other choice, be sure to speak with the real estate agency.


Name lending
A person other than the signer of the rental contract living in a rented room forms a breach of contract. Renting a room in place of an acquaintance who can't make a contract themselves for some reason is also forbidden.


Renovation/remodeling
"Restoration to original condition" is a rule with Japanese apartments: in other words, returning the apartment in the state it was in when you first rented it. Remodeling work, such as driving nails into the walls or changing the wallpaper, is prohibited.
If restoring the apartment at move-out proves to be too difficult, there is a possibility that you'll need to pay an extra fee in addition to your security deposit. When any sort of repair becomes necessary or when you'd like to remodel the room, first speak with the real estate agency or your landlord.


Pets
As a basic rule, keeping pets in an apartment is prohibited.
If you'd like to live with a pet, try looking for apartments which allow them.


Parking
Parking lots for apartment buildings are divided into one space per room. When having friends over, don't let them park in just any open space.
To those considering living in Japan for the first time.
To rent an apartment, the first thing you'll need is proof of residency. At first, try to get your Certificate of Eligibility for Resident Status (在留証明書, zairyūshōmeisho) and Resident Card (住民票, jūminhyō) while staying with an acquaintance in Japan.
Also, communication skills are viewed as highly important. It's probably a good idea to acquire a certain level of language ability in advance.
---
★Real estate information
MS Iiheya Harajima-ten
Apaman Shop Hamamatsu-Ekimae-ten
Apaman Shop Hamamatsu-Sumiyoshi-ten
Apaman Shop Iwata-ten
Apaman Shop Kakegawa-ten
---
2015.5.19 update
Content may be subject to change after publication. Please also note that we are not accountable for loses and damages that may occur as a result of said