Hamamatsu station is the main station of Hamamatsu, where the Tokaido Shinkansen and the JR Tokaido line both meet. In Hamamatsu station, there is the station building "MAY-ONE". Next to the station, there are stores such as "Actcity", "Entetsu department store" and "Bic Camera", which puts the station within the center of the shopping area. The area expands from the station with hotels, banks, restaurants, and buildings around it. The station is separated into two parts. The "South exit", which is near the Shinkansen tracks, and the "North exit" where you can find the roundabout for the bus stops.
Scenery of the South exit, taxi stand of the South exit

Scenery of the North exit, taxi stand of the North exit

An underground passageway connects the station with "Actcity", the "Entetsu department store", and the "Bus stops". Within the station, there are many restaurants and stores which sell specialities of Hamamatsu.
| | |
| --- | --- |
| Entrance to the Shinkansen tracks | Entrance to the JR (Tokaido) lines |

Ticket booths for all JR lines (manned)
※There are also ticket booths within JR Tokai Tours (Tour company).

| | |
| --- | --- |
| Ticket machines for Shinkansens | Ticket machines for the JR (Tokaido) line |

The premises of the station are bright and clean .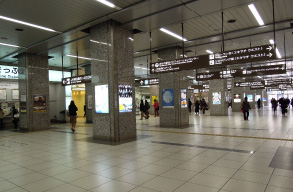 The ticket machines have English texts as well. We recommend using the ticket machines when the booths are crowded.
You can purchase tickets using a credit card at the Shinkansen ticket machines and booths. (VISA, Masters, JCB, American Express, Diners) Only credit cards with IC chips installed can he used for the ticket machines, and your PIN code is required.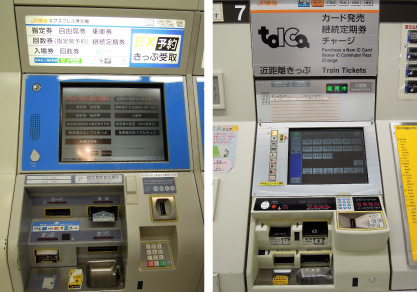 ★ Low price ticket shop
You can buy non reserved seat tickets for the Shinkansen for cheap prices at low price ticket shops around the station. Apart from Shinkansen tickets, they sell various tickets at discount prices in these low price ticket shops. There is also a ticket machine which sells low price Shinkansen tickets in front of the South exit of Hamamatsu station, which is convenient (Att: does not have English text).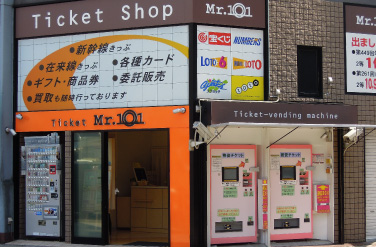 The ticket shop in front of the South exit of Hamamatsu station
[Example] Tokyo⇄Hamamatsu (Tokaido Shinkansen)
●Standard fare ¥7,560
●Low price ticket ¥6,950