The restaurant & import food shop where you can freely enjoy Brazilian cuisine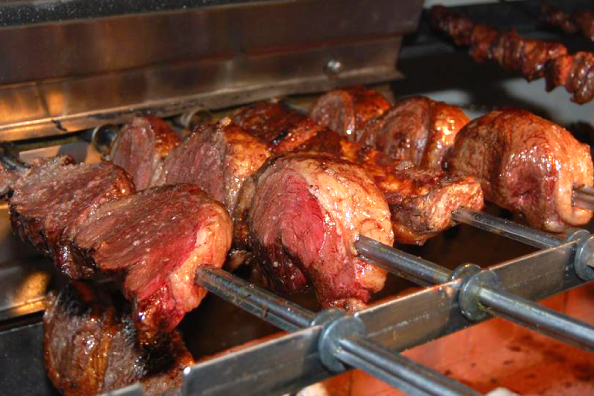 Servitu is a Brazilian restaurant & import shop which is located about a three minute walk away from the south exit of Hamamatsu station.
We recommend the lunch buffet(11am-when the foods are over)where you can choose a daily special of Brazilian homemade cuisine, along with a salad bar , Brazilian sweets, coffee, Mate tea, rice, and Feijao (cooked beans) as much as you want.
It's only 1,000 yen for 60 minutes for weekday lunch time from 11am to 3pm! (1,500 yen on Sat. & Sun, Public holidays.) You can have delicious Brazilian cuisine for a reasonable price until you become full. We also recommend the 3,000 yen course where you can have all you can eat churrasco on top of all the above.
※Please try not to leave food unfinished at the buffet.
Menu/Price
Lunch buffet:Weekday lunch time: 11am-3pm ¥1,000
Buffet:Sat, Sun, holiday, Weekday after lunch time ¥1,500
Churrasco buffet ¥3,000
All-you-can-drink churrasco buffet ¥5000
Hamburger&Sandwich ¥300 -
Lunch box(takeout also available) ¥550 -

http://servitu2013.jimdo.com/ (Japanese)
ADDRESS
 323-5 Sunayama-cho, Naka-ku, Hamamatsu-shi, Shizuoka
PHONE
 053-458-8577
※Please make a reservation for churrasco (Brazilian barbeque) a week before.
OPEN
 Food section 10am-9pm/ Restaurant 11am-8pm
※Buffet 11am-when the foods are over
CLOSED
 N/A
ACCESS
 From Hamamatsu Station
[WALK]
 Get out from the South Exit of Hamamatsu station, take the next road on the right. You can see Servitu (3 minutes)
2015.8.22 update
Content may be subject to change after publication. Please also note that we are not accountable for loses and damages that may occur as a result of said changes.