A shrine dedicated to Orihime, and the birthplace of Enshu weaving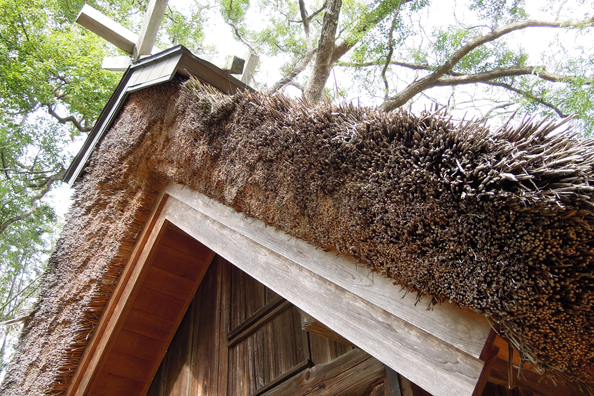 Ubuginu Jinja, located in Mikkabicho, Kita Ward, Hamamatsu City, is dedicated to Orihime, goddess of weaving, known to all Japanese people from the legend of Tanabata. Tanabata is a legend about how Orihime and Hikoboshi, separated by the Milky Way, can only meet once a year on July 7 (detail for).


Ubuginu Jinja is a shrine with a long history, known for weaving ceremonial garments (clothing worn by gods) that were kept at the Grand Shrine at Ise between 1154 and 1885. Though the succession was temporarily broken, it was revived in 1968, and every year in May, ceremonial garments woven at Ubuginu Jinja are offered at the Grand Shrine at Ise. The looms used to weave the ceremonial garments are periodically rebuilt, but in order to provide the gods with the same garments each time, the size and pattern has remained precisely the same for more than 800 years.
The Kanhatori family that has served as the chief priests of the shrine for over 800 years have a surname that is only permitted to the keepers of Ubuginu Jinja.
The Onzo Festival is held every year on the second Saturday in April. A procession goes from Ubuginu Jinja to the nearby Hamana Shrine to receive the ceremonial garments. It then returns to Ubuginu Jinja, and a festival is held to pray for the prosperity of Enshu weaving. There are also demonstrations and exhibits of weaving, dances by shrine maidens, and sales of textiles.

http://ubuginu.jp/html/about.html (Japanese)
View a Larger Map
ADDRESS
698 Okamoto, Mikkabi-cho, Kita-ku
Hamamatsu-shi,Shizuoka,Japan
431-1415
PHONE
053-525-1835
OPEN HOURS 
9am – 4pm
TRANSPORT
From Hamamatsu Station
[TRAIN]
JR Tokai Line get off at "Shinjohara" station and Tenryuhamanako Railroad get off at "Mikkabi" station then walk 20 minutes

[TAXI]
60 minutes
2015.5.20 update
Content may be subject to change after publication. Please also note that we are not accountable for loses and damages that may occur as a result of said changes.