"Nanakusa-gayu," a lucky dish to eat in January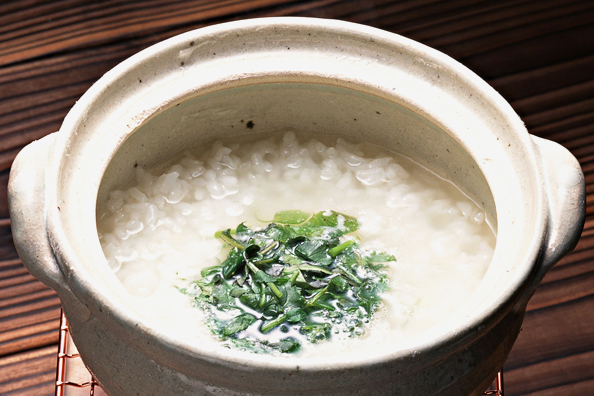 On January 7th, people in many areas of Japan eat a type of rice porridge made with seven different kinds of spring herbs called "nanakusa-gayu."
In China, January 7th is considered an eventful date, known as the "Celebration of the 6th Day as New Year's Eve, and the 7th Day as New Year." The custom said that making a warm soup with seven kinds of spring herbs and eating it on this day kept evil away. This custom spread to Japan around the middle of the Heian Era and, during the Muromachi Period, it was changed from soup into rice porridge, becoming "nanakusa-gayu."
The herbs used in the "nanakusa-gayu" are known as "the seven vernal flowers" and include the following: Java water dropwort, shepherd's purse, Jersey cudweed, common chickweed, Japanese nipplewort, turnip and daikon. During the Heian Era, these seven herbs were very valuable because they grew even during the cold season when it still snowed. The life force of these herbs that grew fresh and green even in the middle of the winter made them to be considered auspicious, becoming a familiar part of the food culture in Japan since a long time ago. *There are places in the Tohoku Area, where snow is abundant, and a soup made with root vegetables is eaten instead of "nanakusa."


The "nanakusa-gayu" is also effective in allowing our stomachs to rest when they have become exhausted from the copious meals of the New Year. This is because rice porridge is good for digestion, and the herbs used in it are also effective in helping the functions of the digestive organs.


Java water dropwort :
increases appetite

Shepherd's purse : rich in iron

Jersey cudweed : prevents colds and has an antipyretic effect

Chickweed : rich in Vitamin A

Japanese nipplewort :
rich in dietary fiber

Turnip : rich in vitamins

Daikon :
promotes digestion and prevents colds 
These herbs can be found growing on riversides or fields, but as the season for "nagakusa-gayu" comes closer, most supermarkets sell them in a pre-packaged set. "Nanakusa-gayu," made with tasty Japanese rice and water, is worth trying at least once. It is delicious with mochi (rice cakes) as well!



---

In Japan, besides the spring herbs that are used in the "nanakusa-gayu," there are also "seven autumn herbs." These are not edible, but they can be enjoyed as decoration. Look for them during the fall, when the transition between seasons is especially beautiful.
seven autumn herbs

: Bush clover, Chinese silvergrass, kudzu, fringed pink, golden lace, thoroughwort and balloon flower.

---
2019.10.7 update


Content may be subject to change after publication. Please also note that we are not accountable for loses and damages that may occur as a result of said changes.