Three days where the old castle town is awash with the festival colors.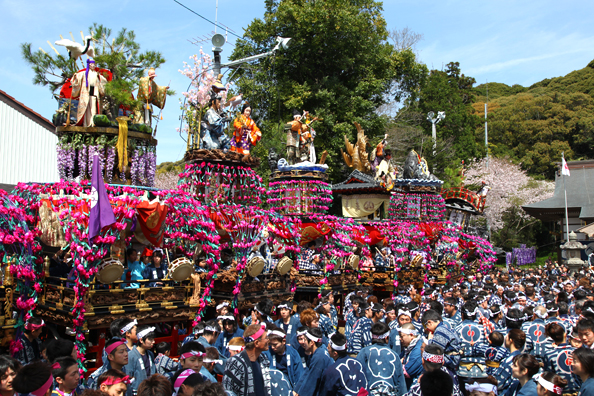 This event will be cancelled in 2020.
April 4 (Fri) - April 5 (Sat) - April 6 (Sun), 2020
4 fri 12pm - 9pm / 5 sat 8am - 9pm / 6 sun 7am - 9pm
Place Mikumano shrine, Yokosuka area / 5630-1 Nishi-obuchi, Kakegawa-shi, Shizuoka-ken
Information Kakegawa southern tourism information center 0537-48-0190
Enshu Yokosuka Mikumano shrine festival held at
Yokosuka district in Kakegawa city
is a traditional festival which has been inherited for over 280 years since the festival culture of Edo spread to this area during the period. It is held for three days from the first Friday to Sunday of April every year, highlights of the event include Mikoshi Togyo (transferral of a portable shrine) and a parade of 13 gorgeous floats following behind through the town. On the floats, they play festival music with pipes and drums and walk around the castle town of Yokosuka district which retains the old style streets. In this season, cherry blossoms are in full bloom on the site of Mikumano shrine and they make for even more beautiful decoration for the festival.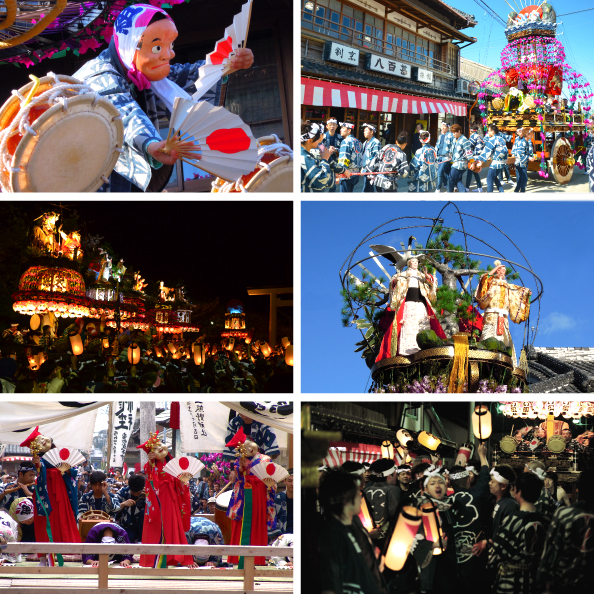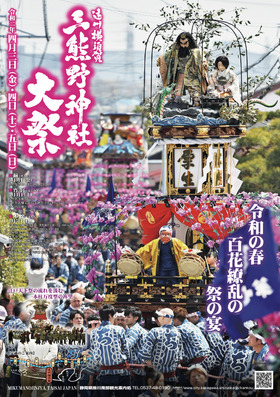 Click to enlarge

http://www.city.kakegawa.shizuoka.jp/kankou/event/mikumanomatsuri/ (Japanese)
ADDRESS
5631-1 Nishi-Obuchi, Kakegawa-shi,Shizuoka
TRANSPORT
 From Hamamatsu Station
[TRAIN]
JR Tokai Main Line get off at "Fukuroi" station.And about 20 minutes by Taxi.
Or take the bus "Yokosuka Homen" line bus (20 minutes ride) to "Shin-Yokosuka" then walk 7 minutes
2019.12.13 update
Content may be subject to change after publication. Please also note that we are not accountable for loses and damages that may occur as a result of said changes.