Takeshi Culture Center (TCC) Renjaku Town is holding the HYOGEN-MIMAN Culture Festival in early February, consisting of approximately 60 events ranging from "Hentai Night" to "Tourist Summit" to "Culture x Welfare x Community Development" around downtown Hamamatsu. They welcome anybody interested in intercultural intermingling in Hamamatsu or are just interested in what is up to at Creative Support Let's.
HYOGEN-MIMAN Culture Festival
Feb. 1 (Fri) - Feb. 2 (Sat) - Feb. 3 (Sun), 2019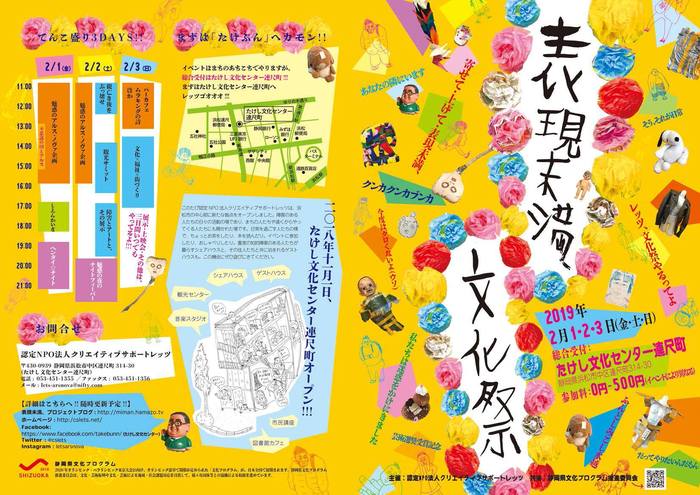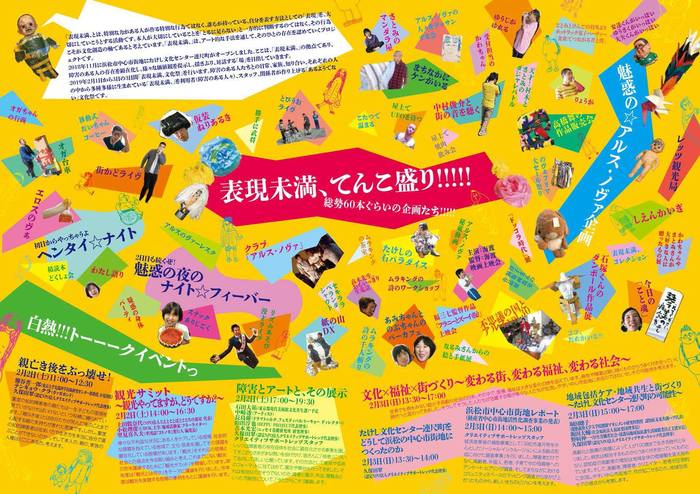 General reception
:Takeshi Cultural Center
Fee
:¥0~¥500 depending on the event
 What is HYOGEN-MIMAN?
It is a concept that we respect every single person's unique way of expressions based on their everyday custom and tendency.
At TCC Renjaku Town, a care center for disabled people, one spends all day long shaking small stones in plastic containers and making a sound. Another one wraps various materials with colorful packing tape every day. Another one keeps shouting and jumping around from morning till evening.
Today's society which asks us to be productive and responsible as its good members might consider their activities worthless, but we think that their personal lifestyle is essential to cultural creation. (expression from TCC website)
Creative Support Let's (Certified NPO Corporation)
About: Their goal is to foster tolerance and strive towards a society which looks past our "differences" in ability, nationality, gender, age, etc. to be able to co-exist together. They coordinate a number of original projects, such as "Time Travel 100 Hour Tour", a sightseeing program that lets you experience life at the disabled welfare facility Ars Nova "as is" over the course of 100 hours.
Takeshi Cultural Center (TCC) Renjaku Town
NPO Creative Support Let's is undertaking diverse cultural programs centered on disability support at their base of operations in the city center as their "HYOGEN-MIMAN" hub. The 3-story center has a dedicated interchange space for public talking events, a music studio, a library & cafe, as well as share house for disabled people and a general guest house.
Creative Support Let's (Certified NPO Corporation)
Takeshi Cultural Center (TCC) Renjaku Town
ADDRESS
 314-30 Renjaku-cho, Naka-ku, Hamamatsu-shi, Shizuoka
PHONE
 053-451-1355
E-MAIL
lets-arsnova@nifty.com

http://cslets.net/
(Japanese)
2019.1.31 update
Content may be subject to change after publication. Please also note that we are not accountable for loses and damages that may occur as a result of said changes.